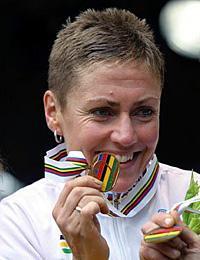 Photo ©: Birke Ulrich
On top of the world: The Gunn-Rita Dahle diary 2005
Norwegian cross-country mountain bike racer Gunn-Rita Dahle is probably the best female rider this relatively young branch of the sport has ever seen. World champion in 2002 and 2004, Olympic champion in 2004 and unbeaten in the World Cup in 2003 and 2004, she has a breath-taking palmares.
Dahle says her success is due to an unrelenting focus - she describes herself as a '24-hour athlete' - and the constant support of her boyfriend and coach Kenneth FlesjŚ. Follow her exploits on Cyclingnews as she works to stay at the top of her game in 2005. Or, for more Gunn-Rita, see her personal website: www.gunnrita.com
Back On Mallorca
Mallorca, Spain, March 1, 2005
It's simply terrific being back on Mallorca with the prospect of several wonderful weeks of exercise and preparation ahead of us. We still remember clearly the 16-day period of preparation we had here before the Olympics, just before leaving for Athens. The temperature is quite different this time, but it's comfortable and nice for training.
We've enjoyed lovely weather with sun and blue skies since we arrived, but it's not all that warm. Some place between 10 and 15 degrees is normal down here at this time of the year. But compared to most days at home in Norway at this time of the year, it's very good. A few weeks have passed since you heard from us last, and many exciting things have happened. We had two weeks at home in Stavanger, and the days were used for training, related activities, plus much, much more. It's always like that when we get to go home for a short stay; a whole load of various chores and responsibilities pop up.
For example, it would be lovely if all the dirty clothing could make its own way to the washing machine, or if the newly cleaned clothes could find their way back to the various cupboards and drawers - or right back into the luggage, as is the case for many items. Some of the clothing you wear practically every day for many weeks is placed right at the back of the wardrobe for a few weeks (or years) of rest!
The main attraction of being at home is simply spending time with friends, family and doing your own thing. In addition, it was lovely to have our four-legged children scampering around our feet from early morning till late evening. Just being able to do regular things like shopping and the like was great. We were also involved in a press conference with Stians-Sport and Merida Norway in Oslo. I got to meet many promising young cyclists that Merida plans to support through the 2005 season and onwards, and delivered a talk for employees at Shell in Oslo about exercise, nutrition and energy for everyday life. I attended an exciting press conference for my new sponsor, Natumin Pharma, during the stay - it seems the business never ends, but I enjoy it.
The following week we spent the day in a photo studio together with a professional photographer in Stavanger. There were some stylish shots in full cycling regalia and beautiful dresses from Gunn's Stil - some were for me, the rest were for our sponsors. On the Saturday before leaving for Mallorca we watched a children's cycling race in the winter carrousel at home, with Bryne running the race. It was amazing to see so many enthusiastic and happy kids on their mountain bikes. An amazing 105 kids from ages 6 to 16 took part - new possibilities for Norwegian mountain biking involving the youngest riders. Both Kenneth and I thought it was fantastic to see and gave us both a lift.
So now we've spent a week here on Mallorca, and have managed to complete our exercise schedule properly while getting in enough rest and relaxation; this is always necessary when you're training hard. We tend to refer to it as a holiday together, with our bikes. Not to worry, we've at least enjoyed our days doing the job that we know is necessary in order to be ready for the season ahead. Next week we'll get a visit from the whole of Team Merida, meaning bags of action for the whole week - press conferences and loads of meetings, planning a new season. Plenty of promising riders, including Lene Byberg will also be coming, so it'll be a great group of us going out riding together for the next 10 days.
I hope you're all doing well, and that the weather is good enough for some sort of physical activity. We're staying on here for a good two weeks more, so I expect you'll hear from us again before we leave for home to the sunny coast and Stavanger again.
Exercise Stint of the Week
I got completely thrashed by Kenneth doing intervals this week, and it tasted really bad!!!
Dinner of the Week
We went out to eat on my birthday, which was the February 10. We enjoyed a delicious tuna salad for starters, and I chose fresh barbecued Sea Bass for my main course (I'm not sure what it's called in Norwegian, but it tasted marvellous).
Tip of the Week
A good idea for getting sleepy is to read a book for half an hour in bed before putting the light out.
Cyclist's greetings from Gunn-Rita.