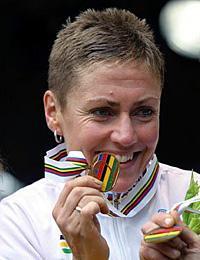 Photo ©: Birke Ulrich
On top of the world: The Gunn-Rita Dahle diary 2005
Norwegian cross-country mountain bike racer Gunn-Rita Dahle is probably the best female rider this relatively young branch of the sport has ever seen. World champion in 2002 and 2004, Olympic champion in 2004 and unbeaten in the World Cup in 2003 and 2004, she has a breath-taking palmares.
Dahle says her success is due to an unrelenting focus - she describes herself as a '24-hour athlete' - and the constant support of her boyfriend and coach Kenneth FlesjŚ. Follow her exploits on Cyclingnews as she works to stay at the top of her game in 2005. Or, for more Gunn-Rita, see her personal website: www.gunnrita.com
Norway, January 14, 2005
Mind-blowing sports gala
Dear cycling friends,
This year's Norwegian Sports Gala was an absolutely fantastic experience for me, in more ways than one. Both Kenneth and I reacted to the awards we received with mostly shock and amazement, despite our highly successful cycling season, during which we won everything there was to win. We were both pleasantly surprised to receive three wonderful awards at this prestigious gala evening for Norway's star athletes. I also found it moving to be part of a huge fund-raising campaign where thousands showed the true joy of giving.
I don't know whether to call these fantastic prizes a grand finale to a highly eventful year, or an indescribably powerful start to a new season! Either way, yesterday's celebration of Norwegian athletes' great accomplishments through 2004 was an experience I won't be forgetting in a hurry.
It's difficult to say which one of the three prizes I received that meant most to me. The first one I received for "Endurance" or "Perseverance". It was awarded by a jury consisting of persons with high positions and extensive knowledge within the sports world. Therefore it was especially nice to receive this award, considering all the other strong candidates nominated for the prize.
The second prize, the "Performers' Prize", is worth gold to me, as it was awarded by my fellow Norwegian athletes. 200 top athletes from the whole country, who know exactly what it takes to be best in the world, nominated and elected me. It was a fantastic experience for me, quite a surprise, and a huge motivation for the exciting new season coming up.
The award for "Sportsperson of the Year" was voted by the Norwegian public. It was no less than momentous for me to receive an award of this calibre. Being acknowledged in this way was both touching and wonderful, knowing how many supporters follow us in what we do, both on and off our Merida bikes.
It will take some time before this amazing evening really settles in completely. Thinking back on it, there are so many words I should have said when I had a chance like that, but I was sort of stunned by it all. In short, I at least got to thank everybody who had voted me as "Sportsperson of the Year". I really hope that our achievements and enthusiasm on our bikes provide lots of motivation towards physical activity for many people.
In addition to this, I hope that all the money that was collected yesterday, every last coin, will reach those who really need it. It was very heart-warming to see how many people involved themselves and made an effort to help. It's nice to be able to use my position, based on what I do and what I have achieved as an athlete, towards such means.
Naturally I would like, once again, to use this opportunity to thank all my supporters and co-workers, who are an important element behind these wonderful awards we were given at the annual Sports Gala. Each and every one has the right to feel that they own a part of these awards.
As many of you are aware, I was given a Merida bike by Stians Sport and Merida Norway, which was subsequently auctioned for charity, and which has now reached a price of all of 35,000 Norwegian kroner (US$5,650 - AU$7,380). In addition I was given a cheque for 10,000 Norwegian kroner (US$1,615 - AU$2,100) by my personal main sponsor, Shell Norway, which I handed over yesterday evening. They have already donated 100,000 Norwegian kroner (US$16,150 - AU$21,000) via Red Cross to the fund-raising campaign. The Shell Group International has incidentally already contributed 3 million dollars to the tsunami catastrophe victims. Our new personal sponsor-partner in the run-up to Beijing 2008, "Natumin Pharma", answered the challenge from Shell Norway and contributed the same amount to the campaign too.
What wonderful sponsors I have. Soon I will be signing a contract with Shell Norway for the next four years up towards the Olympics in Beijing. Natumin Pharma is a new sponsor, within the field of powder foods and dietary supplements, especially regarding oils (Omega 3, Lecitin, Ecomer etc.), with a contract also lasting four years. Natumin Pharma is an exciting and interesting partner I look forward to working together with.
Those who had a chance to see the Sports Gala sent directly on the Norwegian television channel NRK yesterday will also have noticed that my award, "Sportsperson of the Year", was spontaneously handed over for auctioning. My latest news is that it has now received a bid of 152,000 Norwegian kroner (US$24,525 - AU$32,055). It's absolutely wonderful, and many thanks to those who have bid this much. This money is worth more than gold and will doubtlessly help many who are presently struggling due to the catastrophe.
I would like to round off with these words today. Tomorrow we leave for this year's training camp together with our good friends and training buddies Lene Byberg and Håkon Austad. We're leaving for the Canaries for a 14 day stay, and we're all really looking forward to it: lots of great exercise, lots of rest, and good times together with like-minded people… and hopefully lots of sun. I'm hoping to manage to produce some impressive lines where my tan contrasts against the whiter skin under socks and t-shirts.
A word to you all: go for your goals, enjoy life together with your loved-ones, and enjoy what you do. Let physical activity become a natural part of your day. Next time you hear from us, we'll hopefully be enjoying the warm sun in Spanish surroundings.
Big bicycle-hug from Gunn-Rita.
Translation: Crispen T.P. de Lange