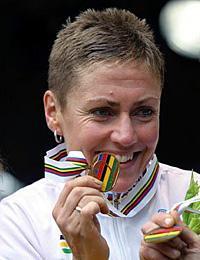 Photo ©: Birke Ulrich
On top of the world: The Gunn-Rita Dahle diary 2005
Norwegian cross-country mountain bike racer Gunn-Rita Dahle is probably the best female rider this relatively young branch of the sport has ever seen. World champion in 2002 and 2004, Olympic champion in 2004 and unbeaten in the World Cup in 2003 and 2004, she has a breath-taking palmares.
Dahle says her success is due to an unrelenting focus - she describes herself as a '24-hour athlete' - and the constant support of her boyfriend and coach Kenneth FlesjŚ. Follow her exploits on Cyclingnews as she works to stay at the top of her game in 2005. Or, for more Gunn-Rita, see her personal website: www.gunnrita.com
Norway, January 6, 2005
New Year - New Challenges
Happy New Year, my dear cycling friends!
Many people refer to the beginning of a new year as a fresh start, something untarnished. I'm thinking of all the New Year's resolutions being made, plus the challenges, openings, and new possibilities for improvement compared to the previous year and the unknown. People meet the New Year in a variety of ways, ranging from thoughts and ideas, to actual action. A correct attitude to one's hopes and wishes for the New Year could decide the outcome of the next 12 months.
I'm the type who always makes New Year's resolutions. I find setting goals that nobody else knows about to be exciting and motivating. Not even Kenneth gets to know anything about my goals for the New Year. I guess I'm a little superstitious in this respect. As long as I keep my resolutions deadly secret, I stand a better chance of succeeding.
I think there's something very special about starting a new year, even though all we're really doing is changing calendars and inserting new numbers in our system. After all, last Sunday was more or less exactly like this Sunday, except for a few minor adjustments and changes. Even so, new thoughts and ideas seem to turn up in our heads at the beginning of a New Year, and attitudes and consciousness change. Maybe for some of us these small ideas for changes only pass quickly though our minds for a few seconds, while for others they can hang around for many days or even weeks!
I hope you have all had a really nice Christmas, a reasonably peaceful period up till New Year's Eve, and a good New Year's celebration. Kenneth and I have had a lovely and relaxing Christmas together with our closest family, and that's been nice. After all, as an athlete, these times of celebration aren't always that easy. They often result in late nights and much less sleep, which very quickly affects one's physical performance and training. As professional athletes we don't have a day off, even though it might be Sunday, Christmas Day, or the first of January.
Even so, I must say Christmas has been wonderful for us, with lots of fun, many wonderful gifts, way too much delicious food, a lot of socializing, and many hours of good training. These holiday days pass very quickly, and it's just as well that they do. We are mentally and physically well prepared to meet a new year, meaning that we must return to our every-day routine in order to accomplish what we want. We know exactly what is necessary concerning training, how each and every day should be constructed for the next three months, in order to experience new triumphs on bike in 2005.
Presently I'm sitting in Kenneth's parents' cabin here by the Lysefjorden fjord enjoying the silence. We've spent the New Year weekend with two siblings of Kenneth's and their spouses (Hege + Svenn, Frode + Siri) and have had a "jolly good time". The others left for home earlier today, while we're just sitting here enjoying the oxygen high and the relaxation after a three hour hike in the mountains, in dramatic nature and rough weather. There can be no doubt that we do have our fair share of hard weather here on the west coast of Norway at this time of year, and that's also been the case today.
We awoke to leaden skies, not too much wind, darkness, typical snow clouds, but also a few glimpses of blue sky. Just as we got all dressed up for our trip, it started hailing wildly from the sky, and the storm they promised seemed to turn up in full force. It almost seemed as if our cabin wanted to go for a quick flying-trip last night when the wind was blowing its hardest. We were naturally served up several different types of weather on our hike. However, it doesn't matter at all as long as you're dressed right. Right now it's snowing sideways outside, and the trees are lying more horizontal along the ground than standing up vertically as trees normally do.
And so I'd like to round off for now. I wish all my cycling friends, training partners, and all the other people who have followed us through an eventful year of 2004, a spectacular and exciting New Year. See the possibilities in what you do and everything that happens around you, and never forget to take actively part in the present.
(I'm to give you all a warm greeting from Kenneth. He got an X-box from Father Christmas this year, and I've almost not seen him at all since last year!!!)
New Year's hugs,
Gunn-Rita
Translation: Crispen T.P. de Lange