Recently on Cyclingnews.com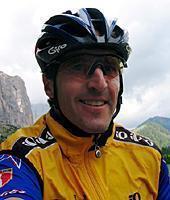 Davis Phinney
Photo: © Davis Phinney
A Sprinter's Tale: The Davis Phinney diary
With over 300 national and international victories in a career that spanned two decades, Davis Phinney is still the winningest cyclist in U.S. history. In 1986, he was the first American ever to win a road stage in the Tour de France; five years later, he won the coveted USPRO road title in Philadelphia.

In 2000, when Davis was just 40 years old, he was diagnosed with early-onset Parkinson's disease. But that hasn't kept him down. Since retiring from professional cycling, Davis has been a cycling sports commentator, public speaker and journalist. He brings his passion for those two-wheeled machines to Cyclingnews.
Tour de France - July 16, 2005
McEwen's hardest Tour
Robbie McEwen
Photo ©: Sirotti
Sitting casually while catching up on news from a L'Equipe newspaper, Robbie McEwen looked a little tired before his stage win in Montpellier. In his view, this has been the hardest Tour of the seven going on eight that he's ridden, stating that this was the first time, since he'd been a part of the Grande Boucle, that the course will traverse all four major mountain ranges of France, from the Vosges, through the Alps, down into the Pyrennes and finally over the Massif Central.
The fact that the riders endured two hard climbing days - even before hitting the Alps, is evident in subtle (or not so subtle) ways. Some of the crashes, like Boonen's and Beltran's, are in part due to the kind of mental fatigue that stems from the additional effort of so many hills, ridden at flat-out pace. The preponderance of over-use injuries like Valverde's, which are becoming more evident in the ever diminishing peloton, are a result of this stress as well.
McEwen, who suffered a string of health problems for much of the early spring season, said he planned on hitting peak form for the first week of the Tour.
Robbie McEwen (Davitamon-Lotto)
Photo ©: Jon Devich

He's nailed it perfectly, winning three stages so far, but unfortunately, he had already been DQ'ed on Stage 2 in Tour for some rough riding which cost him 27 points in the green jersey competition. This penalty dropping him far off the points race pace, and so Robbie Mac relaxed somewhat, knowing he had several wins in the bag and subsequently sat out most of the proceeding inter-race sprints.
There is a cost to sprinting for all the available points, as McEwen well knows. Several years ago, he went all out for every point available, in a tight battle with Baden Cooke - a fight that wasn't decided till the smoke cleared after the last hectic sprint up the Champs Elysees in Paris. But in the end of that one, Robbie came up empty-handed, with no green jersey and no stage wins. Flexing that little bit extra muscle in the inter-race sprints can frequently see a sprinter come up just short at the finish line.
Robbie McEwen (Davitamon-Lotto)
Photo ©: Sirotti

Reflecting on his team before Stage 13, Robbie had anticipated correctly that a break would go early but likely, Davitamon-Lotto wouldn't ride it back, as they too are feeling beat-up and he wanted them to preserve something for the final week. And sure enough the break went-but instead of hanging back, Lotto worked like dogs to keep the escapees in check. Still, going into the final kilometre it looked like their efforts might have gone to waste. Only in the last 200 metres did Robbie vault past the last breakaway final holdout on the wheel of teammate Fast Freddy Rodriguez. It was a valiant Chris Horner he passed and McEwen took his third win of this years Tour, with Rodriguez third. And happily for him-and Davitamon-Lotto, he's now back in the points race mix.
Such is the sprinters lot. And what makes it so great to have that fast twitch in your muscles. On any given day it can, unexpectedly, all go right. As Robbie has said to me, using a classic sports cliché, 'I'm just taking it one day at a time mate' and in his case, that tactic may well see him in green when the Tour brakes to a stop in Paris.
Davis,
davisphinneyfoundation.com
Check out photos of Davis in our 'Phinney Photo Files'