Queen of the galaxy
Photo ©: Shiela Moon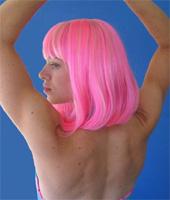 Barbarella: The Barbara Howe diary
Just as Barbarella bumps through the universe, comically oblivious to the dangers and threats being thrust at her, Barbara Howe has had a few misadventures of her own. But with a stable team and strong results in recent years, the 29 year-old Velo Bella rider looks set to navigate her way to the top of the US 'cross tree, where she hopes to be crowned 'Queen of the 'cross Galaxy'.
Follow the fortunes of this free-spirited individual here on Cyclingnews.
A home game
October 16, 2005
Barbarella in action
Photo ©: Greg Snead

This week there was no travelling; my own team hosted a race in Santa Cruz. This particular race was the first Surf City Revival Race, a popular race series not held for the last year. As a tribute to Norcal 'cross races past there was also a 30 minute Jungle Cross race. Jungle Cross used portions of the normal course as well as long bushwhacks through poison oak infested underbrush. With homemade pies for prizes, Jungle Cross was a hotly contested race.
Several participants were also getting an early start on Halloween. Not only was there a woodland fairy complete with golden wings but also a dedicated racer in a full gorilla suit. The gorilla suit is all the more impressive due to the fact that the weather was in the mid 80's. Needless to say the gorilla took lots of feeds. The course itself had excessive forced dismounts (5 runups one log), lots of dust, the chicane of despair, some bumpy turf, and more dust. We had over 40 women racing, not bad for a local race. Several of the women were first timers and had attended a 'cross clinic the day before.
Women's A's, B's, C's and Masters all raced at the same time. My teammate Melodie [Metzger] got the hole shot followed by Sarah Kerlin, Ann Fitzsimmons, then myself breathing dust. Second lap I pulled in front for the run then pulled Melodie along the only long paved section. We had a small gap at this point and I think Mel fumbled a corner which meant I was all alone. On the last lap I got tangled in the course tape on a very sharp deep dust turn - it almost pulled my helmet off and a kind spectator helped me untangle. The runups got longer and sandier each lap and towards the end were more like walkups.
Mel held on for second, while Josie Beggs powered in for third place. Josh raced a steady race and finished fourth, as an early race fumble left him out of the top few spots. The rest of this week will be focused on recovery and preparation for travel to the east coast. We'll be hitting six UCI races over the next three weekends as well as putting in some quality family time in Pittsburgh between races.
- Barbarella
Photography
For a thumbnail gallery of these images, click here
Images by Greg Snead