An interview with Roberto Gaggioli, June 7, 2004
Self-defense or self-offence?
Roberto Gaggioli: "I'm not a fighter, I'm a lover"
Photo ©: Bill Parsons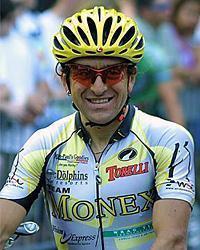 A little over a month ago, an argument with another rider led to an incident that Roberto Gaggioli will not soon forget, nor will many others. Cyclingnews' Mark Zalewski sat down with him before the USPRO Road Championships to try and understand how and why it happened.
Team Monex rider and manager Roberto Gaggioli has had an exceptionally long career racing his bicycle, with much of that time spent here in the U.S. far away in Italy. The 42 year-old still mixes it up with the best sprinters in the U.S. peloton week in and week out, though a reputation about his racing style often overshadows any of his accomplishments.
Throughout this season, a seemingly increased amount of "talk" about him has seeped into many circles, from Internet newsgroups to "Letters to the Editor". Then, on May 1 at the Cheaha Challenge event in Anniston, Alabama, Gaggioli had an argument with Jonny Sundt after the race, which led to him attacking Sundt with a 2x4. Sundt defended himself with his bicycle, which was damaged in the process. Subsequent to this, a US disciplinary hearing found him guilty of assault, with Gaggioli suspended for the rest of the season by USA Cycling.
CN: First, can you tell us about the actual incident, from your side?
RG: There is one side where everyone is against me. Maybe a lot of people don't like my attitude of racing - my success. I see a lot of people doing that. We were two people involved in the incident, and I'm the only one to pay for it.
The actual incident started like two weeks before at the Athens Twilight. Jon Sundt was bumping me in the sprint - but that's casual, that's racing. Especially in the sprint, if you are sprinter, it is happening up there. It's not that big of a deal, but he was really, really aggressive after the race. He wanted to fight with me. He said he wanted to punch me here and there, and I said no, I don't fight. My specific words were, "I'm not a fighter, I'm a lover." And that made him really mad there.
"I am still managing the team, I am still the director. Monex is still after me and I'm the only one who can do the job."
- Roberto Gaggioli on his plans for the next six months while serving out his suspension handed down by USA Cycling
It was normal [bumping] during the race. It was after the race that he came after me. I bumped with other guys during the race, but they didn't come after the race. Because in the top fifteen, that is what happens. You bump each other, you go to one wheel, then another. But it was after the race that he wanted to fight. But I'm not that way, so I turned my bike and rode away. But he was really aggressive.
Where it all began: the Athens Twilight Criterium
Photo ©: Steve Verdell

But after, we were racing in Alabama at 10 o'clock at night, in the rain. With five or six laps to go, everyone was in a single line - I started passing to get to the front. He intentionally put his arm off the bar and pushed me off the road. I didn't crash because I've been a professional rider for the last 20 years. I started when I was 14 and I'm 42 now, so I know how to ride the bike. 99 percent of the other riders could crash and be hurt because we were going really fast and at night. That's when I lost my temper, and I regret it. I waited for him after at the finish line, to ask him why he did that. And I could see him coming towards me to fight again. At that moment I don't know if it was for defending myself or what, I just grabbed a two-by-four; everyone knows about it, I'm not lying - when we did the hearing with the USCF, I admitted it. And I apologized, I lost my temper. I grabbed it to scare him. I hit the bike. I didn't try to hurt him. If I wanted to hurt him I would hurt in him the race, you know? That's the easy way.
That's pretty much my story. I lost it there - I don't know why, because I've never done that before - I've never ever. I've raced all over the world. I've been in thousands of sprints, and we fight each other. But that's in the race. After the race, we go and have a beer together. My best friends are the sprinters that I race against. Like Jonas Carney; we're friends and we bump each other every single race. It's a part of racing. [The incident] was too much.
CN: What are your thoughts on USCF's decision and choice of sanction? Was it too harsh?
RG: I think it's a little bit too excessive. As a rider I don't really care, but suspending from managing the team, that is a little unfair. Especially because he didn't get anything. I think we were both guilty. I'm not asking to suspend him also, I just say it's a little bit too excessive. I think the USCF did it because it's me - I'm Roberto Gaggioli - they don't really like me. Because I'm Italian and this way I'm a little different than other guys. I don't know how to explain it; maybe cocky, like Mario Cipollini. It's the same thing, a lot of people don't like him because it's his way. He doesn't do whatever the masses want, that's his way and that's how I am too.
CN: Is this incident going to change you or the way you approach racing or managing?
RG: From this experience, it's such a one-time [incident]. I'm never going to do it again - I've never done it before. For sure, I'm not going to do it again. Especially because my focus now is to be a director, a manager of the team. And I need to learn how to deal with the riders after the race. Especially when they are full of adrenaline. I need to learn, this is a learning process. I normally deal with it pretty good. It's going to be six months; I have a contract for three years with Monex, so I am going to be around for sure. And I'm going to race next year. I was going to quit after this year, but with this I am going to race next year also.
So the people, especially the ones posting the articles in the newsgroup, I feel sorry for them because I am going to be there a longer time than them. I think these people there don't have any life. That is why they are posting there.
CN: Even before the incident, there has been a lot of talk about your racing, in "Letters to the Editor" and in the newsgroup.
No more racing till January 1, 2005
Photo ©: Steve Verdell

RG: Again, they never look in the positive. Why don't they ever say, 'Oh look, Roberto Gaggioli comes to the United States and wins races, and makes American cycling recognized in Europe'? Because before I came here, nobody knew there were even races in the United States. I don't say I was 100 percent [of the reason for the growth of American cycling], but it's bad to see they don't appreciate what I did for America. And some of the people who are posting, shouldn't be - officials and administrators. They are saying some things that I could use in court.
CN: Have you spoken with Jonny Sundt since the incident?
RG: Yeah. Actually we raced again together at Joe Martin race. And I went to him and apologized. I did it wrong, and we apologized to each other. It's settled; it's bike racing. It happened, and we have to race the rest of the year together, or so I thought.
CN: What are you going to miss most during the next six months?
RG: Sunday. Because I was looking forward to it. It's a special race, after 20 years. I was prepared too. I won't say I was going to win it - can't win it anymore - you have to know your limit (laughs). But I would probably be there, and be a part of the race. The rest is just normal racing, it's the same year after year.
CN: What are you going to do with this forced six month vacation?
RG: I'm going to manage the team, no matter what. I am suspended from anything requiring a USCF or UCI license. So I can't follow the race in the car, or pick numbers up at the meeting, but I am still managing the team, I am still the director. Monex is still after me and I'm the only one who can do the job. They don't really care what's happening, because they know if it happened, that there is a reason for it.