Recently on Cyclingnews.com
An interview with Marcel Wüst, January 15, 2004
Life is good
Three years after a post-Tour de France criterium crash left him without sight in one eye and prematurely ended his pro career, German sprinter Marcel Wüst has discovered a new way of life - and a new career as a high profile television commentator in Europe. The two-time Tour rider is also helping to develop the next generation of riders through sponsorship and coaching support of the junior team named after him in Germany. Life, he reckons, is pretty good...and the fact he now owns a house and spends several months a year in Australia only makes it better. Wüst talks with Karen Forman about it all while on his annual three month sabbatical Down Under.
Marcel Wüst
Date of birth: August 6, 1967
Place of birth: Cologne, Germany
Lives: Cologne, Germany and Noosa, Australia.
Turned professional: 1988
Retired: August 8, 2000
Teams: RMO (1988-1992), Novemail (1993-1994), Le Groupment / Deportpublic (1995), MX Onda (1996), Festina (1997-2000)
Career highlights
2000
1st, stage in Tour de France
1st, stage in Tour of Aragon,
1st, stage in Tour of Germany
1st, 4 stages Circuit de la Sarthe
1999
1st, stage in Setmana Catalana
1st, 2 stages Vuelta a Aragon
1st, stage Volta a la Communidad Galega
1st, stage Vuelta a Burgos
1st, Heilbronn (Coca-Cola Trophy)
1st, 4 stages Vuelta a España
1st, 2 stages Commonwealth Bank Classic
1998
1st, GP El Arenal
1st, Criterium Manacor
1st, 6 stages in la Vuelta a Chile
1st, stage in Circuit de la Sarthe
1st, Internationale Sparkassenpreis
1st, Circuito de Getxo
1st, Rund in Köln-Rodenkirchen
1st, Internationale Rad-Gala
1st, Preis des Gewerbe- und Verkehrs
1st, stage in the Vuelta a Burgos
1st, 2 stages in the Vuelta a Espana
1997
1st, stage in the Giro D'Italia
1st, 3 stages of the Vuelta a Espana
1st, stage in the Vuelta a Burgos
1st, stage in the Route du Sud
1st, 2 stages in the Boland Bank (South Africa)
1st, Welbert (Germany)
1st, Staftlohn (Germany)
1996
1st, 2 stages of the Tour DuPont
1st, 2 stages in the Vuelta a la Rioja
1st, stage in the Volta a Catalunya
1st, stage in the Trofeo Castilla Leon
1st, Brisbane Classic
1st, stage in Superweek (USA)
1st, Commonwealth Bank Classic
1st, Gold Coast Grand Prix (Australia)
1st, 3 races in Germany (Cologne, Ahrweiler, Troisdorf)
1995
1st, stage of the Clasico RCN
1st, stage of the 4 jours de l'Aisne
1st, 3 stages in the Vuelta a Espana
1st, stage of the Superweek (USA)
1st, stage of the Herald Sun Tour (Australia)
1st, 3 stages, Classic of New Zealand
Champion of Cologne
1st, Huppaye (Belgium)
1994
1st, stage of the Dauphiné Libéré
1st, stage of the Sun Tour (Australia)
1993
1st, Grand Prix de Denain
1st, Tour du Morbihan
1st, stage of the Vuelta a Burgos
1st, stage of the Volta ao Catalunya
1st, 2 stages in the Sun Tour (Australia)
1st, stage of the Fresca International (USA)
1992
1st, 4 stages of the Route du Sud
1st, stage of the Midi Libre
1st, stage of the Tour de la CEE
1st, 3 stages of the Sun Tour (Australia)
1st, 3 stages of the Alpine Tour (Australia)
1991
1st, 2 stages of the Route du Sud
1st, stage of the Tour de Poitou Charentes
1st, Meyrin (Switzerland)
1st, stage in the Sun Tour (Australia)
1st, stage of SuperWeek (USA)
1st, stage in the Alpine Tour (Australia)
1990
1st, stage of the Circuit de la Sarthe
1st, Paris Bourges
1st, stage of the Tour de Burgos
1989
1st, Ronde des Pyrénées Méditerranéennes
1st, stage Tour de l´Oise
1st, Criterium Siegen

Popular rider turned television cycling expert Marcel Wüst says that Lance Armstrong and Alessandro Petacchi will continue to be the heroes of the Tour de France. A two-time Tour de France rider himself, Wüst believes Armstrong still has another Tour in him. "In 2003 we saw the weakest Armstrong in years but he still won. He's very good at everything. What it comes down to is the man against the mountain. He can take another," he told Cyclingnews during a break in commentating the Gold Coast Grand Prix criterium last December.
"He has had some changes in his personal life, with his separation from his wife and rumours that he is dating (singer) Sheryl Crow and (actor) Sandra Bullock, but, well, if the marriage is not so good...with sportsmen 100 percent is the sport. For me, he is still the man who has won it five times."
The real heroes
Photo: © AFP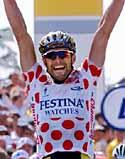 According to Wüst, Alessandro Petacchi is "great, possibly the next big Cipo", adding with just a hint of bias, "I think cycling needs to produce a few more heroes. The real heroes of the Tour are the sprinters. They go full gas for the first week then keep trying to make it to Paris when their genetics mean they are not made for the mountains. A road sprinter has to do a marathon before he ever starts sprinting.
"But the thing about Petacchi is that he wants to be Petacchi, not the next Mario Cipollini. I think he's better than anyone else on his day."
Wüst, who was forced to abandon his pro career behind after a post Tour criterium crash left him blind in one eye in 2000, is also watching the Australian riders closely, but warns they have to be very strong psychologically as well as physically to face the additional difficulties of coming from Australia.
"If you are an Australian riding overseas as a pro cyclist you have to be aware that you are living away from home, away from your family for 10 months of the year and you cannot muck around," he says. However, he speaks glowingly of the riders from the country which he wants to one day call his permanent home: "For a little population, Australia is the strongest country."
Wüst says he doesn't see an Australian Tour winner yet, "even if Cadel (Evans) is pretty good." He's also impressed by newly crowned Australian Cyclist of the Year, Michael Rogers and Allan Davis, both young riders he predicts will have a big future. In the new generation following the likes of Robbie McEwen, Brad McGee and Stuart O'Grady, Wüst says 2003 green jersey winner Baden Cooke is "still pretty young, but maybe a sprinter of the future".
A distinguished career
Marcel Wüst was born in Cologne, Germany, 36 years ago, and enjoyed a distinguished career as a sprinter that began in 1988 and finished in 2000. He is one of the rare riders to have won stages in all Grand Tours, and even held the King of the Mountains Jersey in the 2000 Tour de France for a few days after winning it in the prologue.
Wüst is still based in Cologne, but these days has a second home: Australia, where he owns a house in idyllic Noosa Heads on Queensland's Sunshine Coast - about as different in both climate and lifestyle to his birth country as he could get. Like so many of his countrymen, he adores everything about Australia. Eventually, he hopes to settle Down Under with wife Heiko and son Alexander, 5, who he boasts is beginning to speak German with an Australian accent.
"I am in Australia because it is the best place to be," says Wüst. "It is the place I want to bring up my son." But for the time being he is so busy with television commitments he simply can't leave Europe full time. "Soon, but not yet," he promises, himself as much as whomever he is talking to. "I still have to do things. The work opportunities in Germany are now so good. I am really having fun, I am having a fantastic time."
His relationship with Australia is a lengthy one. He posted some of his best race results Down Under, including: 1991 three stage wins in the Sun Tour and two stage wins in the Alpine Tour; 1992 three stages of the Sun Tour and three stages of the Alpine Tour; 1993 two stages of the Sun Tour; 1994 one stage of the Sun Tour; 1995 one stage of the Herald Sun Tour; 1996 one stage of the Commonwealth Bank Classic, winner of the Gold Coast Grand Prix; and 1999 two stages of the Commonwealth Bank Classic.
The deluxe sprinter
Popular with the media
Photo: © CN

Wüst is a handsome, fun-loving kind of guy, popular with his peers (both cyclists and more recently, journalists) and the sport's administrators. He was in great demand at the Surfers Paradise criterium on December 14, where he was commentating as a special favour for the organisers, USM, which also runs the Noosa Triathlon. Riders wanted to chat with him, journalists wanted to interview him, fans wanted his autograph and television networks wanted him to act as an on camera interviewer.
With a huge smile on his face and a glint in his eyes, Wüst was more than happy to oblige, even though that meant his Cyclingnews interview was conducted with a number of charming "sorry, I just have to go over there, I'll be back's".
Wüst loves to talk. He's not shy about talking about his life and his ambitions and in fact, is about to reveal them to a wider audience with the publication of his memoirs. He's a veritable wealth of knowledge about elite level cycling, freely expresses his own opinions about who's hot in the peloton (and who's not) and it's no wonder, with his communication skills and his own experiences on his bike, that he's in such demand as a commentator.
He doesn't hold much back - especially the accident on August 11, 200 in a post Tour de France criterium in central France (when he plunged face first into a barricade) that stole his racing career from him and changed his life; he says, "for the better".
"What you learn...is that life is nothing without health."
- Marcel Wüst puts things into perspective
He was riding for Festina at the time, having joined the team in 1997. "I smashed everything in the right part of my face, my eyeball, my skull, my cheekbone. I was very unlucky," he says pragmatically.
Coming just after he was forced to withdraw from his second Tour de France due to a fever - after spending seven days on the podium in the green jersey, having scored a KOM jersey (briefly) and the stage five win in a thrilling sprint to the line with countryman Erik Zabel - it was a double disappointment he could have done without. But then bad things seem to come in pairs for Wüst.
A frequent stage winner in the Tour of Spain, the German had never taken a stage in the Tour de France and he was very excited about his 2000 TDF stage win. After all, he had been forced to withdraw from his first and only other TDF in 1992 after breaking his collarbone in the first stage in Spain. His bad luck continued that year when he again broke the same collarbone in the Giro d' Italia. And then, eight years later in 2000, it was happening again. Only this time, his injury had far more devastating consequences.
"My ability is sprinting, so with one eye I could not race at elite level. You cannot do the Tour de France with one eye," he says. "And so I lost my job but not the support of people. My contract with Festina was until the end of 2001 and they honoured that. I did PR work and wore the gear on TV. They were fair and allowing me to stay on the team after such a crash is unusual in professional sport."
In 2002 and 2003 Wüst worked as a team manager for the ill-fated Coast team, which collapsed in early 2003 due to financial problems. Although Coast was reborn as Team Bianchi, and went onto finish the season with a very respectable performance in the Tour de France (Ullrich finished second on GC), Wüst was out of a job. "I had this year to get going and find something else," he said.
Happy times
Photo: © AFP

He eventually found his niche in the media, working for German TV doing interviews with German teams and then the TDF commentary and analysis. "I became a cycling 'expert' plus I was doing features on riders I used to race with - Brad (McGee), Robbie (McEwen), Cookie (Baden Cooke). I was writing for Procycling, doing bike tests and doing a daily column on the Tour de France on the Spiegel online news website."
Marcel also started to work on his life story, starting when he was a "10 year old boy with a dream who lived it for 13 years then got a wake up call on the 11th of August 2000."
"What you learn from it," he says, "is that life is nothing without health. Health is so far ahead of everything else. I was always happy with my life, but when I woke up in hospital I didn't think about being a bike rider anymore. It was everything to just be able to brush my teeth. I learnt that you must do fun things as well."
" I think I could have been one of the best kilo riders but not now."
- Marcel Wüst hypothesises on what might have been on the track
These days he takes three months off each year to visit Australia, a country he has visited 14 or 15 times and has probably seen more of than the average local. He did his first triathlon at Noosa this year and finished 22nd in his age group, which he says surprised him.
"Because I can't swim, really. But I have been here so many times when the Noosa triathlon is on and I thought, why not do it. They told me I should do it in two hours, 22 minutes, 22 seconds so I set out to do it in less than two hours."
He confides that he also considered having a go at track racing, but says he has given up on that idea despite his friend, international coach Heiko Salzwedel, offering to help him with a training program.
"After the accident I had a 13 year base of 35,000km plus and my ability is sprinting. With one eye I couldn't do the TDF but the question was, could I do a kilo? I think I should have contacted someone like Heiko in 2001. I was doing 1.09 as an amateur in leg warmers in 10 degrees, so I know I have the ability there, I think I could have been one of the best kilo riders but not now. I don't think I will do a track comeback. I am 36 and I have a family. I need to make sure that I have an income."
Helping the next generation
One of the activities close to Wüst's heart is the junior team he sponsors and supports. The team, named after Marcel Wüst, comprises 13 talented juniors aged from 13 to 17 years. Through his former sponsor Specialized, Wüst provides them with bikes and jerseys. He tries to attend their races and cheers them on proudly.
"They won the time trial at the nationals and the individual road championship," he says. He also passes on his old training secrets. "I still have all my training records from when I was a junior so I pass them on. Cycling has given me so much and it's a good opportunity to return something of what the sport has given to me. It's good for kids to have sport, which prevents them getting pissed or smoking pot."
Wüst says school and sport were his two priorities when he was young and he's a staunch believer in sport for children. And so he'll encourage his own son to follow him into the sport? "Well, we will see about that..."
Other Talking Cycling Interviews