An interview with Lance Armstrong, Austin, Texas, USA, October 26, 2004
My way: Six and counting for Armstrong
Part I: Tour of Hope, Livestrong, Vuelta/World's and the Pro Tour
At 33 years old, Lance Armstrong is still very much on top of his game, crushing the opposition yet again during the 2004 Tour de France to win an incredible six Tours in succession. Although his racing committments have dropped right off in the latter part of the season, Lance has not been inactive, recently taking part in the second Tour of Hope (www.tourofhope.org) in order to raise awareness for cancer research. While at home in Austin, Texas, Lance Armstrong took the time to talk to Cyclingnews' European Editor Tim Maloney about the ToH, Livestrong, his sixth Tour win, Discovery's line up for 2005, the Simeoni incident and much more in this two part interview.
An American in Paris?
Photo ©: Tour of Hope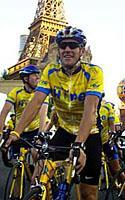 Almost three months after winning an unprecedented sixth consecutive Tour De France, Lance Armstrong doesn't look that different. He looks a little tired from a recently heavy travel schedule and has a little stubble on his chin, but that laser-like focus is always there in his slate blue eyes. 33 just one month ago, Armstrong is widely regarded as the world's best endurance athlete who is now at the pinnacle of success as a Grand Tour rider. In fact, a recent Sports Illustrated fan poll voted Armstrong "All-Time Greatest Sportsman", ahead of Michael Jordan, Muhammad Ali and many other great names from the world of sport.
Although some leading European cycling journalists have bashed the American for having focused only on the Tour De France in his career since his incredible comeback from testicular cancer in 1996, Armstrong's record-setting sixth consecutive Tour win bears testament to the fact that Lance has done it his way. Recently, Cyclingnews travelled to Armstrong's home town of Austin, Texas where we had a rare opportunity to sit down with the man the Tour de France peloton calls the boss, le patron, Big Tex for a face to face palaver.
It was a beautiful warm fall afternoon in Austin and Lance and his companion Sheryl Crow had just returned from Florida where Crow had played a concert in Florida with Bonnie Raitt. Armstrong was knocking around his new Austin home while Sheryl expertly wrapped a huge fifth birthday present for Luke. As we commented on Sheryl's packaging expertise with the Jimmy Neutron wrapping paper, the talented singer-songwriter explained that her first job at 13 was as part-time Christmas wrapper in a Missouri drugstore. Once Luke's package was done, complete with three big blue bows, Sheryl and Lance's mom Linda got together for a chat on the living room couch while Cyclingnews adjourned to Lance's den for our interview.
Cyclingnews: Lance, have you been riding much? I know your right knee was bothering you and forced you out of the T-Mobile Grand Prix in San Francisco last month. How is your knee feeling now?
Lance Armstrong: Oh, it's fine.
Lance & Co.
Photo ©: Tour of Hope

CN: You've been busy in October with the second Tour of Hope and then the Ride for the Roses. How did the Tour of Hope go the second time around in 2004?
LA: TOH was better than the first one. Obviously it benefited from being around an additional year. People were more aware of it and from what I could see, the people along the route supported it a lot more. The turnout for the Tour of Hope rallies we had was bigger and the final rally in (Washington) D.C. was significantly bigger (than last year). So I think that the Tour of Hope was good this year. The media exposure of the cross-country ride and the movement behind clinical trials was bigger this year. So everybody, Bristol-Myers Squibb our sponsor, and the riders who participated are happy.
CN: Were there any specific moments you will remember from your participation this year's Tour of Hope?
LA: Closing down the Las Vegas Strip for the TOH riders to come through was pretty special...riding through Mason City, Iowa because it was a place I'd never been and never thought I'd go to. Starting late in the day in Los Angeles at the City of Hope Hospital, having actual cancer patients in the audience watching the kick-off of the Tour of Hope cross-country ride...they'd somehow gotten permission or just came out and they were there with their IV poles, just sitting there in the crowd. It was pretty moving.
Living strongly
CN: How did you celebrate your 8th anniversary of being cancer-free this year on October 2nd?
LA: We renamed it Livestrong Day...that's kind of taken over our world. We celebrated in Los Angeles; it was in between the kickoff of the Tour of Hope and the end, so we just had a group of close friends to celebrate. We had a good day at Sheryl's house playing a bunch of silly games like croquet, archery...and a four person swim relay, except our team only had three people so I had to swim twice. We raced against Scott MacEachern from Nike and his wife and Bart (Knaggs) and College (John Korioth)...we kicked their ass. They were DQ'ed once for a false start on an exchange.
CN: I understand that you have some new toys to play with in the off season, like your chopper...
In Washington, DC for the finale:
Photo ©: Tour of Hope

LA: Yeah, I've got a great Orange County Chopper that Nike had made up for me; it's yellow and black. After the Tour, Sheryl got me a 1970 (Pontiac) GTO. Then they led me to believe that it was stolen, but put it on the show 'Overhaulin' which is on The Learning Channel (part of Discovery Communications). It's a whole thing where they remodel the car in seven days.
CN: How about other new material; are you testing a new bike from Trek?
LA: I have some new stuff from Trek that I haven't tested out yet. Those guys are always working on new stuff for me.
CN: So just because you've won six straight Tours, your F-1 project to have the most advanced materials for racing hasn't stopped?
LA: No, we already had our first meeting in the end of September in Los Angeles.
"I think part of it, for some people, it's just a cool thing to have and wear it, but for most people, it's meaningful and not just a fashion statement."
- Lance Armstrong on the amazingly successful Livestrong bands
CN: Lance, did you hear about the high school cross-country runners from Virginia Beach, Virginia who were suspended from their team for wearing Livestrong bands?
LA: I heard about it the other day.
Mark Higgins: The decision was overturned...
LA: Yeah, it got overruled...the runners were reinstated. I actually got the name and number of the coach and I was gonna give the kids a call...it's amazing. But that's a problem in sports sometime; you get these officials who just get to be on a power trip.
CN: Since last June when you told initially told us about the Livestrong bands, I understand that there have been something like twelve million distributed?
LA: Twenty one million...and we just ordered five million more!
CN: So that's a tremendous benefit for your Lance Armstrong Foundation and the fight against cancer.
LA: Well it's not as if we sell fifteen million bands and the foundation makes fifteen million dollars...it costs something to make them and most people pay more than a dollar for them. Sometimes people will send a hundred dollars for ten bands and say 'use the rest for a donation'. So we've yet to catch up and figure out where we are. But the amount of support has been just amazing. (Earlier this month) Sheryl and I were in Florida and we went for a run on the beach near her house and there were these little kids who had (Livestrong bands) on. They saw us and tried to chase us but they couldn't catch us...but I know they have gotten to be a hot item with young kids as well as adults.
Lance and Tour of Hope riders
Photo ©: Tour of Hope

CN: You must be proud of the success of the Livestrong bands to raise funds for the Lance Armstrong Foundation.
LA: Oh, totally proud...but I think part of it, for some people, it's just a cool thing to have and wear it, but for most people, it's meaningful and not just a fashion statement. It's not just a cool thing, but something they relate to in their heart because they have a family member or friend or themselves who's dealing with cancer. Hopefully more of the latter.
The 2004 Vuelta and the World's
CN: Since the Tour finished, have you been following cycling much?
LA: They didn't do the Vuelta on OLN so I didn't watch it on TV. I watched a little bit live on the Internet; the exciting days, but don't have a lot of time to sit around and watch the updates. So I paid a bit of attention to the Vuelta; I talked to Johan (Bruyneel) every day.
"I don't know how you ever leave Rebellin out of the World Championships, in Italy. That does not make any sense."
- Armstrong questions the Italian team selection
It worked out great for us, because the Vuelta led off with a team time trial and our guys almost played Hot Potato with the jersey. It was good to see guys shine that wouldn't normally shine in a race like that. It was huge...and I guess the final outcome of the Vuelta wasn't that surprising, although it was strange that Heras faded in the last week, although he still held on to win. They were just chipping away at his lead.
The World Championships, I didn't watch, but just read the results. It wasn't surprising; Freire is a classy rider and can win just about anytime, anywhere. The Spanish team exemplified how you're supposed to ride the (World Championships): put the best riders in and come with your best man. Contrast that with Italy; a guy like Rebellin, I don't know how you ever leave Rebellin out of the World Championships, in Italy. That does not make any sense...and you take certain guys who absolutely don't deserve to be there. Somebody should be held accountable for that.
Pro Tour: Good or Bad?
CN: Have you seen any of the recent developments on the Pro Tour; with the organizers of the Giro, Tour and Vuelta not wanting to participate in the Pro Tour?
LA: I've read a little bit about that...I'm not exactly sure of the politics of it all. It sounds like the Société Tour de France is leading the charge, which of course I can understand. The concept behind the Pro Tour is to create a series of consistently high level races and right now, the Tour is much bigger than the other events - there's a drastic difference. Even if you compare the Giro or Vuelta, it's stunning...the difference between these races and the Tour in terms of TV and media coverage, spectators along the route, prize money.
Of course the Tour wants to keep things the way they are; I'm not saying they're not doing a great job because they are. But I do think that cycling would perhaps be better off if things were a little more...I do think that the Tour should maintain its throne but other races need to come up. And if the Tour has to come down a notch or two, I think that's not bad.
In Part II of our interview with Lance Armstrong, he revisits his sixth Tour win, discusses the Discovery Channel cycling team and the Simeoni incident.