An interview with José Azevedo, September 28, 2004
Ace of Le Tour
By Tim Maloney, European Editor
José Azevedo doing a great job for his leader Lance Armstrong on Stage 16 of the Tour de France
Photo: © Roberto Bettini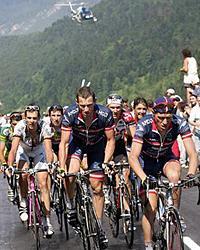 Twelve months ago, José Azevedo was wondering what was going to become of his career as a professional cyclist. The 31 year-old from the Portugese town of Villa do Conde, near Porto, was known in the pro peloton as being a hardworking, loyal team rider. But after three years at O.N.C.E., Azevedo was flicked by Manolo Saiz, who didn't appear to think the stalwart rider would be part of his future plans.
Azevedo went back to his roots, back to the Maia team where he rode for five seasons and racked up 30 pro wins. But a call from Johan Bruyneel in late October and some negotiations with Maia gained the quiet all-round rider his release from the Division II squad and back to the big time with USPS-Berry Floor.
Bruyneel's belief in him held true. Along with Floyd Landis, Azevedo became one of Lance Armstrong's right-hand men in the Texan's successful pursuit of a sixth Tour de France win. Cyclingnews caught up with the likeable lad, who's made remarkable progress with his now almost-fluent English, after the T-Mobile International in San Francisco earlier this month.
Cyclingnews: José, did you have a chance to watch the TV coverage of the Tour de France when you went back home in August?
José Azevedo: No, not really... I have one tape at home and I haven't looked at it. Maybe this winter.
CN: It seems like you are very much at ease [at USPS]; that you've found a good place to be and have integrated well on the squad.
JA: Yeah, I'm happy on this team... when I came here, the transition was easy because the people who work on the team, the staff, the riders, they accepted me very well, right from the beginning. When you work with good people, it's easy. At first, I didn't speak much English and I had to work on that, but the people on the team helped me; we spoke a little Spanish, a little English and so that helped. So the way they work on this team was why I extended my contract during the Tour.
"When I would see Lance and the USPS team celebrating, I would think, 'I'd like to do that one day'... to enter into the Champs Elysées with the yellow jersey."
- José Azevedo speaking about his time riding the Tour de France with O.N.C.E.
CN: So you're going to continue with Discovery through 2006?
JA: Yes, during the Tour Johan [Bruyneel] offered me another year and I decided [to extend].
CN: I understand you got a nickname from Lance during the Tour de France this year?
JA: A nickname?
CN: A special name...
Finished 5th overall, but maintains he's "not the only ace".
Photo: © Caroline Yang

JA: Oh yeah. Lance called me 'Ace'... I think that they called me 'Ace' like Azevedo.
CN: You were an ace in this year's Tour de France; I think you exceeded everyone's expectations by being the key teammate for Lance Armstrong in his sixth Tour de France win. How do you look back on your Tour?
JA: I'm happy with my work. And happy that my work was positive for Lance. Before I came to the team, Johan told me, 'If you come, your job is to help Lance win the Tour.' After I signed my contract, I kept that thought in my mind every day and wanted to be sure of that when the Tour started, that I was ready for the job.
I felt good in the Tour and I worked for Lance and I think that not only me, but the rest of the [USPS] team was in a good moment then. So the Ace wasn't just me, it was the whole team, all the teammates. The big ace was Lance, but I think the other guys deserved this name too. Me, Chechu, Pavel, Eki, Benjamin, Floyd, everybody. To be part of the team this year was special; for me, it's the first time I've been on a winning Tour de France team.
CN: Can you remember your thoughts during the final parade on the Champs Elysées this year?
JA: It was a very special moment; in my mind, the other years when I was on O.N.C.E., I finished the Tour but on the final day, when I would see Lance and the USPS team celebrating, I would think, 'I'd like to do that one day'... to enter into the Champs Elysées with the yellow jersey.
This year, when I woke up that Sunday morning, the last day of the Tour, I thought that before it was a dream and now it's for real. The last week was really hard and you can't think you have it won - every moment, there can be a crash or something can happen. But the last day, OK, we could enjoy it! It was a very special moment; for me, the best moment of my career.
CN: José, this has been a big year for cycling in Portugal, with your key role in the Tour and [Sergio] Paulinho's silver medal in the Athens Olympic road race. Did you watch the race?
JA: Yes, I was at home, just watching with my wife. I was happy to see Paulinho's ride; there are a lot of good riders in Portugal, but they need the opportunities to show what they can do. It wasn't that much of a surprise to see what Paulinho could do, because I know his qualities as a rider. He was the only guy who could stay with Bettini and that wasn't easy! I'm happy for Paulhino and his result is good for cycling in Portugal.
CN: Didn't Paulhino start his cycling career in your hometown, Villa do Conde?
JA: Yes, he was a first-year pro with the Villa do Conde team.
CN: So have you ridden with him much?
JA: Sure; they have mostly U23 riders on this team and sometimes I ride with these young riders. I think there are a lot of good riders on this team and hopefully they can get some chances.
CN: So in 2005, there will be a big change as USPS leaves as team sponsor and Discovery Communications comes in... some riders will leave and others will come on board. Where do you see yourself fitting in?
Happy to stay on board till 2006
Photo: © Alain Quenderf

JA: It's not really decided what we are going to do. I'm a rider and those are questions for the team directors. I'm a professional and Johan [Bruyneel] decides my program.
CN: Do you have any ambition to be leader for say, the Giro, or Vuelta?
JA: I don't know; I'm on the team and Johan is the director and what he decides for me, I'm gonna do. I am here to do the best I can. For next year, it's too early to say what we are doing, but I'm not worried.
CN: How about your new Discovery team-mates like Popovych and Savodelli; do you know them?
JA: Popovych, no, but I've raced with Savoldelli. It's good for the team that there are some new riders coming. We'll be strong, I'm sure.
San Francisco was my last race of the year and training starts again in November, so I'm looking forward to stay at home with my family for a while... we'll take a vacation together someplace but I don't know where yet.
CN: What will you do with the horse they awarded you with at the Tour de France?
JA: I think it's still in France... I don't know anything about it. I called the guy a few times but I never heard anything. So I'm not waiting anymore. It was a good show that day...
Politely, Azevedo excused himself to fulfil some further team obligations that evening and to pack for his return to Portugal, loaded with gifts from for his daughter and wife from the 'City by the Bay' and confident that he will play a key role on the Discovery Cycling team in 2005.