An interview with Henk Vogels, January 14, 2004
On the road to recovery - again
"Everything this season is for Gent-Wevelgem"
Leon (L) and Henk Vogels at the Perth criterium series
Photo: © Steve Lack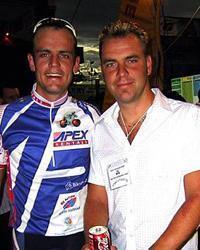 Henk Vogels has good reason to be "feeling very average". Just over a week ago, a high speed tumble and two broken ribs was the end result in only his second race back after a horrific, season-ending crash in June last year. However, despite the disappointment of missing the BMC Software Australian Road Championships and Jacob's Creek Tour Down Under, the tough-as-nails Aussie is determined to be ready for his number one priority this year: Gent-Wevelgem. Anthony Tan reports.
After spending the last six months recuperating and rehabilitating from a crash many first thought was fatal, the 30 year-old, soon to be father of two had spent barely two weeks back in serious training, riding between 80 to 100 kilometres a day, before disaster struck again at the second round of the Be Active Cycle Instead Criterium Series in his hometown of Perth.
"I went over [to Perth] to do the crits for show; I wasn't really ready because my ankle's still not back to where it should be," Vogels explained to Cyclingnews. "There were about 60 guys doing the race and halfway into the race, there were around 30 left but I was struggling - last wheel - and I stood out of the seat to accelerate and my handlebars snapped... I just went straight over the handlebars and my chest landed on the stem; I hit the deck and now I've broken a couple of ribs."
"The handlebars just sheared straight off; I must admit I'm bordering on 90 kilos at the moment, so I'm still totally overweight - about eight kilos over my race weight, which is quite a lot - but I don't think that [my weight] should have had anything to do with it. There's a a lot of [track] sprinters out there who are just as huge." Vogels added that the handlebars were on his personal bike, not his new Colnago team bike supplied by the Navigators team.
Forced rest may be a blessing in disguise
Naughty bike! Henk Snr takes the offending bike away
Photo: © Steve Lack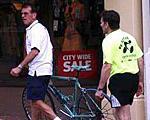 Asked if the crash has exacerbated the rehabilitation of his broken vertebra and ankle from his crash in Fitchburg last year, Vogels said the extra time off the bike will in fact allow his ankle to regain its full strength before he resumes racing with the Navigators Insurance team in Italy at the end of next month. Missing the national road championships this weekend or the Jacob's Creek Tour Down Under (JCTDU) is not a huge loss either: before Navigators was invited to race the JCTDU in replace of Spanish team Liberty Seguros, Vogels had already been offered and declined a position on one of the Australian composite teams by national coach Brian Stephens on the basis of his current level of fitness.
"If anything, it [the crash] gave me another 9 or 10 days off the bike for my ankle to heal and all. But I was just getting back into the swing of things; I had just done 300k in three days and I had been training quite seriously since the 20th of December, and then this comes along, so I'm just on bloody pain killers three times a day. The left hand side of my body has really been hammered the last six months; I must have killed a Chinaman in a previous life or something, I don't know," mused Vogels.
Sick and tired of sitting on the couch, Vogels made an attempt to return to riding yesterday despite the pain of nursing two broken ribs, managing to ride for 45 minutes on the flat. "I couldn't even breathe properly until yesterday, but I just thought: 'Stuff it, I'm going for a ride anyway'. I can't get out of the saddle because I need to use my arms and torso to stand up, but I'm going to go out for a couple of hours sitting in the saddle the next few days to try and get some kilometres back in - I'm sick and tired of sitting round the house - I want to get back into it."
Repaying the trust; Gent Wevelgem the focus
One better in Gent this year?
Photo: © AFP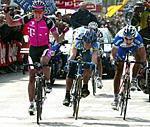 Vogels' excellent first half of the season last year put the talented roleur in contact with a number of European teams when deciding his future for 2004. However, a combination of a long recovery period and wanting to repay the faith shown by his Navigators team manager, Ed Beamon, convinced the tough Aussie to stay one more year with the American-based squad.
"Ed offered me the same deal as last year, and he knew I had some offers from other teams; I actually had three offers - two category one and one category two team from Europe - within 24 hours of me signing with Navigators," said Vogels. "But I opted to go back with Navigators just because I don't think I'd be ready to step straight back into a category one team just with my injuries. Also, this is a guy [Beamon] who paid me for six months while I was in bed and offered me a contract straight away, so I really wanted to look after him because he had faith in me."
Navigators will be following a similar race program to that of last year, beginning with a number of early season one-day races in Italy at the end of February, followed by a short but intense block of racing in Belgium before returning to America contest the Tour of Georgia in April. While he may not have the form to do well for himself early on, Vogels is most excited about Gent-Wevelgem on April 7, a race he came second in last year to Andreas Klier.
"We've got a pretty good race program. I'm going to discount Het Volk, because I'm not going to be in any shape - the big hitters are going to be hitting their straps right after the Tour Down Under. So I'm going to put my focus on Gent-Wevelgem - everything this season is for Gent-Wevelgem - and also Scheldeprijs [Vlaanderen] and obviously Tour of Georgia, which is a big event for us as an American team. I think if I can get some results, then maybe Olympic selection is possible - I've shown I can ride as a domestique in the past - but with so many good Australians, it's going to be hard to get into the team this year, but I'm going to try as hard as I can."
McKenzie's a winner
Excited about the thought of having another fellow Australian on the team in Victorian David McKenzie, Vogels believes the ex-Flanders-iTeamNova rider will benefit from the solid race program offered by Navigators: "Yeah, I'm really happy Dave's on the team, because he's a winner," Vogels said. "Unfortunately, he's a little inconsistent, but hopefully with a good program in the US this year, he can be a little more consistent with his form. When he's on, he's an incredible bike rider and he's won lots of bike races, and that's why he's on the team, because he can win."
Vogels' wife Cindy is expected to give birth to their second child in early February, meaning Henk will miss the team's first training camp in Donoratico, Italy later this month. Instead, he is likely to leave for Italy on February 17, with his first race scheduled five days later on February 22. Said Vogels with optimism: "I got a puncture on my first bike ride back after breaking my ribs, so I reckon I'm getting all my back luck out of the way at the start of the season so I can have great luck in the Classics!"
See also: 2003 interview with Henk Vogels - Captain Courageous: A return from the dead
Other Talking Cycling Interviews