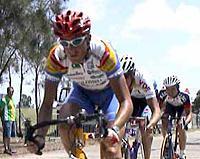 Photo: © Bob Bykerk
Moving on up: The Trent Wilson Journal 2004
After being one of six iTeamNova riders who made the cut last year when his Aussie Div III team merged with RDM-Flanders to form Flanders-iTeamNova, "Willo's" earned a place in Division II with Colombia Selle Italia in 2004. Follow his progress and get a taste of Aussie humour as he lights up the road in Europe. Trent also his own web site at www.trentwilson78.com where you can find out even more about this Sydney rider.
Australia, December 30, 2004
Starting to feel like a bike rider again
G'day,
Trent
Photo ©: Trent Wilson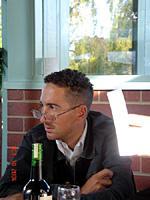 When I last wrote I was just about to throw the leg over the bike for the first time this season. It didn't get off to a great start. After three days back on the bike and struggling over the smallest of hills like a grandma riding to the shops, I went to the gym as usual. I'd been back in the gym for about three weeks and decided to step it up another notch. When I was on the leg press machine I felt something bite in my groin but thought nothing about. The next day that area was swollen and inflamed and stayed that way for five days. To say I was in pain was an understatement.
After a good stint in front of the TV and the odd venture to the shops with someone else driving my car for five days I got back on the bike to make a fresh start, again. This time I took it very easy, cruising in training and pushing feather-like weights in the gym. The only problem was with Harro and Tommy staying at my place, they were a few weeks ahead of me and fitter, constantly keeping the pressure on me out training.
We headed down to Jervis Bay for three days on the NSW south coast where my sister-in-law's parents have a house. It was planned to be a holiday/training camp but that went out the window when Sydney got hit by those storms for three days.
Trent and Harro
Photo ©: Trent Wilson

Then Harro and I headed from one camp to another. This time we headed across to the NSWIS-FDJ camp down in Kangaroo Valley. The camp is reserved for the young kids, the McGees and hangers-on like me and Harro. They were a good few days, as these camps always are good value and fun. Catching up with the boys, slow and long kms, and a few beers every night. One day we headed out for a 6 hr ride in the bergs over Camberrwarra mountain into Nowra, across to Kiama, then over to Macquarie Pass. It was a long, slow day and what I needed. I was starting to feel like a bike rider again...It was once again a successful few days and everyone had a good time and a few hard days training.
After that I headed back to organise my 8th annual Christmas party which was a great night and all had fun. A few days later Tommy Buchacek headed back to Czech for Christmas and Harro back to Coffs Harbour. The house is now quiet and I have a few less training partners. The silence in the house is sometimes scary!
Trent at his birthday party with friends:
Photo ©: Trent Wilson

Christmas was a quiet family affair and was a great day, with plenty of eating and drinking. Of course after doing this to your body all day for 14 or so hours, what do most athletes do on Boxing day?...Up the training schedule by double. It wasn't surprising to see a big bunch out the next day with the majority of riders keen to do a long six hour ride. Actually, the past few days have been great, with a lot of people off work over Christmas, the training bunch has multiplied and I've been upping some really long days. I am feeling a lot better on the bike, more comfortable, fitter and just better within myself. In saying that, I have been coming home from training and laying on the lounge passed out for two or so hours, but it's that good feeling of getting fitter and getting form back that is great. All bike riders know what I mean.
Next up is the Bay Crits in Geelong for my seventh consecutive time, I must be getting old! My aim is to go down there and get a bit of race fitness and few more kms under the belt. I won't be doing anything special and just hope to finish most of them to get the racing benefit. Then the Aussie Nationals in Adelaide where I hope to get some kind of result depending on the form. Things are coming along slowly and I don't need to rush them.
Happy New year to all,
Cheers,
Willo