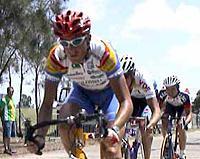 Photo: © Bob Bykerk
Moving on up: The Trent Wilson Journal 2004
After being one of six iTeamNova riders who made the cut last year when his Aussie Div III team merged with RDM-Flanders to form Flanders-iTeamNova, "Willo's" earned a place in Division II with Colombia Selle Italia in 2004. Follow his progress and get a taste of Aussie humour as he lights up the road in Europe. Trent also his own web site at www.trentwilson78.com where you can find out even more about this Sydney rider.
Australia, December 2, 2004
The Offy
G'day,
The boys
Photo ©: Trent Wilson
Three weeks goes pretty quick when you're having fun. The offy is over and the pre-season has already started. Next thing you know we'll be doing laps around a car park in the Bay Crits, and then in a blink of an eye I'll be back in Europe.
After Tour of Qld everybody jumped in cars and planes and went their separate ways. We, as usual went to the Gold Coast to play up for a week. We, being my teammate Russ, the team soigneur Luca, our Tour Qld 'go-for' Matt, and my mates Tommy and Harro and his girlfriend Jess. Its normally against the rules to have girlfriends present for this week but we let it slide for this time! When someone asked us where we were from the list was long: Sydney, Coffs Harbour, two from Adelaide, Belgium, Italy and the Czech Republic.
The (surfer) boys
Photo ©: Trent Wilson

Trent and Luca
Photo ©: Trent Wilson

The traditional (and somewhat blurred) 'morning after' fry-up:
Photo ©: Trent Wilson

The weather up at the Goldie wasn't the best to start with but it got better as the week progressed. So it was a week of relaxing, partying, spa and sauna time, beach and surfing, shopping and coffee shops. Every day was generally a late crawl out of bed after a late night, followed quickly by a greasy fry up and then a stroll down to the local brew shop for a few double shot cappa's.
One day we ventured to Dream World, one of the Goldie's theme parks. I haven't been there for a decade and apart from some of the long queues it was a good day. The Big Drop ride was a personal fav, where the ride drops you from 110m, falling at over 200 km/h. It was a good rush.
Towards the end of the week, the weather cleared up and it was good beach weather. We got the Surfboards out but I can't surf so it was up to Harro to show the internationals how to do it. I did try to surf though and came out with a few sore bones and muscles.
On the way home from the Goldie, after eight years, my reliable car became unreliable for the first time ever. After about ten minutes of getting off the phone to a mate talking about how good my car has been to me, my alternator went. Two hours from Sydney and in the middle of nowhere. I called the NRMA, joined up over the phone, waited an hour and got on the road again.
Back in Sydney, the second week of the offy was time to get things done that had to be done, and actually recover from the holiday. I caught up with mates properly, because between getting home from Europe and the Sun Tour I was pretty busy. Finally it was my 26th birthday so that was worth a celebration too.
The third week of the offy wasn't the best. After going to a dress-up 21st in just a blue truckie singlet (yeah long story) I got really sick and ended up in bed for five days with an unbelievable temperature. I came good in time though, and finished the week on a high going to Nathan 'Chookman' Russell's wedding. It was a top night and great to catch up with guys I hadn't seen for years. It was a beaut wedding and Veronica looked stunning.
It's back to the bike now and after this morning's first day back its going to be a few weeks before I find my legs again. Let the pre-season begin!
Cheers,
Willo