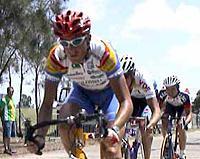 Photo: © Bob Bykerk
Moving on up: The Trent Wilson Journal 2004
After being one of six iTeamNova riders who made the cut last year when his Aussie Div III team merged with RDM-Flanders to form Flanders-iTeamNova, "Willo's" earned a place in Division II with Colombia Selle Italia in 2004. Follow his progress and get a taste of Aussie humour as he lights up the road in Europe. Trent also his own web site at www.trentwilson78.com where you can find out even more about this Sydney rider.
Australia, November 14, 2004
On the road again
G'day,
Willo accepts his prize
Photo ©: Trent Wilson

The Subaru team
Photo ©: Trent Wilson

In casual kit
Photo ©: Trent Wilson

In very casual kit
Photo ©: Trent Wilson

I've been on the road for a month now around Australia since I wrote my last diary entry. So it's been a busy month of racing and travelling. I had three races to finish the 2004 season, starting with the Melbourne to Warrnambool, then the Herald Sun Tour and finishing off with the Tour of Queensland.
I flew to Melbourne into typical Melb's weather, rain and cold. Between Russ, the Colombian Ruber Marin, Tommy Buchacek and myself, we decided the 300km the following day in the Warnie was enough riding for a few days so we designated an RDO. Thanks to Subaru for lending us a car for the week; if not the four of us would've been in trouble with all our luggage.
It was an early start for the Warnie with a 7am kick-off. Thankfully the weather warmed up nicely for us and it was a dry day. I had no intentions of finishing the race, with my expectations on the Sun Tour. So Tommy and I attacked just before the first sprint in an attempt to win as many sprint and KOM's as possible. That's exactly what we did, staying away for 140km and long enough to finish first and second in 11 sprints and 4 KOM's. I also picked up the overall KOM and sprint jerseys. It was a hard day into the block headwind but at 200km mark I was in the warm car with the casual kit on. Maybe some think it's a defeatist attitude, but I wanted the coin and wanted to save the legs. Russ was also fourth overall to put in a good ride.
The very next day was the annual John 'Iffy' Trevorrow golf day. Normally on the Tuesday before the Sun Tour, this year it was moved to the Sunday. So you can imagine the legs have felt better! My golf hasn't improved either. The dark horse of the day was Russ, taking an overall second in the day behind Tony McCathedy. The usual feed after was once again great, with good company too...
Next on the agenda was the Herald Sun Tour. I was geed for this one and the form was good out training. With Illiano and Schnieder pulling out with a week to go, we got two very strong replacements, Baden Cooke and Mark Renshaw. So we weren't complaining. Together with Marin, Russ and I, we had a good team along with a great support crew of Michele Primaro, my soigneur from Italy Luca, Nashie and Rick.
The first few days of the tour were good for us, with Cookie winning three stages and second in another. This was enough for us to have confidence in him winning the overall title like he did two years ago. Unfortunately on day five in Colac, a dangerous break went up the road and everybody looked at us to chase. If we didn't, that break might've won the tour. We put all our eggs in one basket and the four of us chased hard bringing to break from almost 4min, back to 20sec by the end. We all lost between 10 and 20mins on the overall but Cookie was still looking good. Unfortunately the next day, the same injury he had earlier in the year, reoccurred. His back went on him and he was forced to withdraw the very next day.
Our team morale went into a downhill spiral. With no early breaks staying away the whole tour and our GC over, we didn't have much to ride for. We got the odd top 10 every now and then, but for me in particular, the motivation was gone for the season.
It was then back to Sydney for a few days to chill out before heading on a road trip. The Tour Qld starts in Bundaberg and because the boys and I are going to the Gold Coast afterwards, I thought Tommy and I would drive up. Just before Newcastle, I made the call to up an epic. Go straight through to Bundy, no stay-overs. We were on good time till I got 10km from the Gold Coast and ran out of petrol. I gotta say, I used to work at a petrol station and used to think the guys running out of petrol were flat-out breathing. How could you ever let it get that low? Well, I have a good excuse. I took a short cut through Ballina (thanks to Harro's general knowledge) and came out 15km on the other side, missing all petrol stations in Ballina. What I didn't know was there are no petrol stations on the Pacific highway between Ballina and the Goldy. Tommy was asleep in the car while I was driving and getting nervous. Once the car stopped I pulled the bike out of the car and rode 7km to a petrol station for fuel, then 7km back.We lost an hour which wasn't too bad but then got the peak hour traffic through Brisbane. Then to make it worse, after 15 hours of driving and 60km out of Bundy, I got done for speeding. What an epic drive.
Tour Qld was a six day tour with eight stages. We had a good team again with Russ, Marin and I, along with Tommy and Brad Mills to fill in the other two spots. We had the same support crew, except Matty Dorian took over as Go-for.
Russ was in form from the first criterium stage and was keen to ride a good GC. So we put everything into him and things were looking good for us. Russ had the jersey for a day and was always within a few seconds. In the end it came down to time bonuses and he was fourth, 9sec back. It was a very close tour and it came down to the last sprint in the last stage and every time bonus counted. Like last year, it was a fun tour and enjoyable. Nice way to finish the season with good weather, short stages and good prize money.
Now I'm off to the Gold Coast with the boys for a week. It's time for a well deserved rest...
Cheers,
Willo