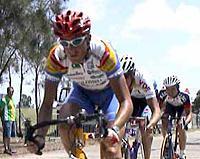 Photo: © Bob Bykerk
Moving on up: The Trent Wilson Journal 2004
After being one of six iTeamNova riders who made the cut last year when his Aussie Div III team merged with RDM-Flanders to form Flanders-iTeamNova, "Willo's" earned a place in Division II with Colombia Selle Italia in 2004. Follow his progress and get a taste of Aussie humour as he lights up the road in Europe. Trent also his own web site at www.trentwilson78.com where you can find out even more about this Sydney rider.
June 16, 2004
R&R
Willo and Wilbert
Photo ©: Trent Wilson

Nature calls
Photo ©: Trent Wilson

Willo with his Aussie friends
Photo ©: Trent Wilson

Aww... isn't that cute?
Photo ©: Trent Wilson

G'day,
My mid-season break is nearly over; how quick does three weeks go when your doing other stuff, other than cycling? After the Giro, I was keen to have a week's break but it was extended when my June race program was empty. Bit of a shame really, cause I'm sure if I had to race now, form would be good after a three-week thrashing, and two weeks' rest.
Anyway, not to worry, I made the most of the opportunity to be a tourist for a few days. I was still riding my bike though, just two hours a day. A few days after the Giro, I met James Hannam in Milano. I spent a few days looking around, and when people say Milan is the shopping capital of the world, listen to them! The credit card got a bit of a flogging, but at least I got something to show for it. Jimmy and I stumbled across a nice classy jazz bar one night, where a few nice Italian reds were drunk.
I bid farewell to young Jimmy and back to my home town of Cossato. I wasn't there for long before I got a call from Brett Lancaster. Burt and Ally wanted to catch up on the good ol' days and Burt was also struggling with a bit of motivation, as was I. So I headed down to Pistoia (near Florence) to go for a few rides and tell a few stories. It was good but way too short, few days. I finally got to go to the infamous Cappuccino King. I have heard so many stories about this place and it certainly lived up to my expectations. Aussies have been going to the Cappuccino King for years - from when the National team was based here 10 years ago, till now. The King has at least 100 jerseys hanging in his shop, from old-school VIS Jayco, John Beasley Cycles to world champ jerseys.
After my short visit it was back to Cossato again, after another disgraceful six-hour train ride. The train system in Italy has some issues and they really needed to have a good hard look at themselves. It really isn't that far from Pistoia to Milan!
So, back to reality in Cossato. My friends from Sydney, Bill and Debra Hall with their 14 month-old son William, turned up just as I arrived home. They were here for a week and it was great to see them again after four months. Bill brought his bike too, so we got out everyday for a few hours. The weather was unbelievable. Everyday was mid 30s and stinking hot. A week ago I was still wearing a jumper occasionally. It was so hot, that little Will got sick from the heat. It made the Hall's vacation a little less fun, having to stay in the hotel room minding Will for a fair share of their trip.
Now I am in Holland. I've been needing to come to Belgium at some stage to close my bank account, pick up some bags and sort a few things out. I thought that with a month of no racing, this was as good of a time as ever. But why am I in Holland? Well, while I'm in the area I thought I may as well see Russ on his birthday. He's up here doing his national championships; having a Dutch passport along with his Australian means he can race the Dutch Nationals. He was fourth in the time trial.
I arrived two days ago, and am staying at one of Russell's friends from last year, Wilbert. Everybody is so nice in the country, and Wilbert's hospitality shows this. I didn't even know him two days ago and he let me stay at his pad. I've got to know him and his friends and they're a great bunch of guys.
On Russ's birthday we had dinner, a few beers and watched Holland vs. Germany in the Euro Soccer Cup. They really get into it over here, and I'm just glad Holland drew against Germany, and didn't lose. Everybody and everything was orange. Last night we got last-minute tickets to see Red Hot Chilli Peppers. The Chilli Peppers are my all-time favorite band and I wasn't missing out on an opportunity like this. We headed into Amsterdam Arena to watch their awesome performance. They can really put on a show!
I'm off to Belg tomorrow to my old town, Gent. Looking forward to that, its almost like going home after living there for two years. I might even put the number on and race a pro kermesse.
Well, it's that time of day, better go training before it rains.
Cheers,
Willo