Recently on Cyclingnews.com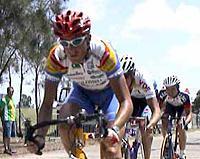 Photo: © Bob Bykerk
Moving on up: The Trent Wilson Journal 2004
After being one of six iTeamNova riders who made the cut last year when his Aussie Div III team merged with RDM-Flanders to form Flanders-iTeamNova, "Willo's" earned a place in Division II with Colombia Selle Italia in 2004. Follow his progress and get a taste of Aussie humour as he lights up the road in Europe. Trent also his own web site at www.trentwilson78.com where you can find out even more about this Sydney rider.
Chocolate and rain
G'day,
What a great tan-line
Photo ©: Trent Wilson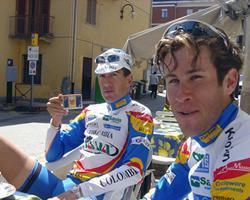 Training, eating and racing has been what's been going on here the last few weeks, in that order! Russ and I have settled into this little town called Cassato, near Torino. We are starting to become locals at the coffee shops, all through the town. We continued to pump out the kilometres, doing some good decent rides in between rainy days. Once again heading out most days with Sergio Barbero, and a handful of other riders. We did a few long six hours-plus days, well into the 200km mark. Generally doing four hours with a few bergs, followed by two hours behind the car. As it turned out, our recovery days were spent indoors because the weather has been dreadful at times. I've never seen so much rain in Italy. One training ride that went quicker than most was when Russ and I discussed whether we'd been on this one particular road before. Agreeing to disagree, we threw a case of Heineken on it to see who was right. The conversation lasted the best part of 2 hours and before we knew it the training ride was nearly over. As it turned out, we'd been on the road before and I was the new owner of a case for later on this year.
Easter goodies,
Photo ©: Trent Wilson

Thank God that Easter Monday was dry and we got six hours training in, because my first proper Italian Easter was something I'd never seen before. This being my fifth year in Europe I haven't had an Easter in a while and actually forgot how you celebrate it. The last two years being in Belgium living on my own. The two years previous in Italy we always had racing on. The family that owns the hotel where we are living told us to be ready to eat at 12.30pm. Russ and I headed out for a ride fairly early to come back in time. We bought them a big 40 Euro Easter basket to show them our appreciation of how nice they have been to us. We sat down and saw the menu. It was broken up into different sections, so obviously we thought you had the dish of your choice. The old man told us you eat everything on the menu and we laughed knowing it was a joke. Thing was… it wasn't a joke. 13 plates of food, a couple of glasses of red and three hours later the lunch was over. Unbelievable! We then retired to the lounge to watch Paris-Roubaix. It was just like Christmas, when you have a sleep after the meal. I had to fight to keep the eye lids open till after big Maggy threw his arms in the air.
A few more days training and we were off to Giro d'Abruzzo, a 2.5, 4 day tour. It's a smaller tour with a mix of amateurs and professionals. With the Colombians at home we only had five riders, thus riding a smaller tour rather than something like Trentino or Bergamaster. In this team, it is all about the Giro. They are so motivated for the Giro. In the team meeting, the director told us to use this tour for training, and any results that come out of it is a bonus. We met up with our new Swiss team mate, Philippe Shnieder. He was quick to open up, and Russ and I made him feel at home.
Hangin' out
Photo ©: Trent Wilson

There was only time for an hour ride before the team presentation and all that jazz. After that, I got to catch up with my old amateur Italian team, Bibanese, who was riding. It was good to see one of my old team mates, director and soigneur, as well as David Betts, who is riding with the team this year. After dinner I caught up with Rory Suntherland and David McPartland who were also riding.
The first stage was an undulating 160km. After a nice cruisy start, the race started with a flurry of attacks. I attacked on one of the climbs and gained a gap on my own, which wasn't really what I wanted but went on with it anyway. I got caught after 25km and another break went with Rory in it. The DS through us on the front to chase and when we brought it back with 20km to go, that was pretty much the end of my day.
Day 2 was rain from start to finish, not one I will forget in a while. Midway through, there was a fairly hard climb where the bunch split. I made the front split but on the descent it started to split again and I had to take a few risks to close a few gaps that were left. I dropped myself on a left hander and slid for the best part of 20 meters. I was ok and remounted within seconds. I was left wondering how it happened, especially when I lost my back wheel, not the front. It came down to a 60-rider sprint. I felt good towards the finish and attacked over the last climb with 5km to go but got brought back by the finish.
Like milkshake through a straw,
Photo ©: Trent Wilson

Once again it looked like rain for the next day, but thankfully the rain stayed away till after the finish. Before the first KOM I jumped into a break, as did my in-form team mate, Rafaelle Illaino. I led him out for the first KOM which he just got beat for. From there on the group worked well for the next 60km, and Raf took the two other KOM sprints and the jersey. With 40km to go, the director made a decision and I was forced to drive on the front. On the second last climb I rode from bottom to top, to try and keep the time gap. The remainder of the bunch caught us and a break went straight away. The break stayed away and they fought it out for the win. Rory Sutherland took the honours. I made a comment to Russ that I have never seen Rory in bad form; such a consistent rider.
The last day of the tour and we started in the rain again, not great for the motivation. A break went after about 35km and we had Philippe in it. I had bad legs from the start and was thinking about stepping off, but the longer the race went the better I felt. The break was brought back and the KOM jersey was secure on Raf's shoulders. It was a 3km hilltop finish and I managed to finish near the top 20. I was pretty content after the way my legs felt earlier. Russ was also a lot happier which was good to see. His form is coming along well after the problems he had earlier. A six-hour drive followed before we arrived home, and what a welcoming we got. We were gone for five days and all the family was there to greet us out the front of the hotel. I don't get that kind of reception when I get home from Europe each year. Next up, we have Appenino, a one dayer down in Genova. That is our last race before the big one, a lap of Italy, the Giro d'Italia!
Cheers
Willo