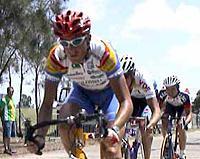 Photo: © Bob Bykerk
Moving on up: The Trent Wilson Journal 2004
After being one of six iTeamNova riders who made the cut last year when his Aussie Div III team merged with RDM-Flanders to form Flanders-iTeamNova, "Willo's" earned a place in Division II with Colombia Selle Italia in 2004. Follow his progress and get a taste of Aussie humour as he lights up the road in Europe. Trent also his own web site at www.trentwilson78.com where you can find out even more about this Sydney rider.
Italia, February 20 - March 10: Giro della Lucca; Giro della Calabria & Trofeo dell'Etna
A shock to the system
G'day,
View from the top
Photo ©: Trent Wilson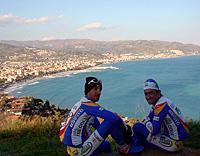 After Tour de Langkawi I was supposed to go home to Sydney for a fortnight. Once I got to Langkawi though, the plans changed, the director wanted both Russ and me back in Italy to ride Giro Del Lucca. I still had to go home though, to sort a few things out and pick up some warm gear for the European winter.
Four days at home went in a blink of an eye. A home cooked dinner, two barbies and a pub meal later I was back at Sydney airport. Days were filled with training in the mornings, tying loose ends up in the arvo, along with catching up with family and mates. On the Friday I had lunch in the city with a mate, Andy Yee, and I realised it was the first time since I've been home in September that I've been in the city of a day and in plain clothes. Gotta do that more often, but time just flew by.
Arriving in Italy and it was a bit of a shock to the system. Three hours before flying out of Sydney I was sitting around my pool in 43 degree temperature. Twenty-four hours later I had every piece of clothing on and it was zero degrees. The soigneur and Russ were there to pick me up. There was no messing around and we were off for a three-hour drive south towards Lucca. A good feed and a great night's sleep along with a hot shower and I felt human again. Another two-hour drive and we were in Lucca. What greeted us wasn't the best. Cold, wet conditions and the wind was blowing a gale. We got all our casual and racing warm weather gear and it was time to test them out. We went for a short ride between thunder storms to roll the legs along.
Life's a beach
Photo ©: Trent Wilson

The next day the weather had cleared up but was still cold. I expected to have a hard race in Lucca, with having just stepped off a plane, and the difference in temperature, but I never expected to have this much of a hard time. I rugged up to make sure I stayed warm and looked like I was going for a training ride, not a race. I felt every aggressive pedal stroke. It was just lucky that they had a lot of 'piano'. Thanks to the cold weather the riders were keen to cruise out of the blocks each day and it gave me a good chance to catch up with fellow Aussies Nick Gates, Brad McGee, Mark Renshaw and Scott Davis. The first two days I also suffered with stomach problems (enough information) to add to my handle bar biting. Gatesy was obviously sitting too close to me in the piano session and caught the same thing.
The first two stages ended in bunch sprints with Petacchi taking both stages in front of Cipo.
The third day was a hard one with eight bergs. It was so cold that if it was raining the organisers were going to cancel the stage because it would be snowing on the hilltops. As it turned out it was perfect at the start. Somehow we missed the early break and it was up to Russ and me to chase. We drilled it to the first climb, throwing away any chance of finishing the stage and the tour. The break came back and a move went with 17 riders, and somehow the boys missed it again. You did not want to be in the 45-minute-long team meeting that night!
On the Capressa
Photo ©: Trent Wilson

The break stayed away and the conditions turned brutal. It rained non stop and it was so cold. The 130-strong bunch stopped with one lap (25km) to go. I thought, along with everyone else, that somehow they'd let everyone start the next day, but rules are rules. The next day there were 17 riders on the start line and everyone else went home.
We headed off to a nice town on the coast 30km from San Remo. We're not staying here all year unfortunately. We're staying down here now because its further south and a lot warmer at the moment and better for training. When it warms up we will move up towards Milan in the bergs. It would be pretty tough living here though, as its beautiful and I can imagine in summer it would be busy, but still a nice place to stay.
We spent a few days relaxing and settling in. I was just cruising on the bike and kicking back of an afternoon. One day we rode into San Remo for a coffee to see what it's like, just because we could. Who ever said Milan - San Remo is a flat World Cup hasn't ridden the last 30km. The Capressa and Pogia are both hard climbs coming in the last 20km or so. After a few easy days it was time to step it up a notch and do some long rides in the bergs. It was great to be back climbing 15km bergs out training. The only hiccup was that Russ has hurt both knees. He's still training but taking it easy. We're not 100 percent sure if its from the new pedals, the cold or both.
Rubbish view eh?
Photo ©: Trent Wilson

A few more easy days followed before we headed south to do Calabria and Trofeo Etna. Calabria had a 15km climb after 40km, and then flat to the finish, so with no notable sprinter our best chance was to attack early. I was keen to attack and try to get in a move but nothing went. We hit the climb and Freddy Gonzalez and Marlon Perez both attacked and rode away on the climb. Just to show how much form they have at the moment and to make up for the third day of Lucca they held the bunch off till 15km from the finish. I felt okay on the climb and climbed over in the main group without too many problems. It came down to a bunch sprint and I tried to help one of our riders towards the finish. By the finish I felt the 190km in the legs but pretty happy the ways things are going.
Cheers,
Willo