Recently on Cyclingnews.com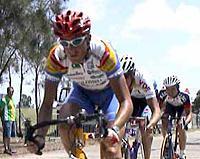 Photo: © Bob Bykerk
Moving on up: The Trent Wilson Journal 2004
After being one of six iTeamNova riders who made the cut last year when his Aussie Div III team merged with RDM-Flanders to form Flanders-iTeamNova, "Willo's" earned a place in Division II with Colombia Selle Italia in 2004. Follow his progress and get a taste of Aussie humour as he lights up the road in Europe. Trent also his own web site at www.trentwilson78.com where you can find out even more about this Sydney rider.
Tour de Langkawi Stages 8-10
The finale
G'day,
When I last wrote we were three days from the end of the Tour of Langkawi with the lead and the pressure on. We hard one short fast road stage, the mountain top finish up Genting and a circuit race to go.
Stage 8: Friday, February 13, 2004 Port Dickson - Shah Alam, 96.4 km
I said to Russ on the start line that I'd be much happier when this stage was over. He reminded me that I had said that for the past four stages.
That was true but I knew this was going to be short but fast. There was a sprint after 4km so it was pretty much on from the start. Palmans were getting amongst it with the sprinters, with Gert Vanderaerden wanting second in the sprint comp (no one could catch Gord Fraser). At the 15km mark there was a cat 4 climb with dangerous cross winds over the top. Russ and I led out our boys for the KOM and they contested it between the three of them, as they were first, second and third in that competition. It was hard over the top in the cross wind but no one took advantage of it, and the bunch stayed together.
We decided to try and control it from here and rode a hard tempo, letting three riders go up the road. Palmans chased it down a few km's later for Vanderaerden to pick up more points in the sprint comp, which he did. The bunch let us ride tempo again before we got bombarded by attacks with 35km to go. We chased everything down till 25km to go when the sprinters teams took over. Thankfully for me, as I was a gibbering mess. By the finish I was nailed and was not looking forward to Genting.
Stage 9: Saturday, February 14, 2004 Kuala Lumpur - Genting Highlands, 131.6 km
Today we went up the infamous Genting Highlands, a 25km mountain. I was hoping for a gentle start, and for once it was. We cruised along for the first 15km before the first intermediate sprint. The sprinters and I were hoping for another 'piano session', but it wasn't to be. It was on for the next 50km till finally a break went clear. There were more riders in the break than we would have liked, 'cause a large break is harder to control. Lucky for us, Panaria missed the break and helped us chase. The break was brought back by the bottom of the climb and climbers took over. I found my rhythm and rode steadily to the top. I felt a lot better today, after finishing yesterday in a bad state. Morin told me he was going to win, and win he did. Morin and Freddy did a one-two for Colombia Selle Italia, riding across the lines with both sets of hands in the air. Perez was a bit disappointed within himself, losing the jersey, but it went to my other team mate Freddy. Three riders in the top 10 on the overall, and the first three riders in the KOM competition, and second on team GC behind Barloworld who have really impressed everyone this week.
Stage 10: Sunday, February 15, 2004, Kuala Lumpur Criterium - Dataran Merdeka, 80.4 km
The tour still isn't over and we had to keep on the ball. A fast circuit race around Kuala lumpur could throw anything at us. From the start we went right to the front to control things. We let three riders go up the road and controlled the bunch, leaving the break at about 40 seconds. It worked out perfectly and with a few sprinters' teams helping us with 50km to go, the race didn't hurt as much as I thought it would. It came down to a bunch kick with Bonjourno taking the win, with Perez in fifth, securing his third spot in the points competition.
Well, what a tour for the team. We couldn't have asked for much more; there was a bit of bad luck on the third day when Perez crashed and lost 2mins but that's bike racing. We got the win and the money. Once again the organisation of the Tour de langkawi did an awesome job and I left the race for the third time after having a good time - as well as a hard race, of course! They always put on a good show and look after everyone so well, so thanks to them.
I'm back in Sydney now, I don't know why, 'cause its only for four days. I was originally going to come home for two weeks, but once I arrived in Malaysia, the director wanted me in Italy earlier. I had to come home to pick up a few things and sort some stuff out. I'll be starting Giro del Luca on Tuesday. The weather here is unbelievable and I'm trying to lap up the pool as much as possible before I go to the end of the European winter. I had my last coffee on the beach at Manly yesterday while out training, and caught up with Steve Wooldridge today out training. Apart from this diary entry I haven't had a chance to sit down, with all the things I got to do in so few days. I better get back to it.
Cheers,
Willo