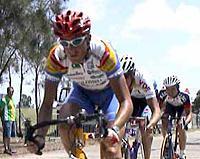 Photo: © Bob Bykerk
Moving on up: The Trent Wilson Journal 2004
After being one of six iTeamNova riders who made the cut last year when his Aussie Div III team merged with RDM-Flanders to form Flanders-iTeamNova, "Willo's" earned a place in Division II with Colombia Selle Italia in 2004. Follow his progress and get a taste of Aussie humour as he lights up the road in Europe. Trent also his own web site at www.trentwilson78.com where you can find out even more about this Sydney rider.
Looking to Langkawi
Australia, January 29, 2004
G'day,
Been a while between updates and plenty has happened since I last wrote. I have been on the road for two weeks in Victoria, followed by a big week of km's.
First up: Bay Crits
Photo ©: Shane Goss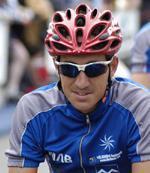 First on the agenda was the Jayco Bay Crits. This year was the sixth time I had competed in the series and I'm always happy to go down. OK, so the weather's always suspect, but you can always get a good block of training in, with intensity, a week out from the Nationals. Also a good chance to catch up with mates before the new season starts. Due to my 2003 season finishing so late, I knew I'd be under done going into the first few crits, but I improved everyday and the form was coming along well.
I was in the Docklands team led by McEwen, along with my good mate David Harrigan, Sydneysider Brian Appleyard and funny-man Kane Oakley. Rooming with Harro, who has been living at my house in Sydney, was good - we were heading out with a few others most mornings to do between 3-4 hours training before the crits.
The first crit was on the Mornington Peninsula at a town called Hastings. We rode to the ferry at Queenscliff and with a nice tail wind, floated to Hastings. The only hiccup was that it poured rain 40km from the start and the motivation plummeted. Thank god for spare kit, and I at least started the race dry. Thankfully, I had done 90km before the start, so my day wasn't a complete waste, as I chose to keep my skin on and took an early shower along with many other riders. It was a nice circuit, but due to the rain it turned into an ice rink. Some riders crashed three times.
Portarlington was a crit I was keen to do well in, but that was probably my downfall. When the early break went with McGee, McKenzie and co., I got excited and tried to jump across, but I didn't have the petrol in the tank and didn't make it, blew up and then pulled out. Pretty disappointed.
Day three and the legs were starting to come good... actually its the lungs more than the legs. Anyway, I was starting to come good and was sitting in the group quite comfortably all race, finishing in the main group. It was good to see Dave Macca back to his winning best.
They always say your third day in a row is your worst on the bike (not counting Hastings) and that theory was the case at the second Geelong crit. I'm glad I wasn't alone as there were plenty of guys in the same boat. Even if they looked good, they admitted it later. I had a shocker to say the least but had still done a good day in the saddle.
The fifth and final day was at the docklands near the Telstra Dome. This was our team sponsor's home ground, so we had to perform. A few of us rode from Geelong and we were blessed with a nice tailwind all the way to Melbourne. I was feeling really good from the start and spent most of the hour attacking and following moves. It ended up coming down to a bunch kick. As always, John Trevorrow held another great Bay Series dinner on the Sunday night at the Sofitel in Melbourne and it was a fun night. Best one yet, I reckon.
I moved Geelong to my mates house in the suburbs of Melbourne. After a few cruisy days with a visit to the beach thrown in, I headed out on the infamous Wednesday ride with Dave Saunders behind the motor bike. The day didn't start well when Harro and I miss timed the distance and had to chase the bunch. I didn't feel good on the bike from the minute I through the leg, and that didn't change all day.
Arthur's Seat hasn't gotten any easier and Bonnio road is penned in my diary as a no-no for the next 12 months. I got to Sorrento and honestly thought I wasn't going to make it home. After a feed, I made a slight improvement and made it back to my mates place, nailed and 210km under the belt. It was just one of those days.
I think it actually did a world of good for me, as I came good a few days later. I just needed to blow the cobwebs out, I think. I moved onto Ballarat from Melbourne and stayed there a few days with NSWIS. The motel had a great BBQ area and that got an absolute flogging. We had some great feasts at night there.
The Nationals was the first race in my new kit, as it had arrived a few days before. I was going in pretty confident and felt good on the bike. I watched as Matt Wilson group rode into the distance, thinking it was way too early. As we now know it wasn't!
Just before midway Dave Betts, Tony Mann and I tried to get something started and got stuck in no-man's land for three laps before Nathan O'Niell lit it up and split the bunch on one lap. The bunch was getting smaller and smaller every lap. I don't know what happened to me; my legs just blew one lap, and I went from flying to a standstill and the end of my race with six laps to go. The podium was great. Congrats to Matt Wilson, couldn't happen to a nicer bloke. Big Rob in second after having 12 years off racing was amazing. Dave Macca's ride was awesome, he was down and out with me about 60km to go, only to hang in, come good, recover and then attack to come third. My new team mate Russell Van Hout had a great ride to finish top 10, but the story is out on the road when he was solo for three laps, only to get caught with two laps to go.
In the new kit
Photo ©: Bob Bykerk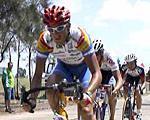 After the Nationals it was back to Sydney. I was geed to get a big week's training in before recovering and going to Langkawi. I got just under a 1000km for the week and it was quality training. For most of it, there was just three of us. We were running out of conversation by day three. But I was motivated to train, knowing that most of the guys going to Langkawi were at the Tour Down Under, getting some km's under the belt. The weather was great to make it even easier to train.
To finish off the big week's training, I went to the Australia day Joseph Sunde Memorial at Heffron Park in Sydney's Eastern Suburbs. I felt awesome and from the start was attacking and following every move. I made the winning break of eight and after the midway mark, it was obvious we were going to stay away. I was attacking, only to be pounced on every time. Troy Glennan took advantage of this and counter attacked to get a nice solo win.
My legs felt good and it seems the form is coming along nicely. An easier week this week with a bit of intensity should finish the prep nicely. Today was a nice example of intensity when I went with Rod McGee to "Circuit McGee", where I tasted my breakky numerous times. Tomorrow will be an exception, it looks like a bit of a write-off, with most of the day being dedicated to doing my first UCI medical control. I fly to Langkawi on Sunday and looking forward to meeting my new team-mates and brushing up on my Italian.
Keep you updated,
Cheers Willo