The Scott Sunderland Diary 2004
Racing to the sun in Paris-Nice
Stage 1 - March 7: Chaville - Issy-les-Moulineaux / Vanves, 13.2 km
Scott Sunderland (Alessio-Bianchi)
Photo ©: Luc Claessen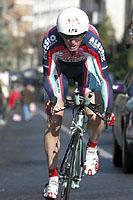 It was OK today, I finished 112th in the time trial and I was happy enough with it. With the wet roads I wasn't taking any risks. I could have maybe taken 1-2 seconds per kilometre if I'd given a little more gas. But if I finished 30 seconds quicker it's not going to make a hell of a lot of difference to the classement. We still have 1300 km to do so we just have to see what happens.
My condition seems to be good and my cold seems to be better. Regarding the circuit, I expected a bit more from this parcours because it's an ASO race. A lot of the riders thought it was pretty dangerous if you were giving it full whack, especially with the rain. The first descent after the first climb had two very sharp corners, and right at bottom there were another two corners that were very sharp as well. The last bit was pretty tricky with a bit of an s-bend in the final kilometre.
If you got it right and didn't overcook you'd be OK, but overall it was very risky in wet conditions. You can tell by looking at the intermediate splits. Rebellin was 2" in front of Jaksche at 7.2 km but he took it back. Alex Zülle brought a whole lot back as he was at 16", Voigt made up a bit, Vino lost time, Millar was 22nd at 19" so he took a heap back.
CSC looks like they've continued on what they started at the beginning of the year. They've really improved in the time trials: three in the first ten. It plays a big part in these races and they're taking what they can in the first part of the season.
Our team didn't go quite as well as we'd hoped. Unfortunately Pietro Caucchioli was sick last week. Then Claus Mĝller's handlebars came loose, so he had to stop and straighten them. He could only go full gas on the straight flat bits and finished 117th at 1'17. It's a bit of a shame for our classement now, as the whole reason I came here was to help these guys on the climbs.
Coming up
It should be interesting with 20 big teams here, and there are a couple of stages that look alright to me. We've got some big days coming up. Tomorrow it's going to be very tight, windy roads at the start right up until the feed. That will be for about 60-80 km so there's still 100km to go after that. I think the way CSC are, they'll want to keep that jersey, and the sprinters teams will probably work together to ensure a mass sprint.
Stage 3 from La Chapelle-Saint-Ursin to Roanne is 227.5 km and that could be interesting. The long day can always be a bit surprising. Stage 4 is hilly at the beginning so a break could go away then. There's a Cat. 2 climb in the middle too.
The day from Le Puy-en-Velay to Rasteau (stage 5) is 215 km and that looks great. I don't know if the sprinters are going to be there - we'll see. The day into Gap (Stage 6) has a first category climb at 164 km and finishes at 173 km.
Stage 7 from Digne-les-Bains to Cannes is going to be a big day and after that the classement could be reshuffled. Four Cat. 3, one Cat. 2 and two Cat. 1 climbs in a 186 km stage.
And the last day: three x Col d'Eze and two x Col d'Chataeuneuf...
For me, I'm looking at one of the days I can get in an attack. At the end we'll see how it goes. The form is OK but I don't know how my climbing legs are as I really haven't had a chance to test them. I'm already happy to be here as I did one race in three weeks when I was sick, so I'll probably need a couple of days to get into the real racing rhythm.
Paris-Nice vs. Tirreno-Adriatico
I only found out I was doing Paris-Nice last Tuesday. Originally I was down for Tirreno-Adriatico but the directors made a change. I personally see Tirreno as a better race for me for getting ready for the classics. The climbs aren't as long, and the way the race is ridden it's much more explosive on the climbs. With Tirreno you go bang, full gas up the hill, down the other side. That's what you have in the classics e.g. Flanders, Waregem, Harelbeke.
Here we're climbing for 10 or 20 minutes, with heart rate of 100-110 on the descents. I would have preferred Tirreno for that. Tirreno is also closer to the classics, so after you finish there's no more real training to be done before Milan-San Remo and very little to be done after that. It's just a personal feeling. Maybe it's because I like Italy! But hey, I'll still come out of this one with good shape.
This is a big race, it always has been. With ASO doing everything it's certainly well organised!