The Scott Sunderland Diary 2004
Made the break
Tour de Suisse Stage 8, June 19, 2004
The morning brew
Photo ©: Franklin Tello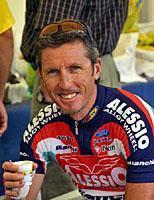 We were moving again today; and the stage started off nicely for me. I felt incredibly fresh and that was a good thing as from kilometre 0 it went bang. I didn't get a chance to look at the average for the first hour but it was bloody close to 50 km/h. It was totally flat and we were piking it. After 20 km I got in a bit of a break after I countered Glenn d'Hollander. Botero came up to us and a few kilometres later a group bridged the gap with Bettini, Kirchen and Serpellini, so we ended up with 14 riders.
Having Grischa Niermann there was a pain in the butt for everyone, because he was only 8 minutes down on GC...so of course they wouldn't let us go. We had to flog it for the first 80 km and everyone was giving Niermann heaps, because his attempt to go up the road to get some time was a real hindrance to us. We'd be carting him all the way to the finish.
We came to the first climb which was a third cat. and the Italians started attacking. I started to bring them back and then I realised what was going on - they wanted to lose Niermann. I ended up back in the group with 4-5 others, and Niermann was there. We rode for the next few kilometres a minute behind the leaders - they were just happy to get rid of Niermann.
Then all of my day's ambition collapsed. I detected some pain in my left hip and sciatic nerve and it got worse with every pedal stroke. Soon it was so freakin' painful it was torture to stay on the bike. For a moment I felt a slight panic. It was that bad I thought I'd have to get off and end the race.
I suspect the reason to be my new bike, can't think of anything else really. I had carbon cranks on the old one and now I have normal cranks - there's a slight difference of 3-4 mm out from the bracket. This changes how you sit in the pedals and is probably the only factor which caused the discomfort.
As soon as we started going up and down again, the pain was excruciating, intolerable. My left leg refused to function, it seemed totally cut off from power and my lower back was giving me hell. We came to the bottom of the long climb and Niermann gave it full whack to bridge the gap. I cursed. All I wanted to do was get off and stretch and rub the sharpest pain away.
I had no choice, all I could do was put it back in a small gear. Every time I went up a gear it was unbearable. I couldn't risk doing more damage to it. I had to let go and saw the guys in front of me getting smaller and smaller as the distance between us increased. For a brief moment I think there was even a sense of despair as the anger didn't override the pain.
I got caught by the peloton a kilometre and a half from the top and you could call that moment the end of my day.
I felt even worse when I realized that break wouldn't be brought back. I'm not saying I could have won - there were some great bike riders in that group. But I got two realistic chances in the whole week and I got it right today...
At the top of the climb I quickly got my vest on, ready for a very rapid descent. It was pissing down rain; there was so much water! It was ok for the front guys but if the peloton was together there would have been crashes everywhere at the end. There must have been 15-20 corners in the last 8 km. Some were sharp, off camber, on small cobblestones. Maarten den Bakker went down and some other guys did the same.
At one moment I was back with Ullrich and Totschnig, putting on their rain jacket and the peloton was in three pieces! T-Mobile had to drop back three boys to get Ullrich back, and it was the same with Gerolsteiner for Totschnig. 80 percent of these guys are going to the Tour, so I guess they didn't want to take too many risks in the finale. But Jeker isn't and it's a big race for him, being the home boy. He hasn't been up for a win like this too many times. He'll be a legend here if he can finish it off tomorrow.
Happy overall
Despite the mess of today, I'm happy with my Tour de Suisse. Tomorrow's the 25 km TT and for me that means just going through the motions. Obviously I'm rapt with all these kilometres, but not with the sciatic playing up. The legs feel fantastic and I wake every morning refreshed and I'm not feeling wasted at the end of the day - so that's very encouraging.
I'm fortunate that a good friend of mine who is a fantastic osteopath is coming over from Australia just before the Tour starts. He'll pin down the problem no doubt and fix it, he always does. It's a pity we don't have such a therapist on the team. No bad word about the soigneurs but they really aren't trained on the same level as David.
After this I'll allow myself 2 to 3 days of recuperation, while I'm getting the sciatic fixed, then 3 to 4 days of good training, followed by more recuperation before the Tour starts.
Alessio-Bianchi should have the final selection next Tuesday. Everybody's got an idea of who's going anyway. Some teams hold a position open right up until the National Championships, and that's pretty hard on the ones waiting in anticipation! (and it's happened to me in the past too).
My teammate Moreni won the first and tough stage of the Route du Sud. He's wearing the leader's jersey and it certainly looks promising for France next month.
I'll check in just before the start of the Tour!
Cheers,
Scott