The Scott Sunderland Diary 2004
Like l'Alpe d'Huez
Tour de Suisse Stage 7, June 18, 2004
Scott Sunderland (Alessio-Bianchi)
Photo ©: Franklin Tello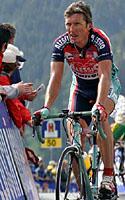 Another day but the same story: Bang from the start. The only difference was there were a few tired boys with heavy legs from yesterday, and everybody seemed to get an extra coffee at the village this morning. We all knew it was going to be a fast start, being such a short stage with a very difficult finish.
We went out of the blocks at the start. I was attacking frequently and I went across a few times to some breaks. But the T-Mobile boys brought in a little bit of help. Given that they only had three riders to work on the flat and they needed to keep Guerini for the finish, they pulled in a favour from Chocolade Jacques; they brought everything back.
No-one was getting away at all, not even those two guys (Thijs and Day) who fought till the last climb. It's not too difficult to control a small break like that - any more riders in it and T-Mobile would have had it closed down straight away.
At a certain moment, I was in a break with Bettini and I thought 'this is alright' but that too was no go and again we were brought back.
We came into the finish and even the fourth cat. climb before the end was hard. It was very short (3.5 km) but also very steep. The peloton split there and we only had about 60 guys left at the bottom of the last climb.
Straight away, from the start of the climb, I knew it was going to be a long one. I felt much better than yesterday, and today I just rode good tempo. There were 25-30 riders in front of the group I was with, and we were driving so hard that my director Dario told me to just take it easy. There's no difference in points between 25th and 50th place, so he told me not to go too deep and save something for tomorrow - there's a short climb 3 km before the finish, so we'll see what happens on that.
The final climb was a second category in the book, but gee, it was more like Alpe d'Huez! I was talking to Jeker before the start, and he'd driven up it yesterday to get to his hotel. He told me this morning 'I hope you pack a 25 because you'll need it.' It was definitely much harder than in the book! Toni Rominger must have been thinking of his glory days when he was riding so much faster than everyone else when he made it a Cat. 2.
It surprised a few people, I can tell you! The last 3 km was very steep but even before that I used the 25 in a few turns and a few sections and even the last kilometre and a half. It was a good solid pull up to the finish. But it was ok. I just found my own tempo and stuck to that.
Jeker in gold
So now Jeker's taken the jersey from Ullrich, which means that it will play a lot on the time trial on Sunday. Totschnig can TT a bit better than Jeker, so he's in with a chance. All depends on how big Jan does the TT on Sunday. It's a flat one, round a lake, so I'd say that he'll be able to take more time out of them.
Jan is keen, but I also heard from an interview with team manager Walter Godefroot that he doesn't want to kill the boys in this race. They've lost three riders already and they want to keep Guerini for the climbs so he'd end up cooking the other three. That's why they called in a favour today.
If Ullrich had tried to go with Jeker he could have cooked himself too. By not trying to follow them on the hard steep finishes, he could save a bit and be ready to give it full nudge in the TT on Sunday - the last one before the Tour. He raced pretty quick in the TT in the Tour of Germany and looked like he was more or less cruising.
You never know what the 'power of the gold jersey' will do the 'keeper'. I don't want to wipe Jeker off the board - he's the home boy after all. I think between him, Ullrich and Totschnig it will be a 30 second margin on GC, barring anything dramatic happening tomorrow.
Caucchioli improving
Pietro Caucchioli (Alessio-Bianchi)
Photo ©: Sirotti

Pietro Caucchioli is just coming good and getting into shape. He went with the front riders today and kept his own tempo in the last 7-8 km to finish 19th. He got the word from the director to take it easy and save a bit for tomorrow for a possible stage win.
I'm feeling good and riding within myself still. The legs recuperated well this morning but my threshold is a bit hard to judge at the moment. I don't have to smash myself - there's no point in doing that. It'll be a bit harder tomorrow though. Saunier Duval are going to be quite happy to let a break go away, I would think. We'll see what happens with the climb at the finish.
Weather report
The weather today was better than expected. It was a cloudy day with a bit of sunshine but we didn't have the rain. The roads were wet on the final climb because it was raining just before we got there, but we didn't get that much during the race.
Vini Caldirola ouch
There was a painful incident today when one of the Vini Caldirola mechanics was hanging out the window to put oil on Marco Milesi's chain. He got his fingers caught in the spokes of the wheel and more or less skinned his fingers to the bone! Later on I saw the Vini Caldirola car go past without the mechanic...the poor bastard is probably in hospital.
I've heard of that sort of thing happening before! Heard about a rider sizing his index finger down a couple of cm trying to fix something while riding and there was this 7-11 rider (whose name escapes me) and he'd had a crash. He was coming back and the mechanic was adjusting his derailleur when the car door flew open, knocked the rider down and the mechanic fell out of the car himself! It is risky for the mechanic doing this stuff. So I really hope this bloke's fingers are OK and he doesn't lose them.
Cya tomorrow,
Scott