The Scott Sunderland Diary 2004
Bikes for Roubaix
Pre-Paris-Roubaix, April 10, 2004
Alessio-Bianchi's Roubaix crew
Photo ©: NoŽl Vanbelle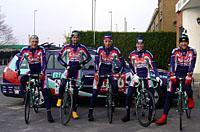 With a day to go until I ride my first Paris-Roubaix, I thought I'd give you all a run down of the bikes and equipment that some of us will be using in the "Hell of the North". It's one of the few races of the year where riders often use slightly different equipment, because of the unique characteristics of the race.
For our bikes, we'll have Bianchi titanium frames with Carbon/Aluminium forks, mainly because the Aluminium is a bit stronger than full carbon. The forks have got a bit more sweep in them for better handling, more comfort and not so much jarring to reduce the vibration through your hands. Also, the forks are wider in the top to give more room for bigger tyres. We'll be riding on 24mm Vittoria CG tubulars with the green strip, so we need a bit more clearance.
The rear chainstays are quite a bit wider too, for a few reasons:
a) So they don't get clogged up if it's muddy.
b) Also to give more clearance if you break a spoke or buckle a wheel.
c) The rear chainstays are fractionally longer to give more stability.
Slightly longer chain stays
Photo ©: NoŽl Vanbelle

Comparing that to other teams, Quick.Step are going with 2 cm longer chainstays. I think the standard is 41cm and they're using 43cm. That's more than a cyclocross bike! But it's all playing around. George Hincapie uses an off the rack Trek, and one year Mapei used Colnagos with straight forks. I don't think Peter Van Petegem used long chainstays last year either.
Roger Hammond said he's going to bring his cyclocross bike and put special Roubaix wheels in if it's all muddy and wet. The time he'll make up on the cobbles is more than offset by anything that he might lose by using a cyclocross frame. The difference between a cyclocross and a normal frame is marginal. The fresher you come off the cobbles, the faster you'll be on the smooth road. But over 250km, it's just up to the legs.
Possibly if I had a Bianchi cyclocross bike I'd go with that. If it turns out real muddy, it will be more comfortable. If it's muddy and wet, you can't ride in the centre of the cobbles, which is normally the smoothest part. Instead you have to ride in the wheel ruts, which are rough as buggery. Last year you could ride a hell of a lot on the side in the dirt. If it's dry that's where I'm going!
We're using normal wheels and I've got a pair of Nucleon wheels. I'll use double layered handlebar tape, like a lot of guys do. Everyone has their own tricks. Some move their brake hoods higher which means you can ride more comfortably on the hoods. Some tape up their wrists. Others use gel saddles. Anything to try to gain that little bit more comfort.
I think on the day it comes down to what you're happy with. I haven't been on the cobbles with the bike yet, but on paper it looks like it should do the job.
No recon
Titanium frame
Photo ©: NoŽl Vanbelle

I won't be doing any reconnaissance of the cobbled zones. I talked to the team director and he said if you do it, you may as well do the last 40 km. When you're good, you're there anyway and you don't need to ride over it. It's good to know when you're coming onto the Arenberg, whether you should be on the left or the right. But for me it's not a hell of a difference. Both Baldato and Tafi have done it so many times that they know where to ride. If I'm not in a break I'll rely on them to tell me what do and I'll do it. Otherwise I'll just follow the big guys, the better known experienced riders. The Lotto guys will know and the Quick.Step guys too.
My opinion is that if it's dry and fast it would suit me better, because I like the higher speed. In slower races, there's more slugging it out and the big guys with more torque do better. It's funny, I read a report from VDB today and he said he wouldn't mind if it was wet and muddy because it would slow everyone down. How does he see the logic in that? It would slow him down as well.
The Alessio-Bianchi team bikes
Photo ©: NoŽl Vanbelle

You don't need as much torque in the dry, but in the mud, you slow down and have to go again, in and out of corners. If you try getting out of the seat in the mud, you're on your arse.
Don't get me wrong - it would be a hell of a lot of fun in the mud. As a kid I was always out on the BMX and loved it, coming home dirty and muddy. In Belgium in winter that's all you do when you go out on the MTB or the cyclocross bike. It's great fun! But when you're trying to do a race and get your butt to the finish, I'd rather be on a dry track. There's also falling off. I think those cobbles are going to be harder than the grass.
I'll be wearing some of those grippy gloves [Danish bricklayer's gloves]. Even if it's wet, your hands aren't slippery so I'm going to wear a pair of those and try and soak as much of the vibrations up as possible.
Needless to say, I haven't ridden it before. I'm just trying to go on experience of racing on the cobbles in Belgium. It's very interesting to see the comparisons. I'm just looking forward to it and it should be fun. If it takes 50 times jumping in the breaks, I'll be there. I would like to be in the front before the first section when the mud starts to really hit the fan. Being in front there helps because it thins out a bit and cuts down the fighting.
We'll wait and see on Sunday.
Scott
Photography
Images by NoŽl Vanbelle