The Scott Sunderland Diary 2004
A slight change of plans
Inverell, Australia, January 9, 2004
G'day all and Happy New Year!
Training near Inverell
Photo ©: Sabine Sunderland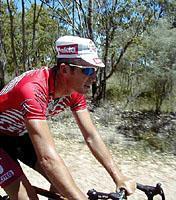 Although I was originally down to do the National Championships and the Tour Down Under, I'll be starting my final(?) season a little later than planned due to commitments with my new Alessio-Bianchi team. They emailed me at the start of the year to tell me that it might not be possible, as they're going to Italy for the team presentation and training camp for two weeks at the end of January. That means I'll definitely have to miss the TDU and it's not worth the extra messing around to do the Nationals,
I was pretty keen on it in December but then when I heard that I backed off a bit. If I wasn't going to do the Nationals, I thought I'd enjoy the holiday a bit more. I could have tried to swing it round but it would have been a lot of hassle. I've done it before and it takes you a good while to get over it. To me, the Nationals would only be good if I won. If I wasn't confident I could win, I wouldn't do it. Doing the screening camp, Nationals and TDU would have been worth it, but not the Nationals by itself.
There are going to be boys peaking for it, and I know that I've never been that good in January and I don't think it's going to change at 37. For me it's a bit early. Look at Allan Davis - he got second last year, rode well in Mallorca, then we hardly saw him until October. I've got to work in February for the team and for myself. For March I'll be there for Het Volk/Kuurne-Brussels-Kuurne, then Paris-Nice or Tirreno Adriatico, then the first World Cup which I definitely have to be good for. Then we're amongst it - there's an eight week period I have to be at least 95 percent.
At the end of April we'll reassess everything for the Giro and see what's going to happen there. At this point I'd prefer to miss the Giro and concentrate on the Tour. It's not 100 percent sure that we're going yet but Bruno [Cenghialta, team manager] has a pretty good idea. Still, it probably wouldn't worry me to do the Giro.
After the 1998 Amstel Gold WC accident, I didn't want the pressure of being in a first division team. I didn't want the mental and physical stress of trying to come back to a decent level in professional cycling and carry the weight of the job in a first cat. team on top; it wouldn't have worked anyway. In the past few years I've missed out on a bit, but that's the way it's been. But it's nice to have the opportunity to do the Tour and World Cups again.
Holiday training
In the pool with the boys
Photo ©: Sabine Sunderland

Training in Inverell has been going OK. My brother Peter and wife Sabine have been going out with me motorpacing on some of the days I don't have a training-partner so thatís been great. I had a bit of a slack period over Christmas - it's hard to keep the motivation going when all the friends and family are around (we rented a complete holiday complex in Coffs Harbour!). I admit, I did not get a great deal on the bike done, just the minimum kms that had to be done, but I swam quite a few miles and enjoyed all the Aussie beach sports!
Back home, I just kept ticking away, doing the same as other years, doing what needs to be done, just enjoying it. There was a lot of solo stuff for a while, which is good and bad. I was thinking a lot more and concentrating on what I'm feeling on the bike, but it was starting to get a little bit monotonous.
Sometimes I'd come across a red-bellied black snake or even a brown snake. Once I saw a stick on the side of the road and next thing I know the bloody thing was trying to crawl through my front wheel! It gave me a bit of a heart starter I can tell you. Other times I'd come across a kangaroo that had been hit the night before...or even worse, a few nights before. A couple of days in the sun and they start to get a bit of a pong!
It's been very hot too, up in the high 30's, and quite dry. So when I'm out riding it's a matter of calculating when my next waterhole will be. The first two hours is OK then I have to drink 3/4 litre per hour after that. Yesterday I had to stick another bidon into my back pocket just to get home! I do try to finish the ride no later than 12:30 because the heat in the road doesn't really start until then. By 6:30pm, the asphalt is so hot that you get the heat on you all the time.
In terms of kilometres, I've been doing four day blocks with three days on and one day off e.g. 120km, 140km, 160km, and the fourth day just doing 50-60 km easy. At the moment I've just finished doing 110 km, 125 km, 130 km, 140 km but I'm moving up do a some longer blocks now. I've backed it off a bit because I'm not racing but someone like Zabel is probably putting in 1200-1400 km weeks. Each to their own, whatever it takes to get there.
Personally, I prefer the long slow kilometres with continual build up during January and February. The competition at this stage only helps me to get into race fitness. I have tried more intense off season build ups but with minimal results. This is where it becomes very individual - knowing just what your body handles and needs best.
Gone fishing
Photo ©: Sabine Sunderland

In addition to the daily training I've been doing a bit of fishing too. It's been very relaxing and one of the best hobbies once you're in full preparation for the season. We've got a "catch and release" system up here where you can only keep a small portion of your catch. That way you keep a lot of fish in there. Everybody has the right tools to get the hooks out without damaging the fish, so it's good all round.
The last season?
It's 90 percent likely at the moment that this will be my final season. It doesn't mean that I don't want to do another year. If the contract is there and I still enjoy it, I'll take it. What's been getting to me though is not life on the bike, not even the injuries, but the comebacks, especially since I still have lingering problems from '98 which ask a lot of my attention and time. The process of rehabilitating your knees or your back or seeking out people to help you solve the problem, not knowing how long it's going to take, am I going to have another problem?
If I have a clear year, stay fit and healthy, then who knows?
Photography
Images by Sabine Sunderland