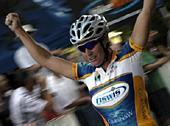 Photo: © Shane Goss
Speedy Gilmore: The Rochelle Gilmore Journal 2004
Rochelle Gilmore - super sprinter and scratch race silver medallist at the 2002 world track championships - is a woman full of ambition. After proving her prowess on the track, she's aiming to forge a successful career on the road, and in 2004, she'll riding for Denmark-based Team S.A.T.S. Follow Rochelle as she attempts to rise to the top of the tree in 2004.
Moving Back to Italy!
2004 Team SATS - 2005 G.S. Safi-Pasta Zara Manhattan, November 17, 2004
I am very sad to be leaving the Danish team - 'Team SATS'. Team SATS held me together this year physically and emotionally with their ongoing financial support and continued confidence. SATS has taken women's professional cycling teams to the next level by supporting a rider 100 percent throughout the entire year whilst I was unable to compete due to injury.
It's very unfortunate that SATS has lost one of its major sponsors from this year due to negative and lack of publicity during the season. I had hoped the team would have found a new co-title sponsor in time for setting up for a new season in 2005.
SATS is a great organisation to be apart of and I am sure they will continue to have a successful 2005 season with some new strong riders and very motivated staff.
I will be moving back to an environment which I am very familiar with, the team I raced for last year now known as G.S. Safi-Pasta Zara Manhattan. It is the longest standing team in women's cycling and is based in Treviso, Italy.
I will be racing and living with the amazing rider Nicole Cooke. I am really looking forward to the beautiful training terrain and the challenge of keeping up with Nicole in the hills on her easiest training days!
I will be living only 3hrs drive from the AIS base in Reggio Emilia where I will visit throughout the season to touch base with AIS coach Warren MacDonald.
Update on my training and racing goals to come shortly...