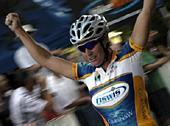 Photo: © Shane Goss
Speedy Gilmore: The Rochelle Gilmore Journal 2004
Rochelle Gilmore - super sprinter and scratch race silver medallist at the 2002 world track championships - is a woman full of ambition. After proving her prowess on the track, she's aiming to forge a successful career on the road, and in 2004, she'll riding for Denmark-based Team S.A.T.S. Follow Rochelle as she attempts to rise to the top of the tree in 2004.
Giro della Toscana Internazionale Femminile - 2.9.1, Italy, September 14-19, 2004
One hundred edgy women
Stage Two: Volterra (Pi) - Volterra (Pi) 89Km
Aussie catch-up time
Photo ©: Rochelle Gilmore & friends

Trine Hansen smiles at the thought
Photo ©: Rochelle Gilmore & friends

Chad Contreras
Photo ©: Rochelle Gilmore & friends

Meredith Miller
Photo ©: Rochelle Gilmore & friends

The casino (Circus) continued today starting with 20km (5 short laps) of so called neutral. The reason for the 20km of neutral was because of the dangerous road surface, cobbles, tight corners and silly pedestrians, although the pace was so high for the 5 laps that some riders were really struggling and even getting dropped.
Volterra is an old stone city sitting high on a hill surrounded by dry mountains and olive trees. Following the first neutralized 20km around town we descended down the mountain for 10km, which was an extremely scary way to commence a race with a hundred edgy women! To make things worse some bright star decided to put a sprint at the bottom of the 10km descent.
The race re-grouped after the descent and it was Katia Longhin (S.C. Michela Fanini) who made the first real attack of the day. Nine riders grouped with Katia to gain a maximum of 50 seconds before being caught 2km from the top of the first 10km climb to Volterra. At this stage I had sat up and watched the bunch ride away, I rode with 15 others riders who were happy to have an easy day. Actually Katie Brown (sister of Australia's dual Olympic Gold medallist- Graeme Brown) was in this group… so we had the chance to do some chatting and catching up!
The first 10km climb at 54km broke the race up into small groups; the front group contained 20-30 riders at the start of the second and final 10km climb to the finish in Volterra. These 30 odd riders rode tempo until 2km to go when Edita Pucinskaite (S.C. Michela Fanini) made a furious attack. Only 3 other riders were able to match her strength for the final 2km's (Judith Arndt, Svetlana Bubnenkova and Nicole Cooke). Nicole thinks she got a little too excited with 500m to go and hit out while the others sat on… 500m is too early to hit out on such a steep cobbled finish, so the other riders just waited until Nikki started to tire before passing her in the final metres.
The results finished like this today:
1st Edita Pucinskaite (S.C. Michela Fanini)
2nd Judith Arndt (Equipe Nurnberger)
3rd Svetlana Bubnenkova (PMB Fenix)
4th Nicole Cooke (Safi Pasta Zara)
Edita takes the leaders jerseys leading into tomorrow's stages.
More importantly Meredith Miller TEAM SATS takes the 'Elegance' jersey! Ha ha, I guess that's a jersey for the most attractive lady for each day, even with skin off all down one side of her leg! Its Miller(s) time!
SATS climbers Trine Hansen and Christina Peick climbed well today considering their health problems. Trine is just starting to feel better after spending a week in bed and unable to eat. With the little training she did last week and her ride today (finishing in the first group), her confidence is building for the upcoming World Championships (Verona Italy) where she will represent Denmark. Christina spent last night battling with gastro intestinal stress and still managed to finish in the second group on the most demanding climbs of this tour.
Time to rest up for some flatter stages tomorrow, 70km in the morning and 55km starting at 9pm in the evening! So we might be finished racing at 10.30.