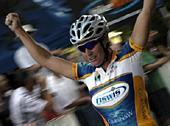 Photo: © Shane Goss
Speedy Gilmore: The Rochelle Gilmore Journal 2004
Rochelle Gilmore - super sprinter and scratch race silver medallist at the 2002 world track championships - is a woman full of ambition. After proving her prowess on the track, she's aiming to forge a successful career on the road, and in 2004, she'll riding for Denmark-based Team S.A.T.S. Follow Rochelle as she attempts to rise to the top of the tree in 2004.
Giro della Toscana Internazionale Femminile - 2.9.1, Italy, September 14-19, 2004
Wet & wild
Prologue - September 14: Pistoia ITT, 2.8 km
Trine Hansen
Photo ©: Rochelle Gilmore & friends

A little nervous
Photo ©: Rochelle Gilmore & friends

The start
Photo ©: Rochelle Gilmore & friends

Can we do this another day?
Photo ©: Rochelle Gilmore & friends

Tonight's prologue kicked off in very wet, stormy conditions. There was discussion within the race organisation about whether or not the results would count towards the general classification. The final decision was an unfortunate one for the women, because it put pressure on the top riders to take risks on a technical, wet, dangerous course - only weeks before the World Championships.
It was very clear that only a few riders were pushing their limits. The rest took extreme caution because not only was the course dangerous due to the poor weather conditions but also because of the location. Piazza Duomo, was buzzing with inattentive spectators walking out onto the course without taking care of riders flying around corners. The hesitation of some riders to push themselves and take risks caused large time differences on the results board.
I started with a little motivation to see what I could do, but after three people walked out in front of me, I decided to call it a day and roll the rest of the course. I can't understand why I had no lead motorcycle for the race; a stuff up on behalf of the organisers I guess, but I think it would have made the spectators more aware of the riders approaching!
As our first four SATS riders to finish the prologue drove back to the hotel, luminous, dark clouds were starting to make their way back over the course. It was getting dark at 7pm and still there are riders warming up for their start.
Meredith Miller swears she was the grandma of the course tonight but the four of us - Christina, Trine, Meredith and I all rode like grannys... although Melissa and Monica were yet to ride and looked as though they were getting ready to have a real shot at it.
Let's hope the weather clears up tomorrow for a double stage day. I hear the morning's stage has a mountain top finish and then a flatter stage tomorrow night.
More tomorrow,
Rochelle
Photography
Images by Rochelle Gilmore & friends