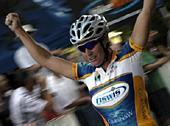 Photo: © Shane Goss
Speedy Gilmore: The Rochelle Gilmore Journal 2004
Rochelle Gilmore - super sprinter and scratch race silver medallist at the 2002 world track championships - is a woman full of ambition. After proving her prowess on the track, she's aiming to forge a successful career on the road, and in 2004, she'll riding for Denmark-based Team S.A.T.S. Follow Rochelle as she attempts to rise to the top of the tree in 2004.
A farewell and another spill
August 20, 2004
The testing times continue to flow.
My beautiful grandmother died last week: My words below were read at her funeral.
Rochelle with Nan and Pop
Photo ©: Rochelle Gilmore & friends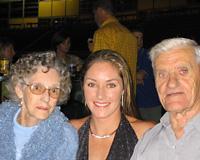 Nan was someone I bragged about to people when I was younger, and nothing has changed. I was so proud to introduce people to Nana because she was... you know what? She was everything, absolutely everything. Beautiful for one, kind, caring, funny, intelligent, talented... You all know what kind of a beautiful person she was so I'll tell you what she was to me.
Nan played the role of a mother to me my entire life. I lived in a small bedroom right next to hers for many of the most important and influential years of my life. When I think back, Nan was a wonder woman. All at one time in the one house she was looking after me, Davo, Wazza, Mum, Lindsey, Pop, her mother 'old Nana' earlier on and also the stray friends that we always had staying there. Most nights Nan would cook for the seven of us and occasionally Mat would come over to join us - that's amazing - she was amazing!
I will touch on some of the clearest memories I have from that time of my life.
The time I spent two months off school with glandular fever, I would spend every day in bed with a little bell Nan had given me to ring if I needed something. She would bring me cups of tea, little sandwiches cut into triangles and she would often sit down and help me with the school work that was being sent home with friends.
I just remembered a time when I had finally convinced Nan to let me join a book club, I must have been about 12 or 13. It was one of those deals - first 4 books for $4. Nan kept telling me I would get sucked into buying a book a month at a minimum of $30 or something and then I would regret it. Of course I learnt the hard way. So when the first four books arrived I was ripping the parcel open and guess what book was on top? 'EROTIC massage'! I didn't know which way to look or what to say, Nan was looking over my shoulder. I thought I had ordered a 'learn to massage' book. So Nan said, "I'll take that darling" and later in the evening she spent some time teaching and explaining a few things! Nan filled a lot of difficult roles in my life at that time.
I remember so many caring things Nan has done for me that I didn't appreciate when I was younger and now I'm just so amazed.
When I started cycling I used to go riding before school at about 5am, in the winter when it was freezing cold - you don't see that kind of commitment from me now, these days I am lucky to get out by 10am! Anyway when I would come in from a ride my fingers were so numb that Nan would have to pull my gloves off, undress me and check the water temperature of the shower before I jumped in - this method was introduced after we realised I was burning my skin because my body was too numb to feel the temperature!
Nan
Photo ©: Rochelle Gilmore & friends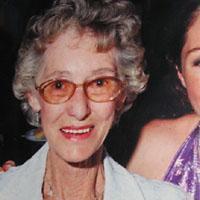 Nan made such an effort to please people, to be there for them, to comfort them to encourage them etc, and till the day she died - she lived for others.
Nan made an effort to travel up to the Olympic velodrome every time I raced and I don't think I expressed enough to her how much motivation it gave me to know she was up in the stands! I loved to see the excitement in her beautiful face after a handicap, one of her favorite events. After the races I did well in I would run up to the stands to see Nana's face, she would squeeze my hand and just say 'gee gosh you were coming around so fast' - she would get so excited. That was this year you know; she was still traveling to the races this year.
I can't believe Nan's strength. A couple of years ago Mum had told me that Nan and Pop were traveling down to Cooma to watch me in an important international race, they were expected to be at the finish line of the first race on the first day, the race was finishing in Cooma. I can't remember if I won that day but I remember being on the podium spraying champagne and looking everywhere for Nan, Pop and Mum - I couldn't see them anywhere and I knew, I knew the only thing that would have kept them away would be illness, I was so scared.
As I stepped down Greg was waiting to tell me the bad news, he knew before the race but chose not to tell me. Nan had a stroke during the night and was in the hospital, I did not completely understand what a stroke was so I didn't know how worried to be or what to expect but Greg just kept saying, she is all right.
When I walked into the hospital room Nan turned her head to look at me, I stopped and paused... then I turned and ran out of the room bawling my eyes out, I could not believe the look of her, it scared the wits out of me. I was hysterical- she looked like a vegetable and I just could not understand it. Pop was the one with strength who sat down and explained things, trying to calm me down.
My race manager advised me not to race the following day, and with such strong international riders there, the odds were against me. I came out and won, everyone knows I raced beyond my capabilities that day, I beat the fastest sprinter in the world as a youngster. I surprised the world of cycling and it was definitely the motivation to fix that smile of Nana's.
To my amazement Nan was back to full strength in no time, with her gorgeous smile- take a look at that photo from last December, what an angel! I never imagined Nan would continue to travel to races after that stroke, but there was no stopping her.
The night before I last left Australia in May (the last time I saw Nana) we were trying to make a wrap-around towel for me to use at races. Nan was feeling very ill and weak but she sat there late into the night instructing me what to do. I ended up stuffing the whole thing up and I was a little disappointed as I had my team logo embroidered on the material that I ruined. Anyway to once again demonstrate Nana's character I'll tell you what she said the next morning. She came into my bedroom and said, "Darling I didn't sleep a wink last night, I felt so bad that I didn't have the strength to do it for you, I am so sorry dear, I feel so bad." It was nothing, but Nan was so upset and felt that it was her fault. God love her.
Nan's humor makes me smile, and I will smile every time I think of the last words she spoke to me. It was only hours before she passed. I was calling from my home in Denmark to her hospital bed. I told Nana to just listen. I said "Nan I want to thank you for everything you have done for in the past, for the time and effort you have put into raising me and for all the valuable things you have taught me. You are my inspiration and I can only wish to be more like you. Your influence on my life has moulded me into the person I am today. I am truly grateful. I Love you. Nana found enough breath for a short reply, her last words of wisdom to me: "Well don't muck it up."
I won't Nana. If I can have half as many friends with half the respect you had - I will be doing all right.
Road Rage!
Just when I thought that was enough for one year, a car decided to try and take out our whole team! Team SATS were out on a team training ride, six of us girls, our mechanic and our coach - eight of us cruising along two abreast. I was riding on the front (my Aussie girlfriends won't believe that!) with a team mate when a passing car swerved across and hit me from the side, I am not sure if the driver's intention was to just scare us or kill us but fortunately we were all very lucky. I slid along the car until I hit the ground rather hard - I guess we were traveling at 35km/h.
I remember sliding across the road watching the oncoming traffic approaching. I got to my feet and ran to the side of the road, leaving my bike out there. Trina ran out and grabbed my bike while I sat shaking in the gutter. My coach Chris, who lost more skin than me, was already back on his bike chasing the car that had accelerated off out of sight before we were even on our feet. Chris and Mario time trialed along the road for some distance but unfortunately the driver was long gone. I was determined and able to go training the following day but I am still having trouble getting out of the saddle as I have nerve problems in my left hand. Just so lucky that's the extent of it! I guess there is the scars too.
My knee (following an operation) is healing well, it's not 100 percent yet but the docs and physios are happy with the progress. My next race will be the Holland Ladies Tour which starts Monday week.
I have enjoyed living here in Denmark. My team (SATS) have been ever so supportive this year. I have had a chance to experience the motivation behind our team and the efforts people are putting in to make a women's cycling team that is 'right'. I believe that if a rider respects the team, the team will respect the individual. That's the way it is here anyway and that kind of security allows me to get on with the job. Despite all the set backs this year SATS have stood by me all the way!