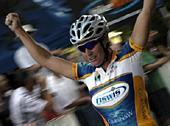 Photo: © Shane Goss
Speedy Gilmore: The Rochelle Gilmore Journal 2004
Rochelle Gilmore - super sprinter and scratch race silver medallist at the 2002 world track championships - is a woman full of ambition. After proving her prowess on the track, she's aiming to forge a successful career on the road, and in 2004, she'll riding for Denmark-based Team S.A.T.S. Follow Rochelle as she attempts to rise to the top of the tree in 2004.
July update: Part I
The AIS: An ideal setup
Retuning to the AIS base in Reggio Emilia, Italy, has been a fresh reminder of just how perfectly ideal the set-up is for an aspiring athlete.
The AIS program here has to be the closest to, if not one of the most professionally run cycling teams in the world! Directing and running the show over here is a very passionate man named Shayne Bannan (a familiar name to many). Shane co-ordinates and oversees all the movements and decisions made within the program.
Within the program there is the women's AIS/national road team headed by Warren McDonald, and the men's U23 AIS/national road team headed by Brian Stephens. Other full-time staff include two full-time masseurs, Gabby (women's road) and Kelly (MTB), one full-time Physio (Karin), and one full time mechanic (Denis). Paul Brosnan is the full-time scholarship coach here this year.
The program has three large farmhouses, one for the staff, one for the men's team and one for the women's team (all within five kilometres of each other). At times when there are too many athletes here at once to fit/feel comfortable in the house, the visiting athletes are accommodated in apartments.
The staff house - known as 'the farmhouse' - is where we go for massage and physio. There is also a computer room where four computers are set up with easy internet access available to the athletes, and an exercise room with swiss balls, exercise mats, weights, weight benches, stretching programs and ropes etc. Everything you need is right there!
I am going to write a little about my experiences here during the past couple of weeks - of course I did live here full-time for a couple of years in 2001 and 2002, but there have been a lot of developments and changes since then.
The biggest change that I have experienced is working with the new coach - Wazza. We all knew when he was announced as the 2005 AIS coach that he would be perfect for the job in theory... and that he has proved to be!
It takes a very special person to be able to take on such a huge task and fit in straight away; he has obviously picked things up pretty quickly - even the lingo! Imagine leaving Australia to cross the world and enter a non English-speaking country to head a team of six to eight ambitious women!
Wazza made me feel very welcome as a visitor to the AIS program, and I had the opportunity to sit down with him and discus my situation (which is not so bright after the crash and all), but he genuinely cared about where I am at and where I want to be at.
He has given me that tiny bit of attention and motivation that I have needed. Wazza doesn't note himself as a super coach who is only available for those doing well now, and I think he feels a responsibility to give a bit to those who need it. I for one really appreciate his attitude towards all Australian female cyclists aspiring to fulfil their potential and do Australia proud. After all, would our new cycling forces like Oenone Wood be where they are today if Wazza or someone else was not there supporting them three years ago when they were struggling in European races?
The programs are written for the girls on an individual basis and their needs are taken into consideration, but most of the longer rides fall on the same days so the girls can go out as a group and Wazza can follow in the car. The TT efforts and hill efforts are monitored by the coach so feedback can be given by both the athletes and the coach.
At this point in writing, I am asking myself if there is anything missing from the AIS program here in Italy? No - everything needed for an athlete to gain peak performance is here at their fingertips.
There is a pool just down the road used for recovery, protein powders, etc. are supplied by the sponsors, massage and physio is available, internet connection is available, we have the best staff and coaches in the world, the best equipment and beautiful mountainous terrain for training.
I am with a 'professional' team now which is very well organised and they treat me extremely well, but I will be very grateful anytime I get the opportunity to come to Italy and take advantage of this equally fantastic organisation.
Cheers,
Rochelle