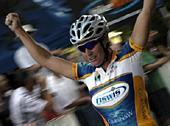 Photo: © Shane Goss
Speedy Gilmore: The Rochelle Gilmore Journal 2004
Rochelle Gilmore - super sprinter and scratch race silver medallist at the 2002 world track championships - is a woman full of ambition. After proving her prowess on the track, she's aiming to forge a successful career on the road, and in 2004, she'll riding for Denmark-based Team S.A.T.S. Follow Rochelle as she attempts to rise to the top of the tree in 2004.
World Track Championships - CM, Melbourne, Australia, May 26-30, 2004
I felt my collarbone snap
Off to hospital
Photo ©: Rochelle Gilmore

Ouch!
Photo ©: Rochelle Gilmore

From the X-ray,
Photo ©: Rochelle Gilmore

Fixed - good as new!
Photo ©: Rochelle Gilmore

The week
Well it was a long week for me waiting around for my Scratch Race on the last day of the Championship. I don't mind the waiting because watching the racing all week gets me really excited and motivated. I also had the opportunity to watch most of my competitors in the Points Race the night before and witness the form they had leading into the Scratch Race.
The riders
The riders I thought would be the ones to watch were: Russia's Olga Slyusareva, New Zealand's Sarah Ulmer, Holland's Adrie Visser and my team-mate from last year (Acca Due'O), Italy's Giorgia Bronzini.
The race
It was not exactly a fast race for a World Championship field - in my opinion most riders felt that it would be too hard to get away from the main bunch with so many strong riders in the field. Many people in the race, including myself, felt that it was Olga's responsibility to chase down most of the moves if she wanted to regain her world title stripes. Olga accepted her role and responded to all of the moves with class - I spent the entire race benefiting from her strength by staying close behind her.
For the first time in weeks I finally felt great! Training had been going well all week and I was in good spirits, motivated and confident! I had great legs during the race and I was very focused, waiting anxiously for the finish of the race to come so I could do what I had been visualising all week - that was to kick as hard as I could and sprint for the line. I did not particularly want to be on Olga's wheel leading into the sprint, but more importantly to make sure I was up the front in second or third position regardless of where she was going to be.
The crash
With three laps to go, I was trying to back out and move around the bunch in order to position myself for the sprint. I really can't tell you what happened at that moment - how did I fall? It's a mystery! I have only viewed the crash once from my hospital bed during a newsflash. It did not look like I moved up, nor did it look like the Dutch girl moved down - there were no rapid movements. I certainly can't blame anyone but myself for the fall, I just wish I could explain/understand how it happened!
The snap
Anyway, I fell, and fell hard. I do remember hitting the track hard with my shoulder and my head. I had never broken a bone before, yet I knew immediately that I had broken my collarbone. I did try to sit up, but I felt the bones grind and the pain was excruciating, so I stayed very still. All that was going through my head at that point was how much my mother would be panicking! I knew she would be watching and waiting for me to get up, I was moving my legs so she could see from the stands that I was not unconscious! As I was telling the people who were fitting my neck brace to contact my mother, she was there with me - in the middle of the track! Not sure how she got in, the security there was very tight. I heard someone say my helmet was cracked right through, hence the reason for the stretcher, neck brace and hoo-ha!
Successful surgery
I travelled by ambulance to the hospital where I would lay in pain for six hours having x-rays and waiting for surgery. The collarbone had snapped right through and the surgeon placed a 7cm pin through the bone and completed the operation with a bone graft. Fixed - good as new! The surgery gave me instant pain relief, and I could move without grinding and pain. I got through the night on a couple of Panadeine Forte and that was the last of the pain-killers required. By lunchtime the next day, I was able to shower and dress myself before returning to my hotel to pack my bags and jump in a cab to the airport.
Where to now?
I am now home in Sydney. I cancelled my flight to America which was scheduled for today (Tuesday). I spent the morning doing an interview with WIN TV and I will now fly to America on Thursday and race there on Sunday (Philladelphia). It's amazing what the doctors can do these days!
An awful feeling
We say we race for ourselves, so why do I feel I have let people down? My family, my coaches, my sponsors, the institutes, the Australian team staff, the media and my team have all been wonderful; they have given me special attention and supported my personal dreams 100 percent.
I left my team (team SATS) for six weeks - guilt-free because I was hoping to win a world title for them! I'm heading to America this week to meet up with my team empty-handed. I just hope I can get back to top form quickly so I can help add to our team's podium tally!
Ian McKenzie and Gary Sutton both had total faith in me and believed I could do it - now I have to wait another year to try and prove I can be the best Scratch Race rider in the world!
This is my final year sponsored by Speedy Wheels and I would have loved to take the big one for them. All my sponsors and the media have been extremely supportive! I would like to once again thank you all.
While I have been back in Oz, I have had amazing support from the NSW and Australian Institutes of Sport - their coaches, staff and doctors have all made me feel an important part of the program during my illness and following the let-down at the World Champs.
The only way is 'UP' from here!
Cheers,
Rochelle