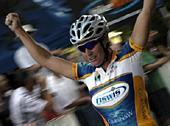 Photo: © Shane Goss
Speedy Gilmore: The Rochelle Gilmore Journal 2004
Rochelle Gilmore - super sprinter and scratch race silver medallist at the 2002 world track championships - is a woman full of ambition. After proving her prowess on the track, she's aiming to forge a successful career on the road, and in 2004, she'll riding for Denmark-based Team S.A.T.S. Follow Rochelle as she attempts to rise to the top of the tree in 2004.
Getting fitted up and reconnoitering the Ronde
April 3, 2004
Following the third round of the World Cup in Spain I was off to Italy to pay a visit to the Cicli Pinarello factory in Treviso, hoping to sought out the problems I have been having with my bike position. I traveled on Monday with the AIS national team on the first flight from Valladolid, Spain to Brussels S. Charleroi. I had forgotten how much fun it was with these girls! (Hi to Nat, Liv, Oenone, Sara, Amy and Lorian!)
After spending all day with the Aussie girls I boarded a flight alone to Italy. I was flying to Venice, Treviso where I lived last year with Nicole Cooke as part of the Acca Due'o/Pasta Zara Safi team.
At 9pm I arrived in Venice and as I exited the airport my heart skipped a few beats because I didn't recognise this airport that I was sure I had flown in and out of at least 10 times last year. I had landed at a tiny little airport that had about 8 car bays for parking - no taxis waiting and all I could think was that maybe I had boarded the wrong plane in Charleroi. I managed to confirm that I was in Venice, Treviso so I could relax and I later learnt that there are two airports in Venice. I had landed at Venice Treviso but I was used to the other, Venice Marco Polo.
My visit to Pinarello was a great success. I was looked after Luciano Fusar Poli from Pinarello's marketing department - Luciano previously worked with Cinelli for 20 years and moved to Pinarello last year. He introduced me to the man who does all of the custom fittings. I was impressed with the process of developing the perfect bike for an individual. All aspects were covered from body measurements (inside leg, reach etc) to cleat position and the preferred saddle. I must admit that I was really surprised with the outcome of the new frame measurements. I was sure that the new Pinarello Prince SL that I am riding now is too long, as I have had excruciating pain in my neck and my lower back. I could not put my chin to my chest, as the muscles that attach at the back of my head were too tight and sore, at my lower back I had small bruises where muscles attach onto the pelvic bone at the top of the buttocks. I thought this was a result of being over stretched on the bike. The advice from the professionals at Pinarello was that these symptoms are from being too compressed on the bike, a prime example of people who ride too short.
The new frame that I will be getting is Pinarello's top of the line Dogma, built from double butted Magnesio AK 61 tubing. The Dogma also has the carbon fibre ONDA fork and rear stays. My Dogma will be painted the same colours as the team's Pinarello Prince SL bikes.
Rochelle's new track bike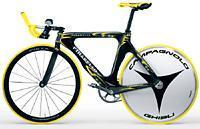 Pinarello will also build me a new bike for the track, the carbon fibre Montello Pista monocoque frame that only weighs 1390g. I rode one of these bikes on the track last year and loved it! It will be predominantly black with a little yellow on it to match our national colours.
The Dogma frame should be completed within two or three weeks;the track bike may take a little longer as the process to manufacture it takes a while. I am really excited about the new relationship that is developing between myself, the team and Pinarello.
Flanders recce
After my visit to Pinarello I flew back to Spain and then traveled to Belgium for Sunday's Tour of Flanders World Cup race. On Friday I rode over the course. Wow, it's a tough course! The roads were already covered in paint with the names of famous riders and there are fans already lining the streets! It's a great opportunity for us women to be racing a Classic at the same venue on the same day as the men!
The women's race departs Oudenaarde at noon and arrives in Ninove after 94 km. There are nine classic Tour of Flanders hills in the women's race with the last two being cobbled climbs. So we'll tackle:
Kruisberg
Boigneberg
Foreest
Steenberg
Leberg
Berendries
Tenbosse
Muur - Kapelmuur
Bosberg
Yesterday we (Team SATS) drove over the course and got out of the car to ride the last 27km to the finish, then back to our hotel in Aalst. We only rode over three of the climbs with the Muur - Kapelmuur being the toughest and most famous, the profile says it is only 825m with the maximum inclination being 20 percent, but that climb felt like 3km, it just went on and on and on.
At the top we did not see an arrow indicating the course direction but some fans pointed us down the road to the right, so we started heading down a descent, as we were approaching a man sweeping leaves in his driveway I called "is this the right direction?" he replied "yes" as we flew past! A few hundred metres later we saw a banner that said 15. We thought this meant the climb number for the men, but we had already passed number 15. We stopped immediately as we didn't want to descend if we were going to have to turn around at the bottom and climb back up again. I said to my team mates "lets go back and ask that man sweeping his driveway" they said "why would you trust him?" Well, at that point he was our only option.
As we came back he greeted us with a big smile he assured me that we were heading in the right direction. He went on to say "those are very nice bikes you are riding," and added "I am a good personal friend of Pinarello." After a bit of a chat about our bikes, he confessed, "my name is Rudy Pevenage, I am Jan Ulrich's personal adviser"!
I figure the advisor to the 1997 Tour winner, current Olympic champion and four-time Tour runner up is well qualified to give us directions (and Pevanage was himself a Tour stage winner and 1980 green jersey winner). We then discussed what Jan was up to before our team car caught up with us and sent us on our way! So Mr Pevenage lives on the road turning right after the Muur on the Flanders course!
The race is tomorrow and our strongest rider at present, Anita Valen has expressed her ambitions to win this race, so you will see Team SATS supporting her attempt at victory! I personally think that the Farm Frites team are going to be the hardest to beat tomorrow. They have a strong team, they know the course, they love cobbles. They also have Mirjam Melchers who is on top form at the moment but we will put the pressure on them and see what happens!
Cheers,
Rochelle