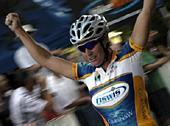 Photo: © Shane Goss
Speedy Gilmore: The Rochelle Gilmore Journal 2004
Rochelle Gilmore - super sprinter and scratch race silver medallist at the 2002 world track championships - is a woman full of ambition. After proving her prowess on the track, she's aiming to forge a successful career on the road, and in 2004, she'll riding for Denmark-based Team S.A.T.S. Follow Rochelle as she attempts to rise to the top of the tree in 2004.
Snow? Snow Smow!
Castilla y Leon World Cup, Spain, March 28, 2004
I woke up this morning at 7.30am feeling terrible with a really sore throat and a thumping headache! I decided I would head down to the basement to thrash all the bad out of me on the ergo; I managed to get my heart rate up to 180BPM, which indicated that I was not totally doomed and gave me a little confidence that the flu had not completely taken over. I was ready to get out there today and have a go!
Catching the lift back up to my room, the mechanic tells me it's snowing outside! I didn't believe him until I got back to my room and looked out the window - it really was snowing! Snowing! What frame of mind does that put you in? Well when you are really revved up for a race, nothing seems to bother you but, if your not totally geed, it can be all it takes to put you in a negative frame of mind. Today, nothing seemed to bother me... I wanted to race!
My warm up for the race today was sitting in the car with the heater cranked up. Even with two undershirts, a long sleeve jersey, wind-stopper vest, leg warmers, bootie covers and long fingered gloves, it was still too cold to roll around outside! I started the race with all of the above clothing on and didn't take anything off until three laps to go when I only threw off my long fingered gloves.
I felt that the race was not raced too aggressively, although others who raced closer to the front said that Zabirova (Team Let's Go Finland) and the entire Farm Frites team were attacking constantly during the second half of the race. A surprise withdrawal from the race was Regina Schleicher at about the halfway point. Aussie Alison Wright (Nobili Rubinetterie) was covering and putting herself in all the moves. Did I mention it was snowing during the first half of the race? I caught a few snow flakes in my mouth as I was gasping for air!
With a lap to go (10km), I was confident that it was going to come down to a sprint finish - that opinion was due to the fact that the Australian AIS team had a strong lead-out going for Oenone Wood. Sara Carrigan (AIS) got on the front with 10kms to go and held a furious pace until about the 3km to go mark when Olivia Gollan (AIS) took over. Liv absolutely drove it up the last hill with riders struggling to hold the wheel.
The strung-out line went like this over the hill: Liv, Mirjam, Oenone, Angela, Susanne and then me. I was counting on Susanne for a lead-out and was feeling good, and towards the top of the hill Susanne started to lose the wheel in front of her. I was screaming words of motivation and encouragement to her during that last kilometre, little did I know that a gap of second seconds had opened up behind me... we really must have been moving over that last hill. I was still the last rider of our little group when we made the last right hand turn with 200-250m to go. I was yelling 'up' to Susanne but she did not really have much left; I came off her wheel too late and only managed fourth, kicking myself that I did not have the confidence to make my move earlier.
Angela Brotka (German National Team) won the sprint from Oenone Wood (Australian National Team) with Mirjam Melchers (Farm-Frites) third. I was fourth followed by my team-mate from last year, Giorgia Bronzini, and then Susanne Ljungskog (Team SATS).
An awesome display of team work from the Australian National Team today! WOW! They have everyone talking!
I am now travelling with the Australian AIS team back to Italy. I will stay in Venice overnight and spend the day at the Cicli Pinarello Factory for a custom bike fitting session before re-joining my team (SATS) back in Spain on Tuesday.
Our next race is the Flanders World Cup #4 in Belgium this Sunday.
Cheers,
Rochelle