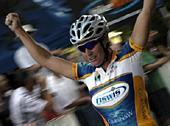 Photo: © Shane Goss
Speedy Gilmore: The Rochelle Gilmore Journal 2004
Rochelle Gilmore - super sprinter and scratch race silver medallist at the 2002 world track championships - is a woman full of ambition. After proving her prowess on the track, she's aiming to forge a successful career on the road, and in 2004, she'll riding for Denmark-based Team S.A.T.S. Follow Rochelle as she attempts to rise to the top of the tree in 2004.
Stage 3 - March 26: Zamora-Salamanca, 104.3 km
Spectating
Well I had a nice ride today... in the team car. I crashed during the 3km of neutral before the race had even started. Riders were being very aggressive trying to move to the front of the bunch before the red flag was dropped. As we were accelerating over a bridge some riders in front hit the brakes a little to late for a right hand turn, a few riders panicked and locked up their back wheels and then found themselves dodging each other for space. Just as I thought I was in the clear, a rider smashed into the back of me. She must not have even touched her brakes as she hit me very hard from behind, it actually felt like she pedaled straight into me! I went down pretty hard but was lucky to not have lost any skin, although I'm sure ill be a little blue tomorrow.
I only just made contact with the very last riders as we passed the real start at 0km. I was hoping they would stop the bunch for an official start, as they sometimes do. Today there was no stopping, as the red flag was dropped the race begun, furious as ever! I fought to hold the last wheels in the wind but already many gaps had appeared and the race had completely split up. I was never going to reach that front group and I think I was sitting in the front seat of the team car before the 5km mark! Other sprinters Petra Rossner and Regina Schleicher also jumped in their team cars before the 20km mark.
So I witnessed the race from a different perspective today and I must say, it can get really boring back in the team car for 3hrs!
The bunch looked like a yo-yo all day, stringing out and then coming back together again. Mirjum Melchers (Farm Frites) made the race today on the only climb which was 66km into the race, she moved away from the main bunch taking Trixi Worrack (Nurnberger) with her. Mirjam showed awesome strength to pull a gap of 1 min 15 sec on the main group, Trixi only lasted about 15km before retuning to the main group.
With 20km to go Anita and Susanne (team SATS) were frustrated that no teams were willing to work in order to bring Mirjam back, so they decided to get on the front of the main bunch and pull some hard turns. Unfortunately Susanne and Anita were out numbered by the riders from Farm Frites and Ton Van Bemmelen who were going to desperate measures to protect Mirjam's time gap, it was reported that some riders were moving to the front of the bunch and slamming their brakes on hoping to mess up the rhythm of their turns. Full credit to Mirjam, though; she managed to hold her gap to the finish in severe winds. It truly was an amazing ride that has really impressed everyone!
I have not yet heard the final results but I did hear that Kate Bates (Ton Van Bemmelen) was 3rd today, another fantastic result for her!
Team SATS are staying in luxury accommodation at the Hotel Dona Brigida (Telsa Salamanca) for the next few days, we are all relaxing and recovering for the World Cup here on Sunday.
Cheers,
Rochelle