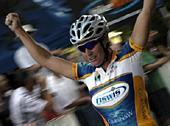 Photo: © Shane Goss
Speedy Gilmore: The Rochelle Gilmore Journal 2004
Rochelle Gilmore - super sprinter and scratch race silver medallist at the 2002 world track championships - is a woman full of ambition. After proving her prowess on the track, she's aiming to forge a successful career on the road, and in 2004, she'll riding for Denmark-based Team S.A.T.S. Follow Rochelle as she attempts to rise to the top of the tree in 2004.
Vuelta Castilla y Leon, Stage 2 - March 25: Toro-Zamora, 123.8 km
A bad day
A bit hilly
© Vuelta a Castilla y León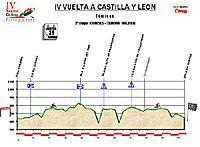 Today's race profile looked quite hilly with the mountain sprints at 55.6km and 73.4km both climbs were category three climbs (the lowest category). The Intermediate sprints were only 8.8km and 39.3km into the race.
Once again it was very cold and windy but we were blessed with sunshine today!
I haven't too much to report on today's race as I was not really in it... possibly one of my worst days on the bike! I am still suffering severely with my new bike/position and today my entire body gave in, every muscle was aching and I had trouble turning over every pedal stroke. It's amazing how your form can change so dramatically in 24 hours. I guess today's outcome was a result of the stress I put my body through yesterday when my legs were feeling so good that I simply ignored the extreme pain in my lower back and neck to push on to the finish.
It's very hard to pin-point what is causing the pain I am experiencing as I have made three huge changes at one time, my frame, cleat position and saddle - all due to new sponsorships.
All the problems should be solved on Tuesday when I fly to Treviso, Italy to visit the Cicli Pinarello factory. At Pinarello I will be measured up for a new custom built frame. While I'm there I will also take advice from the experts in regards to obtaining the most optimal position on the bike. Pinarello will set me up as an individual so that I obtain maximum power output without compromising comfort.
Enough about my problems. The race. All I can tell you is what I have heard from Susanne, Mannon, Anita and Sara. They said it was a tough race that was always splitting up and coming back together. Susanne has a lot of skin off after her fall yesterday and was feeling a little stiff and sore today; Mannon is suffering a severe head cold; Anita said some people were attempting suicide in the sprint and Sara said "some muppet decided to fall in front of me with only 1.5km to go!" But they all managed to finish safely in the main bunch.
The ride of the day goes to eventual stage winner Kate Bates from Australia (Ton Van Bemmelen) who made a strong attack with 10km to go. Joining her was Anouska Van Derzee (Farm Frites) they worked hard together to hold off a strong chase led by the Safi Pasta Zara team who were hoping for a bunch kick for Regina Schleicher.
Anouska Van Derzee now takes the leader's jersey into the final day with Kate Bates in second position on the same time. They're 17 seconds clear of the third rider on GC, Regina Schleicher.
My race data from the Polar 720i:
Distance: 110.4km
Time: 3hr 15 min
Average Heart Rate: 159bpm
Max Heart Rate: 192bpm
Average Speed: 34.0
Max Speed: 74.4
Average Cadence: 87rpm
Max Cadence: 109rpm
In tomorrow's 104km stage I will be hoping that I can just get through the stage, hopefully helping out some of my team mates early in the race.
More tomorrow,
Rochelle