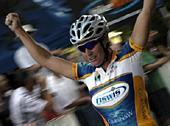 Photo: © Shane Goss
Speedy Gilmore: The Rochelle Gilmore Journal 2004
Rochelle Gilmore - super sprinter and scratch race silver medallist at the 2002 world track championships - is a woman full of ambition. After proving her prowess on the track, she's aiming to forge a successful career on the road, and in 2004, she'll riding for Denmark-based Team S.A.T.S. Follow Rochelle as she attempts to rise to the top of the tree in 2004.
Back on the bike and winding up to the world's
Adelaide, May 9, 2004
Unpacking
Photo ©: Rochelle Gilmore & friends

There's the bits of a bike in here somewhere
Photo ©: Rochelle Gilmore & friends

The coffee shop stop
Photo ©: Rochelle Gilmore & friends

After the completion of the Australian National Track Championships I was forced to take some time off the bike. Not forced by the coaches, but forced by my own body! It had been screaming at me for quite some time before I actually listened!
The day after the championships I flew down to Adelaide to join the World Championship Team at the AIS for specific preparation.
It feels a little strange being at a pre-world's camp at home (I lived here at the AIS during the summer). It's only three weeks out from world's but it just doesn't feel like it! Our pre-world's camp is normally held in Buttgen, Germany, and you know when you arrive there that it's time to get serious. Everyone one is in bed early, people have restricted their dessert and alcohol intake and the adrenaline and motivation starts pumping.
At 7pm tonight we have our official introduction meeting for the 2004 World Championship, I believe this is when we will realise how close we are and the seriousness will kick in.
So today I un-packed my road bike and headed out for my first ride since nationals. It was only an hour ride (with a coffee shop stop) but what a beautiful day to get back on the bike, there was not a cloud in the sky! I cruised along the beaches in a small gear paying particular attention to my heart rate, cadence and the scenery of course!
I have been seeing the Australian Olympic Team doctor here in Adelaide about my health, apart from complete rest he has prescribed medication for a couple of things he believes will help me get back on track. My iron was a little low too so supplementing with that should also help my condition. One week completely off the bike mid-season is nearly un-heard of amongst Australian cyclists but I certainly had no option and obviously needed it as I spent 80 percent of every day in bed.
Originally I had planned to compete at the Sydney World Cup next weekend but unfortunately, due to the time I have had off the bike, I will not be racing. I will stay here in Adelaide with the rest of the World's Endurance Team and prepare for World's. Alex Rhodes (National Points Race Champion) will ride the Points Race in Sydney and the Scratch Race with Rebecca Ellis (National Scratch Race Silver Medalist). With the combination of Alex and Rebecca in the scratch race we should see a good result. Alex is an absolute power house rider and if Bec has held her form from nationals- they have a great chance!
More later on my form leading into the big one - WORLD'S!
Cheers,
Rochelle