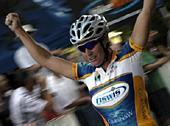 Photo: © Shane Goss
Speedy Gilmore: The Rochelle Gilmore Journal 2004
Rochelle Gilmore - super sprinter and scratch race silver medallist at the 2002 world track championships - is a woman full of ambition. After proving her prowess on the track, she's aiming to forge a successful career on the road, and in 2004, she'll riding for Denmark-based Team S.A.T.S. Follow Rochelle as she attempts to rise to the top of the tree in 2004.
A close win
Australian national track championships
Rochelle (left) and team-mate and lead-out gal Leonie Aisbett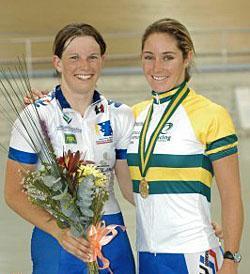 I have been back in Australia for a couple of weeks now trying to prepare for the National Championships. As I have been battling health problems and jet-lag, I was hesitant to start the 10km Scratch race Thursday night.
I feel as though I am in a bit of a rut at the moment, I haven't felt good on the bike for some time now and it's definitely playing havoc with my mind!
After some encouragement from the NSW Institute of Sport coach, Gary Sutton, I decided to race the Scratch race. I took some pressure off myself and went into the race to have a bit of fun and to try and enjoy it - I knew with my lack of form that I was not going to be able to do anything impressive so the goal was to just enjoy it!
Actually that has become one of my biggest goals for the rest of this year - to start enjoying the racing again. Of course I still want to win the World Championship but more importantly I want to find that passion I once had for the racing - the passion that has got me the results I have so far achieved. The obsession and desire to win races has somewhat blurred my vision. After all, it's the racing that keeps me motivated to slog myself during training everyday, racing is the fun part!
I guess it's hard to stay motivated when you know you have given everything, and it's still not enough BUT I believe that if I or we can just get through this toughest bit (however long it might be) we will come out on top. Getting to the top was never meant to be easy, it's going to be a challenge but we will get there!
So anyway, I did enjoy the scratch race - although I must admit that I experienced one of the worst feelings when I crossed the line and thought I had been beaten! It was not a tough race, there were a few attacks but nothing looked too threatening. The race came together for a bunch sprint thanks to my power-house team mate, Leonie Aisbett who chased down everything and still managed an awesome lead-out!
With a lap to go the pace was rather high and I suddenly feared that my gear may have been too small as I felt like I couldn't pedal any faster. I was sitting second wheel down the back straight waiting for the charge from behind and because my reaction was a little slow, Bec Ellis (NSW) had me boxed for a second - I managed to squeeze through to put her on my right hip - I pulled away from her a fraction in the bend and felt as though I had her, and then she surprised me with a late dash of speed to the line. I really thought she had just pipped me, but the photo showed me as the winner.
I will now relax at the Ridges hotel and see if I can back up for the Points Race on Saturday night.
Cheers,
Rochelle