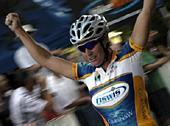 Photo: © Shane Goss
Speedy Gilmore: The Rochelle Gilmore Journal 2004
Rochelle Gilmore - super sprinter and scratch race silver medallist at the 2002 world track championships - is a woman full of ambition. After proving her prowess on the track, she's aiming to forge a successful career on the road, and in 2004, she'll riding for Denmark-based Team S.A.T.S. Follow Rochelle as she attempts to rise to the top of the tree in 2004.
April 11, 2004 Track world cup, Manchester
My life storyÖ second again!
I canít really complain about that result, I have not been on top form this last week, actually, I was far from being on top form. During the week in Switzerland I struggled through every training session wondering if I was wasting my time heading over to Manchester.
10km Scratch Race
The race was fast but I wouldnít say it was a hard race. As usual I floated around following wheels and jumping on to the moves that looked dangerous. I never needed to hit the wind and with five laps to go I felt as though I hadnít touched the pedals. I had Aliís wheel with a lap and a half to go and I was feeling pretty confident at this point, Ali was on the front and as always she was dedicated to leading me out and I still felt fresh. BUT as I made my move down the back straight Ali stood up on the pedals and I found myself stuck on her hip with absolutely nothing in my legs, I struggled to the line for second!
A great result for Australia and nice to see Ali take her first World Cup win. I am sure Aliís top track form is now going to confuse her decision to focus on Road or Track selection for the games; she has hit top form just at the right time!
So I guess I am a little down about the result but at the same time pleased that I was on the podium after such a depressing preparation. Another positive about today is that it was my speed that let me down, and thatís something I have time to find, six weeks on the track with some derny work should do the trick!
I am heading home to Sydney Australia tomorrow to commence specific training for the world scratch race championship. I will start the first two weeks prep in Sydney with Gary Sutton, then following the Australian championships I will head back down to the Del Monte AIS in Adelaide.
Cheers,
Rochelle