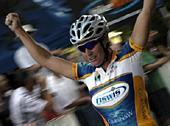 Photo: © Shane Goss
Speedy Gilmore: The Rochelle Gilmore Journal 2004
Rochelle Gilmore - super sprinter and scratch race silver medallist at the 2002 world track championships - is a woman full of ambition. After proving her prowess on the track, she's aiming to forge a successful career on the road, and in 2004, she'll riding for Denmark-based Team S.A.T.S. Follow Rochelle as she attempts to rise to the top of the tree in 2004.
Fun & games at the Jayco Bay Cycling Classic
Race 1 - Wednesday, January 7: Hastings
I missed the break today... ERRRR! I got caught behind a little crash when four girls slipped away, Olivia (my NSWIS team-mate) was in that break, so we (NSWIS) were ordered to control the bunch, it was a very slow boring race for us from there.
When the attacks were going earlier in the race I felt fit and positive. Team-mate Kate Bates was dynamite for the first intermediate sprint and took maximum points, the other usual aggressors during the race were Ali, Hayley, Oenone and Olivia. Olivia took maximum points in the second and final intermediate sprint, winning her the intermediate sprinters jersey for day one. One of our NSWIS team-mates, Katie Nichols, jumped away with a lap to go to take fifth; I won the bunch kick for sixth.
Today (Race 2), NSWIS will try and defend the sprinter's jersey for Olivia or Kate, who are on equal points. The circuit is known as one of the toughest crit circuits ever - with a climb for three quarters of each lap.
Race 2 - Thursday, January 8: Portarlington
I crashed today early in the race - took more skin off! No excuses though, but from then on, I had a bad day in the office. It was a very tough day today and that's about as much as I can tell you on the race... sorry, but when your struggling down the back, you don't see much of what is going on up front!
From our team meeting tonight, I can tell you that Kate Bates had a great day, making it into a break group of three; she finished second to Hayley Rutherford (WA) today, who now leads the series. Kate took the intermediate sprint jersey from Olivia Gollan.
NSWIS will fight for the leader's jersey tomorrow; looks like Kate and Liv are our best chance to win the series with three days remaining. NSWIS are yet to win a stage, but the team are extremely motivated to at least take a stage win!
Race 3 - Friday, January 9: Geelong - Ritchie Boulevard
I had a better day today. It was a very hard, fast race, with most of the attacking coming from our (NSWIS) team and a very threatening solo break from Narelle Peterson (VIS, and former junior world track champion). Narelle made her dangerous attack during the last 15 mins of the race; NSWIS riders Chrissie Riakos, Kate Nichols and Olivia Gollan put a huge effort in to pull her back just as Emma James (NSWIS) counter-attacked with four laps to go. Emma just stayed away to take the win! I won the bunch sprint for second and current national crit champ Liz Williams (VIS) took third after coming off a strong lead-out from her (VIS) team-mate Katie Mactier.
Hayley Rutherford holds on to the series lead from Oenone Wood. Kate Bates holds on to the intermediate sprinters jersey, but withdrew from yesterday's race after having troubled wheel changes earlier in the race. Olivia is running second in the sprinter's jersey, so NSWIS have their bases covered there.
Tonight's crit (Race 4) starts in just one and a half hours. It is a hilly circuit around the Botanical Gardens and NSWIS plan to go on the attack again tonight. We are hoping to get Olivia or Emma into a break, hoping for maximum points, while I will try and hold on to the main bunch in case of a bunch sprint.
Race 4 - Saturday, January 10: Geelong - Botanic Gardens
Gilmore gets it
Photo ©: Shane Goss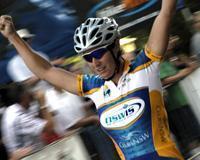 Today I won!
Out training this morning, I felt great and then again during the warm-up around the hilly course. The NSWIS team worked hard to keep the group together until the first intermediate sprint for Kate Bates.
Before the second intermediate sprint, a group of four strong riders had established a nice break. The lead group consisted of my NSWIS team-mate Natalie Bates, my training partner Alex Rhodes(SA), my team-mate for 2004, Sara Symington (Team S.A.T.S), from Great Britain and ex-team S.A.T.S rider Helen Kelly (VIS).
As I realised this mix of riders were likely to stay away, I jumped away from the main group at the bottom of the hill - I sprinted with everything I had in an effort to reach the group of four before hitting the head wind down the back straight. I reached the group in just half a lap and started to take some really deep breaths in case of an attack; we were now a group of five.
Natalie kept tempo on the front of this group to prevent strong attacks, while Alex Rhodes swapped off turns with her - the other three of us played cat-and-mouse just behind. It was Alex Rhodes who made the final strong attack down the back straight on the final lap; I reacted immediately and managed to reach her back wheel halfway up the last hill as we had pulled away from the other three. We both stalled a little before turning left and starting our sprint for the line, and I passed Alex with about 200m to go for the win! My 2004 professional team-mate from Great Britain, Sarah Symington, took third. Not bad after "Team S.A.T.S" finished one-two yesterday with Emma James and myself!
My legs are very tired after tonight's race; tomorrow is the last round in St Kilda.