Recently on Cyclingnews.com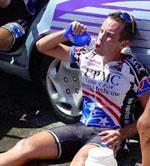 Photo: © Franklin Reyes
Papillon: The Joe Papp Diary 2004
Joe Papp is a UCI Elite rider with the UPMC cycling team. He was a double stage winner at the 2003 Vuelta a Cuba (UCI 2.5) and in 2002 won the GS Mengoni Grand Prix, the BMC NYC Cycling Classic for elite amateur men and a stage at Superweek, among other events. Joe's writing is good enough to make boring races intriguing and intriguing races captivating.
Tour of Korea - 2.5, Korea, June 12-20, 2004
Pizza Hut for Western guts
Stage 3 - June 15: Kyung Po Lake criterium in Kang Leung, 86 km
Night club
Photo ©: Joe Papp

Riders take to the start
Photo ©: Joe Papp

Neutral first lap
Photo ©: Joe Papp

The break forms
Photo ©: Joe Papp

The break begins to fragment
Photo ©: Joe Papp

Jae Jang Sung takes the win
Photo ©: Joe Papp

The stage podium
Photo ©: Joe Papp

Joe Papp pauses for a moment
Photo ©: Joe Papp

ACT-UPMC's Eneas Freyre
Photo ©: Joe Papp

For the first time in my riding career I was witness to a rider protest before the start of a stage, led by none other than ex-Motorola and current Marco Polo professional Michael Carter. Justly concerned over the dangers of the circuit, which included almost 2km on a three meter-wide brick bike/walking path, Carter was lobbying for the stage to be dropped from the GC classification. We didn't have a position one way or another, as long as there was still prize money on offer, because as dangerous as the circuit was (and it was ridiculously dangerous, with concrete and wooden pillars at both ends of the path and the course open to traffic - and Korean drivers are some of the worst I've ever seen), Alejandro, Eneas and I were confident that we could break up the field in the first few laps and establish a breakaway.
So we drilled it from the start with some of the MGZT boys and a few from Marco Polo and had a majority of the field in trouble after only one lap. On the third trip around the course, I shouted for Eneas to grab my wheel as we hammered into the sand trap in the crosswind section before the path and sprinted as if it was 300m to go, and not 75km. The effect was the same, however, and we left the field behind. Alejandro made the split, along with representatives from all the major teams, though in five laps of all-out riding we'd whittled the selection down to seven: three ACT-UPMC, one MGZT, one Hong Kong, one Seoul, one other Korean.
Took a lap on the main field and put four minutes into the chase group (too bad this stage didn't count for GC!). In the last few laps, we made a big tactical blunder and decided to put all our egg's in Ale's basket, rather than using our superior numbers to attack the break. Eneas started winding it out with 1km and did a great job, taking it all the way to 350m when I jumped. Unfortunately, the work Ale had done cost him more than he realized, and he couldn't come around - but a Korean and the Aussie did. Shit. I hung on for third, and collectively we did a lot of work for the last spot on the podium.
Went to lunch at Pizza Hut in downtown Kang Leung. Got a gelato afterwards with Eneas then walked a lap with him through a market district and saw - amongst other things - live eels being sold from a bucket on a corner. Nice.
Back to the hotel and a two-hour nap then back into town for another meal at Pizza Hut. Stick with what you know, eh? No good to get sick in the middle of the stage race on local food incompatible with my Western gut, no matter how adventurous you might be... The boys bought gelato after dinner and we took pictures while bathing in neon light outside on the street.
Email Joe at joe@cyclingnews.com