Recently on Cyclingnews.com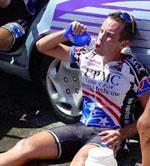 Photo: © Franklin Reyes
Papillon: The Joe Papp Diary 2004
Joe Papp is a UCI Elite rider with the UPMC cycling team. He was a double stage winner at the 2003 Vuelta a Cuba (UCI 2.5) and in 2002 won the GS Mengoni Grand Prix, the BMC NYC Cycling Classic for elite amateur men and a stage at Superweek, among other events. Joe's writing is good enough to make boring races intriguing and intriguing races captivating.
Tour of Korea - 2.5, Korea, June 12-20, 2004
Suffering... like a dog
Stage 1 - June 13: Seoul - Chun Chon, 147.1 km
Joe Papp sits in the cockpit
Photo ©: Joe Papp

The ACT-UPMC team
Photo ©: Joe Papp

Neutral start for over 20km since we had to pass through four tunnels with traffic. Poorly controlled roads would be a theme for the rest of the stage, culminating with an Iranian rider from Giant Asia being hit by a truck when he crossed the yellow line on a descent. The first reports through the caravan were that he was dead, though he was not so badly injured.
After the end of neutral section, there was non-stop attacking - we put a man in every move and finally the field split with 25 of us going up the road. Four ACT-UPMC's, three Marco Polo's, four Shimano's, three MGZT's, every major foreign team was represented. There was a lack of cohesion, however, with only half of the break working. And we did too much work - this was proved later when we hit the second KOM and were all dropped to varying degrees.
I suffered like a dog on the second climb with horribly sore legs, but not from lactic acid build-up. I was yo-yoing off the back of Jerry, who was dangling off of the back of the leaders, and then I caught him on the descent. Alas, the four rollers in the final 20km killed me and I couldn't even stay with him. I was riding back with an Uzbek and then dropped him. Lost three minutes to Jerry and six to the winner in the final 25km. Ouch. Coto came on strong at the end, thank God.
Jerry did the best, finishing 15th and I was 19th
After showering at the Doosan Resort we went to Camp Page, a US military installation that is home to Sgt. Lloyd Mills, our mechanic He and his colleagues Mr. Jones, Mr. Lambert and Mr. Ryan cooked-up an all-American barbecue for us, then they took us to one of the hangers and Eneas, Ryan and I got to sit in an Apache attack helicopter! Now that's a fringe benefit.
Made it back to the hotel and just tried to chill. Nice hotel, great lighting, and hardwood floors; and don't forget to take off your shoes and leave them inside the vestibule before you walk into the room.
Email Joe at joe@cyclingnews.com