Recently on Cyclingnews.com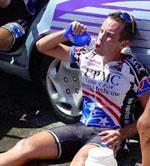 Photo: © Franklin Reyes
Papillon: The Joe Papp Diary 2004
Joe Papp is a UCI Elite rider with the UPMC cycling team. He was a double stage winner at the 2003 Vuelta a Cuba (UCI 2.5) and in 2002 won the GS Mengoni Grand Prix, the BMC NYC Cycling Classic for elite amateur men and a stage at Superweek, among other events. Joe's writing is good enough to make boring races intriguing and intriguing races captivating.
Tour of Korea - 2.5, Korea, June 12-20, 2004
Getting the ball rolling
Prologue - June 12: Seoul ITT, 1.4 km
Yours truly
Photo ©: Joe Papp

Prologue winner Alejandro Acton
Photo ©: Joe Papp

Going exotic
Photo ©: Joe Papp

Bigger is better in Korea
Photo ©: Joe Papp

This is by far the most exotic racing adventure I've set out upon thus far in my career, and I'd be lying if I said I wasn't delighted with how my ACT-UPMC team "got the ball rolling" in the prologue of the 6th annual Tour of Korea (UCI 2.5). My 32 year-old teammate Alejandro Acton from Argentina, who one year ago to the day shattered his wrist in a terrible fall on the track and was almost forced into retirement, confirmed his return to form by winning today's race! Another teammate Gerardo Castro (Uruguay) finished third to give us two podium spots, and I was ninth. Even Alvaro "Coto" Tardaguila got in on the act; finishing 13th on what was a super-technical course.
While you needed to be fit and have gobs of anaerobic capacity today, bike handling was more important and the ability to corner on the edge without braking was what won Ale the stage. It's also what lost Jerry the race, since he came into turn two - a tight 90-degree right hander - a little too hot and had to grab the rear brake mid-turn. So while he went fast into the curve, he came out slow - a definite no-no. Jerry was a national champion BMX racer, so he knew as soon as he crossed the line, he knew that the second he'd lost in the turn would be the difference at the finish. No worries though; if you're going to lose a race, losing it to a teammate takes the edge off!
Seriously though, winning a stage is the bare minimum goal we set for ourselves when we attend an international race like the Tour of Korea on the organizer's tab. It is part-and-parcel of the responsibility we assume as an invited team to make a "grand spectacle" and justify the promoter's expenses in bringing us here, and now that bill has been repaid. However, we're just starting to get rolling, and tomorrow we'll work to defend Ale's slim lead and maybe go for another stage win. There are two KOM's during the 147km stage from Seoul to Chun Chon, so stage 1 will be a quick and immediate test of our team's collective form.
ACT-UPMC is represented in South Korea by Acton, Castro and Tardaguila, Eneas Freyre (USA), our U23 Ryan Mele (USA) and your correspondent. Betsy Davis, a three-sport national champion in the USA (cycling, speed skating and sailing) is our Director(ess) and Llyod Mills from Jamaica, a naturalized US citizen serving in the US Army in South Korea (as an Apache helicopter mechanic), is our mechanic.
And in case you're wondering how the hell we ended up racing in Asia instead of at the Nature Valley GP - well, given that we're not getting paid "mad loot" to race our bikes, we look to the fringe benefits for satisfaction - for example, traveling the world and meeting new people. The Tour of Korea definitely fits the bill.
I started organizing this trip in late 2003, when I sent an email to the Korean Cycling Federation introducing our team and expressing our interest in participating in the event. A correspondence ensued and here we are. We left Newark on Wednesday morning, flew to San Francisco via Continental (a disaster - I won't even bring up the hellish details of that experience, but suffice it to say - "Never Again!") and then boarded a Singapore Airlines flight direct to Seoul, South Korea (a wonderful flight - the Asian carriers are all that and a bag of chips).
The South Koreans have been fantastic to work with, and we've not found ourselves wanting for anything. It's an honor for us to represent ACT-UPMC and our various countries here, and I hope that we have the opportunity to return.
Stay tuned for more updates, and thanks for reading!
Email Joe at joe@cyclingnews.com