Recently on Cyclingnews.com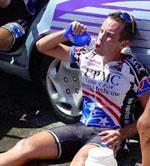 Photo: © Franklin Reyes
Papillon: The Joe Papp Diary 2004
Joe Papp is a UCI Elite rider with the UPMC cycling team. He was a double stage winner at the 2003 Vuelta a Cuba (UCI 2.5) and in 2002 won the GS Mengoni Grand Prix, the BMC NYC Cycling Classic for elite amateur men and a stage at Superweek, among other events. Joe's writing is good enough to make boring races intriguing and intriguing races captivating.
Building back up
Bear Mountain Spring Classic, Harriman State Park, NY
May 9, 2004
And the winner is...
© Caroline Hacker

Every bike racing spot in the world has its own local classics, races that everyone wants to win, whether they're UCI World Cups in the Flemish Ardennes or training criteriums in Boulder, CO. In New York, three of the most classic races still on the calendar are the GS Mengoni Grand Prix in Central Park, which is the traditional season-ending October event in our area, the new criterium in the financial district (inaugurated in 2002 as the BMC NYC Cycling Classic) and any race run on the Harriman State Park circuit; which has hosted a variety of national competitions, but most recently has become home to the Bear Mountain Spring Classic.
At 160km for the Pro/elite men, this race is an epic, and has been won in the past by such luminaries of the US domestic pro peloton as Kevin Monahan and John Lieswyn. I first raced in Harriman as a junior at the 1993 national championships, and while I qualified third in my heat, a bout of food poisoning the next night deprived me of a chance to contest the final. My luck since then has not been better, and until today I counted no good results at Bear Mountain in my palmares.
My form during the past three weeks has been fantastic, with a win coming at the Vuelta a Habana del Este in late-April, and a 2nd at the Turkey Hill Classic in Pennsylvania in early-May. This week has been a bad one however, and I was starting to worry that I might have peaked too soon. I was flying last weekend, but since Tuesday have felt horrendously "blocked" with very heavy legs. Though I completed my training as scheduled, with the proper mix of rest and intensity, I still felt way off. Even a special attempt to detox my liver yesterday failed to lighten up the legs, and I was worried about not being able to take advantage of my fitness today at Bear Mountain, in a race I very much wanted to win.
The start of the race was depressing, as poor weather, and then an abrupt - but thankfully, only temporary - suspension of the competition failed to lighten my mood (or my legs). Apparently, the promoters did not realize they needed to have an actual ambulance stationed on the course, so the police shut down our race after only one lap. The ACT-UPMC boys and I retreated to the team van to exchange our race kit for drier replacements (a luxury for which I was grateful), but sitting around for 30 minutes only served to further shut down my legs.
It all worked out in the end, however, as I actually won the race! Bike racing is funny like that, in that you can have good form but feel terrible, want to quit a race and then - in the blink of an eye - be standing on the podium...it's not like nothing happened between when we started racing again and when I crossed the finish line to win. Rather, I finally embraced the tactics that my guys have been preaching to me for the past two weeks: chill out until the final moments of the race and conserve my energy to make a devastating attack when it could actually result in a win, rather than with 50 or 60km still to go. As such, between the restart and 2.5 laps to go, I was on cruise control
Yes, I must give credit to my ACT-UPMC teammates, who did their best to protect me until the final laps, so that I could save my energy to make the race-winning move later. In fact, with 2 laps to go I was in another break with my teammate Alejandro Acton, amongst others, and I was sure that this was the race-winning move, until Ale dropped his chain and we lost our momentum before the climb.
Mateo and Jerry also did a lot of work to cover many of the attacks that I would have wasted myself following. By far the best moment for me, besides winning, was on the second lap when my entire team went to the front after my other teammate Alvaro Tardaguila had set tempo on the climb and worked to bring back a 2-up all-Canadian breakaway. There was an Italpasta-Transport Belmire guy up the road with one of Alex Lavallée's Equipe Volkswage Trek teammates, and we considered it a dangerous enough move to mass the entire ACT-UPMC team at the front. It brought a tear to my eye to see the boys rotating so smoothly, especially after all the ups and downs we've had this season.
Regardless, the final break formed at the start of the final ascent of the big climb on the last lap. A Toga rider, Emilito Heredia, was already slightly ahead of the field on the descent with Stig Somme, a Canadian from Jet Fuel. I entered the hairpin turn in the front of the field, perhaps third or fourth, and Kevin Bouchard-Hall (USA) was surely close behind, since he had attacked through the feed zone just before and was hammering the descent.
I sprinted out of the turn and attacked hard on the first pitch of the climb, catching the two leaders, and then the Canadian "turned up the gas." As soon as Bouchard-Hall latched on, the four of us rode incredibly fast up the hill, with the Canadian doing a majority of the pacemaking at the start, and the rest of us taking our turns.
After the big climb, we were struggling a bit to stay organized through the short rollers before the first roundabout, but when we hit the flats along the lake, we dialed ourselves in and rode like we were in a team time trial. The Canadian was very vocal, encouraging both the Toga rider and me to pull more, and much to my chagrin, he was giving me a slightly hard time about my being the best sprinter in the group and why I shouldn't even think about sitting on or skipping a pull.
I didn't miss a pull, and no one else did either, but in all honesty my legs were incredibly painful at this point in the race and I was worried about cramping - not from electrolyte loss - but rather from muscle fatigue. As I said, I'd started the race feeling "blocked" and never really opened up during the course of the day, so even though my cardiovascular system was fine and I was never challenged anaerobically, I wasn't at 100% because of my muscles.
Going through the second roundabout, we were still maintaining an even pace, though when we were climbing the roller on Lake Welch Pkwy. After a right hand turn, I could see the chase group behind and was worried that if we let up even slightly, they might be able to catch us. However, after a few more minutes, the Campagnolo support car gave us a time check and we were 40sec. up, which was five more seconds than before we passed through the second roundabout.
Bouchard-Hall was very strong, as was Somme, the Canadian, though the work he did on the big climb and through the rollers was starting to catch up to him. Heredia was consistent - never putting us onto the ropes or shocking me with his strength, but never swinging to get back on after a pull either.
With 3.5km to go, Bouchard-Hall attacked. I thought he'd gone too early, though it was the Toga rider who responded. He couldn't close the gap, however, which was a surprise, and given the nasty state of my legs, I was worried that I might not be able to either. However, I gritted my teeth and started to bring him back, all the while wary of a counter-attack from Somme, who was a self-professed "non-sprinter." When I caught Kevin, and the Canadian didn't counter attack, I knew he was dead and that the finish would come down to a sprint between Heredia and me.
I exercised my option to stop working with 1km to the line, as did the Toga rider, and KBH and the Canadian swapped a turn each before the sprint started. It was Kevin who went first, and I put in a quick but abbreviated jump to keep him close - I didn't want to start my sprint too early. It worked, because the Canadian followed through and started winding it out. I then jumped a second time, with the Toga rider on my wheel. I couldn't stand for the sprint because my legs were so blown, so I focused on spinning a high cadence and for the final 12 seconds of my effort to the line, averaged 125rpm. Heredia was closing up on my left, but I'm sure he was tired, too, and the little gap I gained with my initial acceleration held to the line.
I was very happy to have won the race, especially against a strong, powerful finisher like the Heredia. I was equally pleased to have had the race come down to such a select breakaway, because Bouchard-Hall is riding very, very well and will be representing the USA at a UCI under-23 World Cup next week. After my accident last June, when I almost lost my left leg and spent a month in hospital, I changed my training. I've never been a pure sprinter, despite having won many races in sprints, and I wanted to improve my climbing and time trialing in hopes of being able to place in races that would never end in field sprints. To that end, I went to Uruguay for two months this winter and rode "big miles," then raced the Vuelta a Cienfuegos and the Vuelta a Cuba (both in Cuba), then the Vuelta a Chile, and then the Vuelta a Habana del Este, Cuba, which I won three weeks ago. I've been back in the USA for two and a half weeks, and all of the big miles, the stage racing and warm-weather training I've done has helped me to do something I never really appreciated; lose weight. When I returned from Chile I was at just under 65kg, whereas in 2001-2003 I was RACING at 68.5kg. Since returning I've put on a couple of pounds, but that's only because I was so ghastly thin.
I have about 50 days of racing in this year, and almost none of it has been in the form of criteriums. Racing 200km stages with two mountain passes prepares your body for a different kind of effort, which is why someone like me, who has been known as a sprinter in the past even though I have more of a stage racer's body (my muscle composition is 60/40 slow/fast twitch), can do well at a race like Bear Mountain which features a lot of climbing and requires a lot of muscular endurance. Ask the other guys in the break - I didn't ride like I used to have to ride in order to place well. I didn't miss a pull, whereas before I would have been swinging on the back of the break, just hoping to hold on until the end.
I figure I only have maybe 3-4 more years of racing at this elite level left in me, and I want to maximize what potential that I have so I can continue to compete internationally while tackling many of the American classics - like Bear Mountain - that I didn't consider my forte in the past.
My sprint has definitely suffered, however, and I'm down almost 200w from the max power I was hitting in 2002. I'm bothered in part by the after-effects of being hit by a car last August. My left leg is weaker than my right, and it's hurt my explosive power. However, in 2002 I didn't even make it to the finish of Bear Mountain so I'll count my blessings. This win is dedicated to the two most important women in my life; my mom, who won her own battle by recovering from cancer this spring, and my girlfriend Yuliet. Next on the horizon is the Tour of Connecticut, which I'll be racing as a guest member of Team Holland. After that, it's my favorite race, the Tour of Somerville on Memorial Day. My next foreign adventure is the Tour of Korea (UCI 2.5) in June.
Thanks for reading, and as always, please send me your positive and negative feedback.
Email Joe at joe@cyclingnews.com