Recently on Cyclingnews.com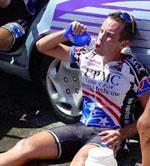 Photo: © Franklin Reyes
Papillon: The Joe Papp Diary 2004
Joe Papp is a UCI Elite rider with the UPMC cycling team. He was a double stage winner at the 2003 Vuelta a Cuba (UCI 2.5) and in 2002 won the GS Mengoni Grand Prix, the BMC NYC Cycling Classic for elite amateur men and a stage at Superweek, among other events. Joe's writing is good enough to make boring races intriguing and intriguing races captivating.
Here to finish
29th Vuelta a Cuba, Cuba, February 10-22, 2004
February 9, 2004
Espresso
Photo ©: Joe Papp

ACT-UPMC teammates
Photo ©: Joe Papp

ACT-UPMC team director
Photo ©: Joe Papp

Joe Papp and the boys
Photo ©: Joe Papp

Riders from Paternina
Photo ©: Joe Papp

Joe Papp collects himself
Photo ©: Joe Papp

Joe Papp posing
Photo ©: Joe Papp

Team cars, Cuban-style.
Photo ©: Joe Papp

L. Amaran Romero
Photo ©: Joe Papp

Kyle Wamsley relives his victory
Photo ©: Joe Papp

Kyle Wamsley and Mike Fraysse
Photo ©: Joe Papp

Fans await
Photo ©: Joe Papp

The stage 6 podium
Photo ©: Joe Papp

Jersey leaders, stage 6
Photo ©: Joe Papp

ACT-UPMC
Photo ©: Joe Papp

Reldy Perez (Cuba),
Photo ©: Joe Papp

Simone Biasci (Italy)
Photo ©: Joe Papp

Andrea Panarese (Italy)
Photo ©: Joe Papp

Riders suffer
Photo ©: Joe Papp

Joel Marino (Cuba)
Photo ©: Joe Papp

Where's Joe?
Photo ©: Joe Papp

Eneas Freyre
Photo ©: Joe Papp

Police watch
Photo ©: Joe Papp

Mateo Sasso (L)
Photo ©: Joe Papp

Luggage and equipment transport
Photo ©: Joe Papp

Pile it in, boys.
Photo ©: Joe Papp

Joel the Cuban-soigneur
Photo ©: Joe Papp

Breakaway on stage 11b
Photo ©: Joe Papp

Jersey wearers
Photo ©: Joe Papp

Jordi Riera (R) of Spain
Photo ©: Joe Papp

We had a joyous reunion with our DS Mike Fraysse today, and went to the opening ceremonies for the Vuelta at the Municipal Stadium in Baracoa (still the most beautiful place in the world for me). Once again, thanks to the Pan American Solidarity Program, the entire Cuban peloton, from National Team to Provincial Squad, is swathed in brand-new Verge clothing. The ceremonies were fun, and the stadium was packed to standing-room only capacity. As the defending champions, we were treated to an enthusiastic welcome, but the roar that erupted from the partisan crowd when the Cuban National Team took to the field - led by Pedro Pablo Perez, twice-winner of the Vuelta.
Eneas looked the worse for wear, and had horror stories a plenty from his time with Cropusa in Guantanamo. They revolved around poor food, long stages, and hungry mosquitoes, which was just what we were expecting. Can't say we're sorry to have missed it.
Oh the vagaries of Cuban Customs... remember that customs took three of my four race radios, but they let me teammates pass with all of theirs. Then yesterday, upon Fraysse's arrival in Havana, customs confiscated the large box of replacement parts, food, clothing, accessories, life goods, etc. that he had with him. The only thing that potentially will save the situation was the fact that Mike told the customs guys that there were donations for the Cuban National Team in the box (true). It was taken away nonetheless, though the Cuban Cycling Federation now has a vested interest in springing it and having it flown to Guantanamo for our arrival there on Tuesday.
It's always a surreal experience for me to start the Vuelta from Baracoa (and not because of the 20km climb that looms large over the first stage). It's like a place from the movie "Jurassic Park," unspoiled natural beauty, seaside location, fantastic resort hotel, ice cream for dessert, poolside bar, etc... it only gets harsher from here, and Tuesday night in Guantanamo will be a slap back to reality. But at least we won't be at Gtmo, or however the US Army is abbreviating its own personal slice of hell here in Cuba. Note to the more political minded reader: I'm not at all making light of the situation faced by detainees of the US Gov't who find themselves marooned here in Cuba...
Stage 1 - February 10: Baracoa - Guantánamo, 153km
This year the tour is insane! We'll race over 2000km in 13 days without a rest day, and there are six categorized climbs, including Topes de Collantes near Trinidad. Our goals are simple: win a stage and finish all of our riders. After last year's success, we're playing it safe and not making any unrealistic predictions. Without Todd Herriott, we lack a GC rider, though there are quite a few stages that are perfectly suited to the team's fast finishers, myself included. And if I could win on any day, it would be the final stage into Havana, but for now, I'll settle for just getting to the start line on the last day! After abandoning this race twice in two years, I'm here to finish.
So I survived Stage 1 of the Tour of Cuba, a lovely 153km jaunt from Baracoa to Guantanamo with the challenging ascent of La Farolla along the way. I climbed much better than expected, and was more efficient on the mountain than last year (confirmed by SRM data analysis via Cyclingpeaks - rock on, cyber-biker!). Unfortunately, a tactical error - I dropped back in the field on my way to the team cars at an inopportune moment - cost me a placing on the day. In a section of moderate crosswinds, Cuba A closed the echelon and blew the field apart. As I was about third-from-last wheel, I was hosed and had no realistic hope of moving through 100 guys to get into the front. Lesson learned. Only Coto (Alvaro) made it into the first group, and though we had the break in sight for miles, it was never coming back together.
After our chase group splintered in the final 25km and was left in what was then the third group on the road, I bridged with Italian ex-pro (Saeco) Simoni Biasci, who had a great ride in the Vuelta a Cuba in 2003. With Fraysse shouting encouragement in my ear, I did my best to match Simoni pull-for-pull, in hopes of getting across quicker and banishing that New York-voice from my head (or at least my ear-piece).
There is a Cuban rider named Willian Leyva who this year is racing the Tour for the Ciudad Habana team. I've know him for several years, and just recently he had some major dental work done thanks to a donation from several concerned American cyclists who are also his friends. On the descent of La Farolla, Willian had the misfortune to flat just before a hairpin turn. Lucky for him, he controlled the inevitable Cuban-style crash well, and did his best to protect his face from the Wiley Coyote-like mountainside impact. As if that weren't enough, Willian flatted twice more during the day...
Just want to give a big shout out to Mike Kuchera and all the members of the Pittsburgh Cycling Club back home in good ol' Pittsburgh, PA. While I pursue my dreams of international bike racing glory, Mike is keeping the fire stoked at home making sure that our local-side of our team doesn't fold completely. Thanks, Mike!
We did have some very, very bad luck today, in that Gerardo, who was in the first group of 15 after the KOM, was later dropped on the flats and lost over 13 minutes. When he finished, he complained of being sick and having no power, but at least he didn't lose an hour like I did on this stage last year. Or like the Frenchman this year whose UCI code is FRA19540703 (making him old enough to be my dad), who lost 52 minutes. Ow.
Stage 2 - February 11: Guantánamo - La Gran Piedra, 138km
Today's stage two, 138km from Guantanamo to Santiago de Cuba, is one of my favorites, even though the finishing circuit in Santiago (we do 10 laps) has a killer climb that leaves me wanting to only finish in the first group, let alone win. Before the battle began, we and the Paternina riders horsed around in town on a sidecar motorcycle that was parked near our team car. Cameras were produced, photos taken and calm before the storm restored.
Actually, the race was very controlled to the finishing circuits, with the Cuban national team riding strongly to protect the position of race leader Pedro Pablo Perez (the 2000 and 2001 Vuelta Champion). Having seen PPP in action in Cienfuegos, my money is on him to lead the tour from start to finish. While the Spanish pros are strong, and the Venezuelans very well-organized and motivated, I don't think they'll be able to dislodge Pedro Pablo. Furthermore, unlike last year when there was no clear leader for Cuba A and the national team riders wasted precious energy racing as individuals in hopes of winning support by demonstrating their strength, this year PPP is the undisputed king.
Nonetheless, PPP didn't show himself at the head of the field until there were three 6km laps to go. That's when the attacking started, and it cost me a lot to make the split each time up the climb. With one to go, the lead group was only one-third its original size, and Pedro Pablo smashed us all, winning his second stage in two days by a comfortable margin. I was quite content to finish in the front group, though Alvaro came off on the last lap and lost 24 seconds. Kyle, Ward and Mateo also lost time, though Jerry was in my group.
Stage 3 - February 12: Santiago de Cuba - Bayamo, 125km
I was in bad shape today during the race, suffering from horrible stomach pains, just like last year and in 2002. Let's hope it's just some indigestion as opposed to major sickness.
Today I rode more tranquilly in the bunch and saved a lot of energy, only to waste it all in the final 5km by covering attacks that my teammates should have been marking, or that I should have let go to focus on following Joel Mariño's wheel. As it was, he won and I got nothing except the same time as all the riders in the lead group.
Kyle made a great move with 1200m to go to the line and got away. He rode the perfect kilometer, the joke being that he finished it with 200m still to go to the line.
The 'tanos (Italians) are cracked, though Biasci used his smarts to get in for the finish (4th).
Fraysse says that as a team, we're doing better than we were at this time last year. In fact, I remember being down about two hours by this point last year, with only Todd really still in the race for GC. Of course, Mike could be just trying to keep us motivated to race in the nasty, oppressive heat that's smothering the Oriente of Cuba.
We're definitely doing better than the Spanish riders from Cropusa, who were busted at the hotel disco by their director. Only Jordi, and of course, Eneas we're implicated in the scandal. Haha.
I made a joke at dinner today about Jordi and his freshly shaven head, and just about slayed Fraysse, leaving him actually laughing for once. Me to Jordi: "You look like Lance Armstrong (Jordi reacts proudly) - when he had cancer." Doh! No hate mail about my insensitivity to cancer victims, please, as my mom is going through chemo right now and we're just trying to keep it light and stupid and get through this race without cracking.
Stage 4 - February 13: Bayamo - Holguín, 74km
If the race keeps going like it is right now, and the fatigue I'm experiencing continues to build exponentially, by the end of the race my journal entry will be reduced to a single word: "finished." Oyoyoy - I'm tired and it's only day four. My apologies for the brevity of some of these entries, but my brain is already shutting off non-essential body functions (like mental creativity and storytelling), though I'm doing my best.
I loved today's stage, a 90km freight-train straight-line shot to Holguín, but had to sigh in exasperation after the finish line... there have few times in my career when I've been annihilated in a sprint by my "competitors," basically just left floundering in their wake, though today was one of them. After a crazy final few kilometers, in which none of the riders knew where the line was because it had been changed from last year, I fought myself onto the wheel of Pedro Pablo, who was following Mariño with 400m to go. However, when they jumped for the line, they immediately gapped me by a bike length! I may have been over-geared in the 11, even though the sprint was downhill, but still - a bike length just in the jump. Que lo pario!
The only thing I might have done differently was use a smaller gear during the twists and turns of the final 5km in hopes of conserving some energy and snap for the sprint. As it was, I finished 6th, and Dutchman Jurgen van Pelt showed himself for the first time during the tour, taking third.
Stage 5 - February 14: Holguín - Camaguey, 202km
Last year I won this 202km stage to Camagüey after an epic 195km break. This year, however, I was 8th after narrowly avoiding a flying bike in the final 200m. Until about 30km to go, the race was well-controlled by the Cuban national team, at which point both Cubans and foreigners started attacking and crashing. The last few km's were the worst, and I had the displeasure of just skirting by on the left of a Venezuelan who got hung-up on the curb and fell before the final turn. Even then, I was still boxed as we hit 500m to go and never really had the chance to sprint.
You'd never know it if you just watched the finishes on TV, but the most intense battle for the win starts with 2km to go and continues up until the sprint starts, because that's the period in which every rider who thinks he has a shot at victory throws caution to the wind and takes unimaginable risks to get into position to actually contest the sprint. The last 200m aren't so bad, since there is a good amount of respect amongst the sprinters here in Cuba (myself included) and not very much hooking, door-shutting or other Robbie McEwen-like behavior.
Dear reader, you would have cringed if you'd been on my wheel with 300m to go, when the rider they call "Pupu" strong-armed a fellow Cuban who was trying to come over on him from the left. I was on Pupu's wheel, and his actions probably saved us both from being driven into the barriers, but the rider with whom he clashed fell, taking several others down with him. No es facil, and my sprinting confidence is definitely ebbing. Mateo says the Cubans have another "marcha," in this case a whole different speed at which they can sprint, one that we aren't even close to attaining yet. Give us a few more stages, however.
Stage 6 - February 15: Camaguey - Ciego de Ávila, 116km
Or maybe just one stage, because today Kyle won in Ciego de Ávila with a solo attack 1500m before the line! And that's after he was dropped twice today in the crosswinds and almost didn't get back on. Yes! Yes! Yes! Yes! Yes! Yes! Yes! Yes! I was getting sick of hearing Fraysse screaming over the radio to Kyle to stay in the race caravan and work his way back up to the bunch through the cars, but boy am I glad he did.
The stage was only 116km long, but the strong wind made for some tight technical riding in the front group, and again over 70 riders were dropped. Our Uruguayans are experts in these conditions, however, and I've improved my echelon technique quite a bit after spending two winters racing with them in their home country. Mateo did a great 15km turn at the front of our piggyback echelon, which was composed of three of us: Mateo, Alvaro and me. Neither Jerry nor Ward started the stage today, since both have bad upper respiratory infections. Thank god Kyle won, because he saved our morale and the tour.
Though Kyle was too blown on the line to raise his arms, Coto and I raised ours as we finished, and then the four of us proceeded to fall over each other with joy on a dirty sidewalk. Only in Cuba.
Bought beers for the boys at the hotel to celebrate, and then bid farewell to Ward and Jerry, who are going back to Havana for medical treatment.
Stage 7 - February 16: Ciego de Ávila - Sancti. Spíritus, 193km
7th Stage, 196km from Ciego de Ávila to Sancti Spíritus. Pedro Pablo won from a group of 14, and we came in at 3:36.0. The race split on the only categorized climb of the day, just when it started raining. Coto, Mariño and I were the only ones in the second group willing to chase, and if there'd have been more, we would have gotten back on since the gap was not even 15 seconds over the KOM. Very frustrating stuff, especially when riders who said they didn't have the energy to help us chase launched pointless attacks in the final few kilometers.
My knee is really bothering me, and tonight I saw both the race doctor and the hotel nurse. I've started using very strong anti-inflammatory products in hopes of reducing some of the pain, or at least making it more tolerable.
Stage 8 - February 17: Sancti Spíritus - Santa Clara, 157km
My least favorite stage of the tour was today, though I finished it and am thankfully still in the race (albeit in 43rd place on GC!). We had to climb Topes de Collantes, a mountain I truly despise more than most. Nine riders abandoned and three failed to make the time cut.
Isaac Ramirez of Venezuela won the stage after attacking on Topes with 70km to go to the line, though Pedro Pablo finished third and easily maintained his lead. Barring accident or injury, he's definitely going to win.
I ate copious amounts of food tonight, which is a small victory in and of itself. My stomach feels much better, and my bichito "Fernando" - as the Guatemalans named him - seems to have departed for greener pastures.
Stage 9 - February 18: Santa Clara - Cienfuegos, 169km
There was another horrible crosswind today that cut the field to pieces after only 45 minutes of racing and left on 29 riders (yours truly included) in the front group. We finished with nearly 14 minutes on the second group and 21 minutes on the third group. Ouch.
Van Pelt won today after launching a great attack in the rollers outside of Cienfuegos. Dermont Nally of Paternina went with him, and local boy Alexander Clavero bridged across, but neither could match the Dutchman.
Though my knee is bothering me at all times, I feel like my fitness is coming back and made every split today. My sprint timing is still way off, in large part to the time that's passed since I was regularly competing (nine months), and today I went way too early. In fact, examining the day's power data with the cyclingpeaks software back at the hotel revealed that I'd started sprinting at least five seconds too early, which is an eternity in the gallop to the line. At least Costa Rica (Lizardo Benitez of Cuba A) said he was really impressed with the betterment of my riding and the strength I showed today. That's great. I'm really flattered.
Stage 10 - February 19: Cienfuegos - Cárdenas, 176km
Today shall henceforth be known as the "Day of Crashes." While the nice, easy pace we rode for about 155 of 186kms allowed for all kinds of shenanigans, including a bike trade between the tall, stout Dutchman van Pelt and a tiny Guatemalan, it also resulted in the entire field's being together when the pace heated up before the finale. Not having crashed myself, I'm free to say that I really enjoyed the easy pace, especially since it left me plenty of time to recover from having been beaten into third place in a meta volante (intermediate sprint) by Mariño.
Italian Andrea Panarese crashed twice today (for the third day in a row), Kyle crashed, Spaniard Alberto Flores knocked himself silly when he crashed after a short-lived attack into the headwind with 5km to go and various and sundry Cubans also hit the deck.
I had to go to doping control as an alternate after the stage. To pass the time I shot pictures and movies with Fraysse, Eneas, Pedro Pablo and Mariño. Eneas took forever to piss, though his team car was supposed to be waiting for him, which is why Fraysse and I left. Unfortunately, they'd abandoned him, and he had to make his way to the hotel (which is 30km away) on bike. And he didn't even know where it was... ouch.
Stage 11a - February 20: Cárdenas - Matanzas ITT, 40km
We're getting close to the end, but any thoughts of a glorious arrival in Havana were beaten out of my mind by today's savage double stage day, which featured a 40km ITT in the morning and a 120km road stage in the afternoon. For me, the ITT can be summed up based on the journal note I wrote immediately after finishing:
"ITT sucked as they always do."
In reality, though, I did a really good effort in the time trial, producing 5.3w/kg for the first 20minutes and 5.1w/kg for whole 40k.I'll pass this data along to power guru Hunter Allen when I'm back in the States for his input before I got to the Vuelta a Chile.
Had lunch with the other extranjeros at the hotel in Matanzas then chilled with the 'tanos in the lobby whilst the boys (Coto and Mateo) slept outside on the grass. Kyle slept hunched over his race bag alongside a stone wall. I went for a coffee with Eneas and Fraysse before we left, only to have the machine plug up just before my coffee was due.
Stage 11b - February 20: Matanzas - San Antonio de los Baños, 120km
For the afternoon stage, Fraysse made a plan that we executed to perfection, with everyone doing his job at just the right moment. Our goal was to ride for Coto and to get him away in a small break from which he could then make a bid for victory. Pedro Pablo indirectly gave us a hand by covering all of the early moves in hopes of dissuading further attacks. When that didn't work, I started riding all of the breaks, and suffered like a dog at one point when I found myself bridging to one of the 'tanos with a Venezuelan, Mariño and Damien Martinez. We neutralized the attack however, which was nice.
I was spent, however, when we reached the rolling climbs that characterized the second half of the stage. The field split on the hill in Guines after 50km, though Mateo and I buried ourselves at the front to pull our group - which included Coto (Alvaro) - back to the leaders. We did it, and then Kyle took Coto through the field to the front, and gave him a huge leadout to spring him from the field. Though Jordi Riera tried to go across and failed, when the break was sorted there were seven riders away: Coto, van Pelt, Michel Fernandez of Matanzas (the u-23 leader), Javier Perez of Paternina, Rudy Ispache and Eneas.
Though between these seven there was more than enough horsepower to drive the escape, Mateo and I had to do some wheeling and dealing (and some other, less-friendly things) at the head of the field to dissuade the chase. At one point, Mateo even talked down Biasci, who was raging at the front of the field. In one pull the Italian cut 10 seconds off the break's lead, so Mateo worked it out with him to help him get away alone in exchange for not towing the field up to the break.
There was no love lost between Mateo and a Ciudad Habana rider who'd bitched and moaned to us about our tactics after Coto got away. When it was clear that the break would stick, this particular rider (who at one point tried to ride me into a guardrail) asked Mateo for a drink of water. Mateo's reply was to instruct said rider to stop riding, get off his bike, drop down into the ditch on the side of the road and drink the stagnant water or die of thirst. Ouch. Jordi also made a funny comment on this theme, saying that in his "libro del ciclismo," the tactics employed by the Cuban chasers aren't noted.
In the end, we lacked a bit of luck (or was it karmic retribution??) and Coto came second to van Pelt after Eneas accidentally chased our man down with 3km to go after Coto had dropped the break. Oh well, these things happen. Between all of the km's I rode today, I did over 4200kJ of work on the bike. No wonder I'm getting thin.
Stage 12 - February 21: San Antonio de los Baños - Pinar del Rió, 207km
Since there was a major climb during today's 207km stage from San Antonio de los Baños to Pinar del Río, the peloton took it easy until the second intermediate sprint at Candelaria.
We had time to enjoy the beautiful scenery, and I distinctly remember a stretch of road marked by immense bamboo-like plants growing on the left side of the road, with old fincas on the right. We passed endless sugarcane fields, and rode under canopies of ancient trees near Artemisa.
I spent quite a bit of time chatting with Jurgen van Pelt, and he seems like a really nice guy. On the stage to Cienfuegos, which he won, he caught endless grief from the Cubans for wanting to close the echelon after the majority of the lead group stopped working, but in the end, he showed them that a Dutchman, even when racing in the heat of tropical Cuba, is still an expert at riding the crosswinds.
I finally won a sprint against Mariño, my nemesis since 1995 (and who usually beats me 7 out of 10 times). I was psyched to be on the evening sports news, and only later learned that there was no coverage tonight, since tomorrow is the last stage and the network is planning a special extended Tour of Cuba TV finale. Oh well, easy come, easy go.
I did have to join the pace-making in the final 20km (to paraphrase a suffering Coto, we were unnecessarily drilling it) to ensure we arrived at the finish in time for the prize presentation. Surprisingly for such a long stage, we only lost 12 minutes to the 37-rider strong.
I felt like shit on the first part of the climb, with totally blocked legs, but opened up and was flying through the rollers that came after the main ascent. Unfortunately, it was a bit late, and I couldn't get back on, though somehow Mariño did. After the stage, I resisted the urge to check if one of his arms had stretched as a result of hanging onto a car on the climb...
Regardless, I'm so, so happy to have finished this stage. I'm only one day away from finishing the Tour of Cuba, and the energy I saved today could be just what I need for a stage win tomorrow. Unfortunately, I'm also really, really tired, so I'm just going to leave my post-stage notes as they are:
Feeling like shit on the first part of the climb then opening up and feeling good. Even Biasci was impressed. I like this part of Cuba most. Being so happy to be almost done with the Tour. Very little energy. Stage racing is like a war, and you bond with your teammates and even the other competitors. My bichito Fernando is replaced by a family of saddle sores. Kyle cracked before the climb, rode three hours on his own without another feed, twice had to stop to pick oranges from the groves on side of road but still finished. Saw PPP's mom and girlfriend at prize ceremony.
Stage 13 - February 22: San Cristóbal - Ciudad de la Habana, 109km
Dear reader, I leave my post-stage notes unedited for you. This is what I recorded immediately after returning to the hotel after the stage:
I'm going to finish the Tour of Cuba.
Super-excited in AM. Could hardly sleep.
Got seat on bus with Eneas, who was thrilled too. See movie we shot. Chilled on drive to San Cristobal, Taco Taco, home of Pedro Bablo Perez.
Marc Anthony was on the sound system in the INDER, beisbol team bus we took to the departure.
Gave PPP a bag with the shoes from Mark Albert at Westwood Cycle but PPP said he wouldn't look at it until we finished the day.
Fun, easy ride for most of the stage.
The patron, PPP, let the oldest guy in the race, Angel Buria (aged 60, remember him from stage 1?), ride away from the bunch and win two meta volantes. Buria had up to a 12 minute lead before we started chasing.
Before the chase started, f'ing Willian tried to slip away on his own, twice. We chased him down the first time, then when he attacked again, we chased him down and the boys pelted him with rice bags and water bottles. Ouch. He was pissed, but not too angry. PPP confirmed the appropriateness of the retribution dished out to WL.
Crash on the railroad tracks and I hit back of car whilst feeding. PPP went down, and the nice Venezuelan also crashed and knocked himself unconscious. I paced him back up to the bunch, I felt so bad for him.
The effort was good, since it gave me a chance to open my legs after the way easy pace.
When we got near Mariel, and the lead was still over 10 minutes, I went to the front with the Netherlands guys, and was calling on the radio for Mateo and Coto to come up and work. Chuckie (Kyle) helped for a few turns, then the guys finally got there and an echelon of about 20 riders started to form at the front in pursuit of the viejo.
I marked Mariño, who in turn marked me, which was nice.
We caught the old guy with 15km to go to the line, and turned onto the main road that runs through the diplomatic section of Havana (might be Avenida 5ta?). The Venezuelans were starting to ride a hard tempo and then the attacks began.
We armed, me, Kyle, Coto and Mateo, in the top-10 always, covering the moves. With about 12km to go, Coto attacked for the first time through Playa but didn't get much help from his fellow breakaways. PPP had to chase, and Mariño was on my wheel.
Ominously, the rest of Cuba-A was behind us.
Coto attacked a second time on this stretch, while we just deflected the riders off of our train as they tried to enter. No friends at this moment.
Jordi attacks through tunnel. Damian was the only one left with PPP on front. Venezuelans are no longer proactive.
PPP keeps chasing, then when Jordi is caught, Coto goes third time (this is all on the Malecon along the water). Venezuelans attack, and Dutch too.
Kyle must do almost 2km on front to bring back first Dutch attack then the Venezuelan. Holy shit. He's awesome.
Going into last turn, just Mateo and me left, and Adonis (Cardoso) and Costa Rica attack, as does a Venezuelan.
We don't know the details of the finish. Where is the f$%king line?
Mateo rides Venezuelan, but other two are still away. I'm waiting.
Came through bottom turn on Damian's wheel.
Last kilometer=800m. The damn Cuban kilometer.
Mariño slips around and we're getting close.
I've got to fight with a tall, thin black kid in blue (Ciego d A.?) on my left to start to pass Joel.
I can see line and I've hesitated. Next year, finish line maps, please.
Feel so good, but no where to go. The f$%king guy waving the checkered flag guy won't get out of my way.
There are other riders ahead of us between Adonis and Costa Rica and our sprint, but Mariño and I gather them up but I can't find any space around him and cross the line a very angry fourth.
I kicked our team car.
It's Hot, hot, hot. Bought a Beck's and a Coke at the finish line.
Mike was really happy with how I rode the Tour. He said I climbed better than ever and congratulated me on finishing.
Anti-climatic end to a great race. What's next? The Vuelta a Chile is next, that's what.
And there it is. I did it. I finished the Vuelta a Cuba, and while I didn't win a stage, my team did, which puts us in a much better frame of mind for our next great adventure, the Vuelta a Chile. Stay tuned and please feel free to send me any comments you might have.
Email Joe at joe@cyclingnews.com