Recently on Cyclingnews.com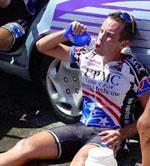 Photo: © Franklin Reyes
Papillon: The Joe Papp Diary 2004
Joe Papp is a UCI Elite rider with the UPMC cycling team. He was a double stage winner at the 2003 Vuelta a Cuba (UCI 2.5) and in 2002 won the GS Mengoni Grand Prix, the BMC NYC Cycling Classic for elite amateur men and a stage at Superweek, among other events. Joe's writing is good enough to make boring races intriguing and intriguing races captivating.
Pan-American Championships - CC, San Carlos-Tinaquillo, Venezuela, June 20-27, 2004
Coming full-circle
June 23, 2004
Team USA's Paul Ward
Photo ©: Joe Papp

Pan-Am housing
Photo ©: Joe Papp

More Pan-Am housing
Photo ©: Joe Papp

Mike Norton enjoys the simple life
Photo ©: Joe Papp

Mike Norton poses with a family
Photo ©: Joe Papp
Boarded a plane in Newark at 6:00AM today, flew to Puerto Rico and then caught a flight to Caracas, Venezuela. The Pan-American Continental Championships in the state of Cojedes is the next segment of my global bike racing adventure, and with this trip my cycling career comes full-circle. It may be time to retire.
Though at age 19 I raced in Italy and France in 1994, I consider that year's Vuelta a Venezuela to have been my first proper international race. Fourteen stages, 1800km over little less than two-weeks, teams from all over Latin America (including my first glimpse at a Cuban national selection) - it was an epic, sometimes surreal tour and I was in way over my head. Thankfully, I had a great group of guys as teammates to see me through, including Ray Diaz and JP Castro, who helped me survive 200km mountain stages, unfamiliar Venezuelan food and a double-whammy of salmonella and giardia after only three days of racing. I finished as the lantern rouge, though three top-10 stage finishes convinced me not to quit cycling.
I never forgot the support of Ray and JP, and despite the fact that it sometimes came in the form of very dark humor and threats of shame and embarrassment were I to quit the race, I couldn't have done it with out them. Thus, with this being my 19-year-old teammate-for-the-week Paul Ward's first trip out of the country for a bike race, I was happy to help him navigate the first stages of what will surely be a rewarding, if sometimes overwhelming, experience. Paul doesn't speak a word of Spanish, and was definitely relieved to see me walking out of the plane ahead of him. "No worries, man," I said, before promptly being accosted by a Venezuelan airport security officer who wanted me to buy him a case of booze at the duty free shop.
Par for the course in Latin America, though as I headed off to do the deal, I shot Paul a desperate glance and told him to call my mom and tell her I loved her if they disappeared me. Ha ha.
With that unexpected transaction out of the way, we breezed through immigration and customs, and met representatives from the Federación Venezolana de Ciclismo who would arrange our transport to San Carlos, in the state of Cojedes, where the Championships are being held.
As an aside, the Pan-Am Continental Championships are organized every year except during the Pan-Am Games and every cycling federation in the western hemisphere is invited to send elite and sub-23 men's and women's road and track teams to participate. The USA has a great record at the Championships - when we actually send teams, that is. In my opinion, USA Cycling hasn't taken the event seriously enough (to the detriment of our prestige within the UCI's Pan-Am Cycling Confederation, and the UCI as a whole), though I suspect financial constraints have been the bigger issue. Regardless, the last time I rode the event, which was 1996 and also in Venezuela, we won the team classification, and I finished 8th in the men's road race - to the best of my knowledge, the highest placing to date by a gringo in the prestigious, Latino-dominated event. My hope is that next year the US sends full teams, and I'd like to be part of organizing the effort.
After a long wait for some other delegates to arrive, we boarded an air-conditioned minibus for the four hour trip to San Carlos. Our third teammate, Mike Norton, would be arriving much later in the evening and was left to take a taxi to Cojedes!
Alas, we received a less-than-enthusiastic welcome from the USA Cycling representative who met us at the Villa Deportiva. I think that our three-man road team (Mike and I will contest the elite race, and Paul the sub-23) is perceived as a nuisance and drain on the track team's resources, even though we all had to pay our own tickets to get here and won't be receiving any material support from the Feds. Therefore, rather than leave anything to chance, Paul and I decided to employ a therapist (Rodolfo) from the Venezuelan National Institute of Sport (who works primarily with the cycling federation) to be our trainer/manager/therapist for the duration of the event.
Bummed a pillow from el Chino, coach of the Cuban national women's team, and hit the sack drained from our travels but excited for what lay ahead.
June 24, 2004
Enjoyed a great ride in the morning with Mike (who arrived at 2AM), Paul and past junior sprint world champion Sarah Uhl, who finished second in the women's individual pursuit behind current women's scratch race world champion Yoanka Gonzalez from Cuba (gets confusing, eh?). It's hot here, however...
As we made our way around the villa and took our meals in the communal dining hall, there was a steady stream of handshakes and hellos from the Caribbean and Latin American riders I've come to know over the years, including Sepúlveda and co. from Chile, the Colombians, Mr. Dickie from Trinidad and Tobago and the Cuban women's delegation (Yoanka and Yeilien). Long ago having realized that I would never get rich by riding my bike and would probably lose money in the end, it's the opportunity to make friends throughout the world while competing in the most beautiful sport I can imagine that keeps me coming back. I truly love cycling and I'm thankful for what natural ability I do have, since it's been enough to compete alongside Olympians and Tour de France veterans.
One thing I do lament about the sport is the relative powerless of the vast majority of riders in comparison to federation delegates and race promoters. The lack of organization and surplus of riders willing to race full-time for no compensation means that we are perpetually at the mercy of those who control the money - principally the teams and sponsors, and at a higher level the organizers of races and the governing bodies. This is why if you were privy to the conversations between elite bike riders (T1 pros not necessarily included), at some point you would here complaints of how this or that "mafia" is exploiting the riders, financially abusing them, and generally leeching off the backs of the guys who are willing to race 100 times per year for a shot at prize money and the chance to wear the "pro" label. It's no doubt more complicated that, but it's one of the reasons that riders stay in the least comfortable, most Spartan accommodations (like this Villa) during a race, while delegates, officials, race personnel, etc. are treated to fully-carpeted rooms with satellite TV, internet access and hot water (like the non-rider housing here in Venezuela). Please, correct me if I'm wrong, but it's all about supply-and-demand.
June 25, 2004
To avoid any unseemly incidents, like a crash in which one of us rides into the side of a mountain shack after shooting over the edge of a hard left hand turn, Mike and I reconnoitered the road course today with Sarah. Rodolfo arranged for a truck to drive us the 30km to the loop, so that we could do as many laps of the 53km loop as we wanted before riding home. Beautiful scenery on the opening part of the course - 10km of climbing and rollers on a narrow road through the mountain, alongside terraced hillsides and beautiful, lush green valleys. I rode through a pile of fallen mangos that had been splattered on the road, and was pleasantly overwhelmed by their rich, sweet aroma. It would have been nice to enjoy the feeling a bit longer, but coming around the next bend a chicken committed suicide by throwing itself in front of me (again, only in Latin America). After crashing three times in May, I wasn't about to fall again and regretfully held my line. At least our driver was happy, as he could tell his wife that he'd done the shopping for lunch (baked chicken) and still have 5000 Bolivars in his pocket.
I did feel a bit deceived (or at least misinformed!) by Fraysse after we'd completed a lap, since he told me at least 10 times that the course was flat - albeit with a few rollers - and that I was sure to finish in the top-10. I don't think 10 riders will even finish the race, since we ride 3.5 laps, taking in the climbing section four times.
On the way home, a 13 year-old local named Carlos started riding tempo with us, and even though the bottom bracket of his old steel bike was clunking and threatening to fall to pieces, he kept up a good pace - and he was wearing street clothes!
Great conversation with Mike and Sarah during the course of the day. I haven't really spoken with Norton since he suddenly quit our team in 2003, and only knew Sarah in passing, so it's been an unexpected pleasure to be able to reconcile one friendship while building another.
June 26, 2004
I woke feeling sick this morning with diarrhea. Trained with Mike but only rode for one hour, then returned to the villa and crawled into bed. Paul left to ride the U23 race, which is being run on an auto racing circuit. He surprised everyone, not least of all himself, by finishing in 7th place behind some of the best young riders on the continent! He's got a bright future, and may ride the Vuelta a Venezuela with me in September. Full circle?
At dinner, one of the Guatemalan women offered a great, if somewhat cynical, analysis of being a bike rider. It's like being in jail: if you're not training - which equates to doing hard labor - you're eating bland food in communal dining halls or sitting in your room staring at the walls. Going out on the town is prohibited, or at least highly frowned upon, and entertainment consists of conversation with your fellow riders/inmates.
Of course it's not that bad or we wouldn't be doing it, but sometimes it can appear that way.
June 27, 2004 - Race day: 3.5 laps, San Carlos - Tinaquillo 185 km
(From L) Rodolfo Rodriguez, Joe Papp and Mike Norton
Photo ©: Joe Papp

Team USA
Photo ©: Joe Papp

Joe Papp looking pensive
Photo ©: Joe Papp

On the start line this morning in the tiny pueblo of Macapo, I would not have dared to predict the performance I would eventually deliver. Despite recovering from my bad stomach and generally "feeling good," I certainly didn't expect to make the first selection the first time up the long climb, which came only five minutes into the race. We averaged 26.5kph on the 2.7km first pitch, with a max speed of 44.5kph - going uphill. My bike even started to slide through one of the hairpin turns, we hit it so fast. Basically, from the drop of the flag, the Venezuelans started attacking as if we were approaching the final kilometer of their most important classic of the year. The race would be ridden like a fierce battle and there would be few survivors.
Recognizing the utter havoc that lay ahead, I made a concerted effort to move into the top-five after the start and was fourth before a particular right-hand curve on the climb where thereafter it would be nearly impossible to advance one's position. As expected, the first two Venezuelans sprinted onto the mountain, setting a truly unimaginable pace, with Jorge Martinez, a Colombian from Orbitel 05, desperately hanging on, and yours truly in the thick of the action. I dared look back only once during the ascent, and gasped in awe (and imminent oxygen debt) at what I saw: the field was strung out single-file for at least three turns behind us, with gaps of all sizes being ripped into the bunch. I couldn't spot Mike, though I hoped he was fighting his way upward.
Over the top of the first pitch, the ascent gradually eased into false flat, but the Venezuelans continued their assault, countered occasionally by a resurgent Colombian squad. We were slammed into the left-hand gutter, touching almost 50kph on this stretch of rough tarmac, and twice I smacked into branches of overhanging vegetation rather than risk losing the field in front of me.
There was a slight descent, there a sharp right-hand turn as we entered and quickly exited one of the small villages scattered throughout the mountains. On the short rise that followed, a Venezuelan attacked again, just as a small group containing several of class riders was making contact. I think I spotted Mike towards the back behind a Chilean.
No time to wait, however, since first a Colombian, then two more Venezuelans and finally a Chilean shot up ahead. On the next incline, I, too, attacked as hard as I could, and quickly bridged to the leaders. The front group split again, and many of those who had just rejoined were cut savagely free of the bunch. What followed in quick succession was series of three rollers, all less than 1000m long, but incredibly difficult after what we had just survived. Still riding as if we were in the final stretch of the 185km race, as opposed to the first 15km, I picked what seemed like the best wheel and hung on. While I would never match the Colombians on a major mountain pass, I refused to be intimidated now and again rode myself into the first selection.
On the long, twisty descent that followed, we barely braked before careening through a 2m-wide stretch of water that careened over the road. By the time we reached the valley below, there were only 14 riders in the front group, though Mike was involved in a desperate chase behind. And we had yet to finish even half of a lap of the course.
The crosswinds that followed on the plains before Tinaquillo slowed our group and provided some respite, allowing Mike to regain the front runners, along with riders who earlier this season left me for dead on the road. The truce was brief, however, and the pack was in full flight as we finally completed the lap. The autopista out of town provided the perfect launching pad for high speed attacks and one rider after another shot up the road. There were always a Venezuelan and Colombian together in the moves, as if they were estranged brothers forced to keep a wary eye on one another under uncomfortably close circumstances.
I covered every single attack, since at any moment the right combination might finally come together, ending the hopes of many riders in the field. The Mexicans were finally starting to make themselves shown, after overcoming the shock of the onslaught that followed the first climb. Mike did me a great favor at this time, in that he somehow had gone into the caravan to get a feed during a brief lull in the action, and basically tossed me a bottle as I rode in fifth position in the line. No sooner had I taken a sip of the fresh water than a Panamanian jumped away in pursuit of the lone Venezuelan who had clawed a 30 second lead out of the field. For no other reason than it seemed like an opportune move, I quickly followed and made contact before the finish of the next descent.
My breakaway partner and I raced into Macapo and started the second ascent of the big climb with several minutes on the field, though the leader was still taking time from us. Not wanting to risk being scooped up by the Colombians before the summit of the mountain, I rode away from the Panamanian and metered my effort before the rollers. It was there that a greatly-reduced field caught me. I had obviously missed a horrible moment as there were few riders left in the group - less than 18 by my quick count.
We caught the Venezuelan after the descent, but not because he'd begun to tire. Rather, the pace of our mini-peloton was infernal, and the attacking incessant. Having completed less than two laps, I experienced a bad moment as I rode down one attack after another, only to feel my leg muscles tear slightly as I fought my way across to the latest split in the crosswinds. It was good that I suffered through the effort, however, since that was the most important selection of the race. Only ten riders - four Venezuelans, three Mexicans, two Colombians and yours - crossed the line together at the head of the race in Macapo with two laps to go. Great riders like Luis Sepúlveda, twice winner of the Vuelta a Chile and Mauricio Ardila, a Colombian who finished 31st in this year's Giro d'Italia for Chocolade Jacques Wincor-Nixdorf, were left behind.
It was not the moment for heroics, however, and I thought I might rest and conserve by taking advantage of the three-way rivalry that left me as odd man out. No such luck was forthcoming; instead I had to again ride every move in order not to be dropped. The result was that the third time over the mountain, I was stuffed. When two Venezuelans jumped away in tandem, I couldn't hold on over the false flat after the climb and they rode away from me, followed by the others. After surviving so much I couldn't imagine not finishing the race, so I gathered myself and with a huge effort caught the six remaining riders. One of the Mexicans had already been dropped and would be the last to abandon.
The second group, which included Mike and several Chileans and Colombians, was over 16 minutes down with two laps to go and had been pulled from the race. That meant the nine of us still on the road were the only ones in contention to win, though the Venezuelans were certainly the favorites. With two up the road, two in the chase group, and one of the Colombians looking very shaky, I wouldn't have bet otherwise. Incredibly, as we rejoined the autopista outside of Tinaquillo, the other Colombian went to the front and proceeded to bring back the lead duo on his own. No one helped him, nor could they. Not his own teammate, not the two remaining Mexicans, certainly not the Venezuelans and definitely not me, though I happened to be on his wheel when he started marking on the front, and had an up-close view to one of the most incredibly individual displays of power I've ever witnessed on the bike. He cut each curve in the road to shorten the distance we would ride and never broke his rhythm, shifting only when necessary to maintain his chosen pace. It was awesome, and we'd caught the escapees with 8km to go to the climb.
It was a shame that his teammate wasn't in a better state, since he might have pounced and caught out the two Venezuelans who had been up the road. As it was, the Colombian strongman just kept marking his hard tempo as the kilometers ticked away, until we were finally at the base of the climb.
I knew my own time there was limited, and could feel my muscles stretching closer to the breaking point with each revolution of the cranks. The Tour of Korea served as great preparation for this event, though I would have needed another short cycle of hard training in order to be fully peaked and in with a chance at the win. Within a few hundred meters of having started the ascent, the Venezuelan team captain sent one of his teammates up the road to put the rest of us back under serious pressure. There was little I could do but try to establish my own rhythm, since I would soon be out of contention but desperately wanted not to finish last. My chance at victory came soon thereafter, as the captain himself counterattacked, blowing the group to bits. I can't say what happened next at the front, only that Manuel Guevara from Venezuela won, with Jorge Martinez (Colombia) in second and Miguel Ubeto (Venezuelan) in third. All class riders.
My race became a pursuit with one of the Mexicans who was also in difficulty and dangling just in front of me as we neared the summit. I caught him before the next pueblo, and without saying a word we agreed to ride together to the finish, where fate would relegate one of us to last place finisher, but finisher nonetheless in what would be described as the hardest Pan-Am Championships in recent memory.
Pensive no more
Photo ©: Joe Papp

Just happy to be here
Photo ©: Joe Papp

Team USA's trainer Rodolfo Rodriguez
Photo ©: Joe Papp

Joe Papp and Mike Norton
Photo ©: Joe Papp

We shared the work to the finish, and the crowd on the last climb cheered us just as enthusiastically as they must have for the leaders. As we passed under the red banner signifying 1km to the line, I reflected on being reduced to sprint for eighth and not the win, but truly couldn't reproach myself, for I'd ridden as hard as I could and left everything on the road. With 500m to go, I slipped a few lengths off the back of the Mexican and with 300m to go the line I attacked. I wouldn't win, but I wouldn't finish last either.

1 Manuel Guevara (Venezuela)                 4.40.58 (39.079 km/h)
2 Jorge Martinez (Colombia)
3 Miguel Ubeto (Venezuela)                      0.45
4 Víctor Becerra (Venezuela)                    1.15
5 Manuel Medina (Venezuela)                     1.19
6 John Parra (Colombia)
7 Carlos Lopez (Mexico)                         3.07
8 Joseph Papp (USA)                             6.54
9 Manuel Hernandez (Mexico)                     6.57

I arrived with enough time to clean-up and change before climbing the podium to accept our team trophy for third overall. The Olympic track squad plus Sarah Uhl had done a fantastic job to win a slew of medals, but couldn't stay for the presentation. I was happy to help, and even offered a few words for the local media.
Dinner in the evening was a lonely affair, as there were few riders left at the villa. We three gringos were all relatively content, however. Paul was excited about his result and what it might signify for the years ahead. Mike was disappointed not to have finished what was a very tough race, but eager to make his return to Europe this summer. And I was really, really psyched to have done such a good ride without any specific preparation, equaling my best finish in the Pan-Am's though on a much, much, much harder course.
After a short break from competition spent here in Latin America, I'll return to the USA rested and eager for the 40 or so days of racing that are left on my calendar. I plan to train hard under the guidance of Hunter Allen in hopes of a three-peak season, and will race domestically until perhaps September, when the Vuelta a Venezuela may once again figure on my calendar.
Thanks as always for reading, good luck in your own racing and training and please feel free to share your feedback - both positive and negative.
Email Joe at joe@cyclingnews.com