Recently on Cyclingnews.com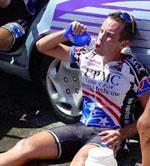 Photo: © Franklin Reyes
Papillon: The Joe Papp Diary 2004
Joe Papp is a UCI Elite rider with the UPMC cycling team. He was a double stage winner at the 2003 Vuelta a Cuba (UCI 2.5) and in 2002 won the GS Mengoni Grand Prix, the BMC NYC Cycling Classic for elite amateur men and a stage at Superweek, among other events. Joe's writing is good enough to make boring races intriguing and intriguing races captivating.
Tour of Korea - 2.5, Korea, June 12-20, 2004
A hat-trick for ACT-UPMC
Stage 6 - June 18: Yang Yang criterium, 80 km
Japanese fans pose
Photo ©: Joe Papp

Marco Polo and MGZT
Photo ©: Joe Papp

Ryan Mele,
Photo ©: Joe Papp

The lush South Korean countryside
Photo ©: Joe Papp

Fields of green.
Photo ©: Joe Papp

Would you believe three in a row? Oh yes. ACT-UPMC delivered again, with Alejandro winning his second stage of the tour after a picture-perfect lead-out. We won't be confused for Fassa Bortolo anytime soon, as we could only start our train from 1.5km to go, as opposed to 10km to the line, but in the end, the result was the same - another awesome victory for the hardest-working all-amateur, horrifically under-funded team in bike racing.
MGZT gave more than a helping hand to Marco Polo today, and between them the two teams had a stranglehold on the race - a criterium/circuit on a three-something km course through Yang Yang and along the opposite bank of the river that runs by the city center. Jerry and I nearly blew ourselves up by making an attack with seven laps to go, though we ordered ourselves in time for the last lap, and assembled the train in the final kilometers. On the bridge between turns one and two, I felt like I'd slipped into a club for a quick bump-and-grind so aggressive were the riders who tried to bust our lead-out. We fought them all off - never trying to make anyone fall, but always protecting our positions - and Jerry did a great job positioning the team just to the left and outside of the fading MGZT/Marco Polo Express. Through the off-camber second turn, Jerry moved us through some traffic and onto the back of the last two MGZT riders.
One blew before the third turn, which led onto the bridge we had to cross to get back over the river. As soon as the second rider popped, Jerry took over, and I made a mental note to watch out for MGZT leader Karl Menzies, who wouldn't allow his teammates to die and let us take over the lead-out without positioning himself to take advantage of our work.
I went hell-bent-for-leather into the headwind, sprinting full-out in my 11 before Eneas took over for the short distance that remained before the last turn. Just then, Menzies roared through on the outside, trying to beat Ale and Coto into the corner, but the Latinos got the better of him and had a clear shot to the line. Coto gave a light tap of the brakes to ensure that Ale was only sprinting against one other rider - a Korean - and the drag race went to our man from Provincia Buenos Aires. What an incredible finish to a tour that started well, then went to shit, then ascended skyward into dreamland.
And what's next? Try to get out of Seoul! Our tickets aren't confirmed, so many phone calls will ensue, and I have a feeling that the team will be leaving Korea piecemeal. Regardless, I'm off to Venezuela to represent the USA at the UCI Pan Am Continental Championships road race on the 27th of June, before I head to another Caribbean country for a week of secret training.
Stay tuned, and thanks for reading.
Email Joe at joe@cyclingnews.com