Recently on Cyclingnews.com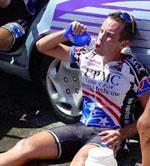 Photo: © Franklin Reyes
Papillon: The Joe Papp Diary 2004
Joe Papp is a UCI Elite rider with the UPMC cycling team. He was a double stage winner at the 2003 Vuelta a Cuba (UCI 2.5) and in 2002 won the GS Mengoni Grand Prix, the BMC NYC Cycling Classic for elite amateur men and a stage at Superweek, among other events. Joe's writing is good enough to make boring races intriguing and intriguing races captivating.
The training begins
Friday, December 19, 2003
Joe Papp
Photo ©: Joe Papp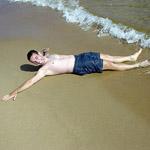 Despite having spent December in Uruguay last year, this still doesn't seem like winter to me without the bitter cold and falling snow to which I'd become accustomed. Blame it on growing up a stone's throw from Cleveland, Ohio and "Lake (Erie) Effect" snow storms. Nonetheless, Christmas is less than one week away, and with today's temperature almost 90°F, it looks like we'll be celebrating in shorts and t-shirts again. Save the chestnuts for next year, family - I promise I'll be back.
Chilean Jose Medina, ex-Euro Pro (Haribo) and victor in the elite men's time trial at this year's Pan American Games, arrived today for a weekend in Uruguay with Jerry and me. We cruised the 100km to Montevideo to pick him up at the airport, and then raced back to Minas to pick-up another friend Pablo before heading to Maldonado and Punta del Este for a night in the "joda." It would have been a picture-perfect, 10-point evening, except for the fact that I dropped my precious iPod mp3 player on the cold, hard floor in Jerry's kitchen, shattering my dreams of music-filled training rides. The 25-hour weeks I have scheduled during the next month just became a little less bearable.
Saturday, December 20, 2003
It's so hot right now that it seems as if everything is melting around us like in a scene from a painting by Dali. At least it makes for good tanning weather, and Jerry, Jose and I even spent the morning at the beach, toured a mountain resort in the afternoon and went to Punta del Este, the Monte Carlo of Latin America, in the evening. Still no word on the team situation for 2004, which makes things all the more surreal - I'm training hard like a contracted pro, as if my season will be starting in February, but in reality anything could happen.
Sunday, December 21, 2003
View of the cerros,
Photo ©: Joe Papp
First race of the rest of my life: the GP Montevideo. Drove to the capital with Jerry, Jose, Jerry's dad, mom and me (plus two bikes and bags) crammed into their modest Fiat. I arrived with enough time to hand-make a number for the race on the back of a napkin, which I promptly duct-taped to my UPMC jersey. Neither Jerry nor Jose are racing, and neither are my other teammates Alejandro Acton of Argentina (who took a bus to Uruguay for the weekend) nor Alvaro Tardaguila, who's hosting lunch for us this afternoon.
Unlike most Uruguayan races, which are typically 200km jaunts through the wind-swept countryside, today's race was on a circuit around the city velodrome and municipal stadium where the country's two biggest soccer teams, Nacional and Peñarol, meet to do battle. In keeping somewhat with tradition, however, the organizers scheduled a timed race of four hours on a 2.5km course. Wow. Talk about endurance. I decided I'd be happy to finish half the distance, and would consider two hours at race-pace a sufficient workout.
We started hard from the gun, and every ascent of the short, one-minute climb around the backside of the stadium was an exercise in ducking the crosswind while putting out upwards of five or six-hundred watts. They say racing in Uruguay, at least with respect to the wind and terrain, is like racing in Holland. Though I've never been, I believe the talk and have the utmost respect for the abilities of the diminished Uruguayan peloton. In attendance today were Milton Wynants (riding for his domestic team), Cuban Daniel Fuentes and the entire Alas-Rojas squad of Hernan Cline, winner of the last few editions of the Uruguayan national calendar-all quality riders, and all more than capable of ripping off my legs in their current state.
I overheard one rider ask another, "Va a correr el Yanqui hoy?" or "Is the Yankee going to race today?" While the truthful answer should have been that riding for me consisted of not getting popped from the front group, I put in a hard attack on the backstretch after the descent from the start/finish. Cline quickly covered me, followed by two of his A-R teammates. Enjoying the push of a tailwind, I loped from one side of the road to another with the field single-file behind me, before common sense took over and I shut down for the rest of the race.
Alas, my attack served only to provoke the fit, fast Uruguayans, and before long the field was breaking apart and reforming, with a near constant succession of attacks over the crest of the climb and out of the final turn. A major split finally occurred (with me on the losing side), though the riders who'd been caught-out (mainly from the Fenix team) organized a successful pursuit and the bunch came back together. Or so I thought at first.
A six-man group had broken free just before we absorbed the main breakaway, and then went on to actually lap the field! The officials made the decision to pull the entire field, save for the breakaway, out of the race at that point (after about two hours of racing), meaning the assembled spectators had the distinct pleasure of watching six guys ride in a paceline for the next two hours. I think I was the only rider who wasn't upset, since two hours of racing fit perfectly with my training plan. My heart went out to one of the breakaways, however, who was knocked down and forced to abandon after colliding with a photographer who wandered into the road to take a snap at the start of the last lap. There is no justice.
Thursday, December 25, 2003
The author tending bar
Photo ©: Joe Papp
Merry Christmas! Sent virtual holiday cards to everyone in my contact list this morning via email (sorry if you consider yourself having been spammed!), then went out for three hours under crystal clear skies. The legs are feeling better each day, as the positive sensations of training gradually return. Read a great quote from Paolo Bettini, extracted from an interview on cyclingnews:
"And after a long break, getting back on the bike isn't trivial even for a rider of Bettini's caliber. 'The bike was exactly the same as ever, but it felt like everything was changed. It seemed I was sitting too high. It's always like this when you start again. On my first ride, we all noticed the same thing: how hard it is to ride a bike! We did a small climb, just four kilometres long, near Livorno. In the summer you don't even notice it, but now it's a lot of work! Our sport is always like this: sacrifices, sacrifices.'"
Indeed. Getting the shit kicked out of me in Australia was a reminder of the sacrifices required to return to my best game, and I'm happy to say with each passing kilometre, I feel more and more like a bike racer, and less like an injured athlete making a comeback.
Sunday, December 28, 2003
From my training diary: "Really hit the hills hard today, though I did have some concern about using such a big gear that my tendons would explode. Today was more like an introduction to hard training in the hills rather than a truly epic session."
Tuesday, December 30, 2003
Had my first ever Bob Roll moment on the bike today, early into a five-hour ride through the departments of Lavalleja and Maldonado. As I was cresting a small hill outside of Minas, one of the iguana-like reptiles that run rampant in the countryside here scampered out onto the road directly into my path. My old high school physics teacher Mr. Wargo couldn't have planned the intersection any better, and just as the little bugger crossed my path, I rode right into him, front wheel coming to a stop, rear wheel floating up into the air. As I started to endo towards an abrupt end to my ride, I recalled reading about Bob Roll's crashing after a squirrel ran into his front wheel under similar circumstances, and allowed myself a brief smile of knowing recognition before struggling to stay upright.
Unlike in Roll's case, my front wheel didn't dice the creature to bits, and after a few barrel rolls, it righted itself and made it across the road (Why does the iguana-like reptile cross the road, Virginia?). Likewise, I managed to avoid training ride road rash and more chips in my Milano 3V. But what an inauspicious start to the day!
Thankfully, the rest of the ride was a dream, and as the kilometres passed by I was treated to some of the most beautiful daytime skies I've ever seen. One particular part of the route took me past a series of estancias that must occupy thousands of acres of land. The sights were incredible, and training in the countryside here is far from work or drudgery. Tomorrow I'll follow a route in the other direction, which takes me past the beach.
Thursday, January 1, 2004
Happy Holidays
Photo ©: Joe Papp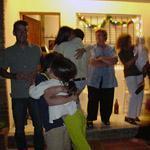 Happy New Year! I'm taking the day off to give my knee a rest, and catch up on emails, my diary and the like. A friend sent me a funny note today, asking if I thought that when Brad McGee clicks on cyclingnews.com to check his diary and he sees the name "Joe Papp" listed above him, does he wonder who I am. I doubt it, but that's probably the only instance where I'll be listed one place above him in any list. Ha.
A shout out to some friends old and new, who I hope are enjoying an auspicious, reptile-free start to their New Year: Jay Wolkoff, Tim O'Toole, the Big E., Rutt, McDermitt and the Group, PVM(f), Peter V., Mark A., Jerry M. (viva la Planeta!), Ray Russell, Johnny K., the ACA and PCC, el Gato, Em, el Torro, Tommy the Czech and Jess the Texas Rockstar. Larry Perera and the great folks at Dish, la Prima and Il Piccolo Forno. Que pasa muy, muy bien!
Photos
Images by Joe Papp
Email Joe at joe@cyclingnews.com