California Dreamin' - The Paolo Bettini Diary 2004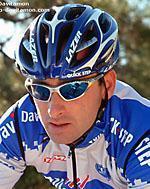 In action
Photo: © Quick-Step Davitamon
He's from California, down near the beach, but this guy's no surfer dude. Paolo Bettini is from La California, near Cecina on the Tuscan coast in Italy. The Quick.Step-Davitamon rider had a fantastic 2003 season, winning his second consecutive World Cup, this time with three wins in one season - a feat unequalled by any other rider - plus an Italian championship and the world number one ranking. Bettini is back on Cyclingnews in 2004 with his exclusive English-language diary.
Happy Holidays To All
23 December 2004
Hitting the road
Photo: © Paolo Bettini & friends
Hello my friends at Cyclingnews and happy holidays to you all!
Well we've finished the first Quick.Step team training camp and after a week of photo sessions, interviews and looking at next year's race program, we've wrapped it all up and everybodys headed home for the holidays. I've got to say that it was a good training camp this year and it was useful to integrate the new riders on the team. In reality, besides the neo-pros Christiansen and Weylandt, we already know riders like Pozzato, Trenti and Moreni as well as Lotz and De Weert who we know well from the Northern Classics races.
Indoor training
Photo: © Paolo Bettini & friends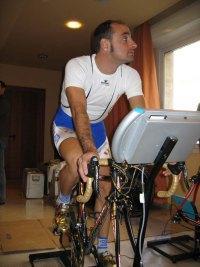 We were spoiled by the people at the Hotel Stella Marina
in Marina di Cecina. We did a lot of riding, thanks to the incredible weather. Every day with only one exception, it was around 18 degrees! It's a lot better to ride in those conditions for sure.
On the first two days of the training camp, some of my fans from the Piemonte region came to see me, with one of my biggest fans, Christian Biasibetti, in charge. You should know that Christian has sent me so many emails to my site and been so supportive that I decided to invite him for a visit. He and his friends were with us for a day and went through the same experiences as we do on the Quick.Step team and even getting to know that crazy guy our teammate Davide Bramati!
The cancer auction bikes
Photo: © Paolo Bettini & friends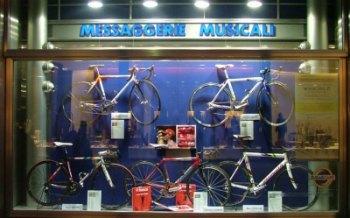 Recently I've been one of the sponsors of a charity auction to support cancer research via the IEO Foundation. This initiative is to help the financing for the European Institute of Oncology in Milano and especially to help fight prostate cancer. Me and four other riders, Cunego, Astarloa, Freire and Cipollini have put up for auction some of our special bicycles to help this effort. Now it's your turn to support cancer research and make a bid. My bike is one with the World Cup paint scheme and was only used once at Milano Sanremo 2004. It still has the race number attached! It's a one of a kind item, so to make your bid, Click on: www.dpp.it.
So next year, I think it ought to be a good experience to organize another "Paolo Bettini Day" along the roads of Tusccany. What do you think? Send me an email at my site www.Paolobettini.com with your opinion.
With fans
Photo: © Paolo Bettini & friends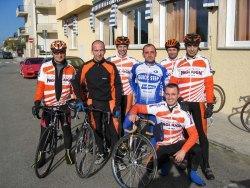 Best Christmas Wishes and Happy New Year to All!
Ciao!
Paolo