California Dreamin' - The Paolo Bettini Diary 2004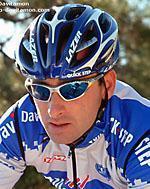 In action
Photo: © Quick-Step Davitamon
He's from California, down near the beach, but this guy's no surfer dude. Paolo Bettini is from La California, near Cecina on the Tuscan coast in Italy. The Quick.Step-Davitamon rider had a fantastic 2003 season, winning his second consecutive World Cup, this time with three wins in one season - a feat unequalled by any other rider - plus an Italian championship and the world number one ranking. Bettini is back on Cyclingnews in 2004 with his exclusive English-language diary.
A Tricolore Challenge
Italy, June 22, 2004
Hi everyone at Cyclingnews,
Paolo Bettini
Photo ©: Franklin Tello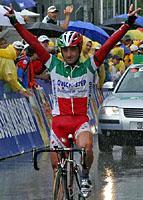 Finally I've had another win! And I told you that the last time - at the Tour of Svizzera I wanted to try for another win with my Italian Champion's jersey that I have to defend next Sunday in Santa Croce sull'Arno. I really enjoyed winning this jersey the last time and it not only brought me immense joy but also some immediate recognition. When you are out of Italy, they know you right away with the Italian tricolore on your back. I'd hate to leave it after such a fantastic year.
My form is improving and even if the race circuit seems like it's designed for sprinters, it's no done deal yet. For sure this Sunday you'll see a big battle in the Italian championships, especially because the race is almost 270 kilometres, the same distance as a World Cup race. A surprise can always happen.
In my Tour of Svizzera win in Bellinzona, I did it for my two "girls", Monica and Veronica. When I crossed the finish line, I kissed a medal I wear with two small diamonds that Monica gave me as a gift for my 30th birthday. On the back is engraved "your stars are always with you".
When Veronica was born last September, she brought so much happiness and serenity to me and Monica. When I'm at the races, I always think about them and they give me the strength to race even when I'm not at my best!
A Presto
Paolo