California Dreamin' - The Paolo Bettini Diary 2004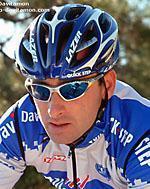 In action
Photo: © Quick-Step Davitamon
He's from California, down near the beach, but this guy's no surfer dude. Paolo Bettini is from La California, near Cecina on the Tuscan coast in Italy. The Quick.Step-Davitamon rider had a fantastic 2003 season, winning his second consecutive World Cup, this time with three wins in one season - a feat unequalled by any other rider - plus an Italian championship and the world number one ranking. Bettini is back on Cyclingnews in 2004 with his exclusive English-language diary.
Goodbye to my Favorite Lion
Italy, April 13, 2004
Hi friends at Cyclingnews
Did you see Parigi-Roubaix? Even today, just after the race, I just couldn't think that this would be the last Roubaix for Johan. For sure, the Lion of Flanders had really bad luck. In his career, he's done some incredible things, but he was about to become a legend on Sunday.
"Roubaix can give you everything and take away everything in a moment..."
That's what Johan, who's returned from "hell" more than once, told me one day. As usual, you can't make any mistakes. But even if he didn't win, Johan is still in my opinion the greatest pave' specialist in the history of cycling. Despite yesterday, Johan has set a great example for other riders to follow. He has a stubborn character, but is capable of great desire and has a huge heart.
Maybe some of you have already heard this story about Johan, but I'm going to tell it anyway. In April 2000, we had started Liège-Bastogne-Liège. I was the team captain at Mapei, my first big chance. It was a few weeks after Johan had won his second Parigi-Roubaix. It was cold and wet at the start but after a while the weather improved so I took off my rain cape, arm warmers and leg warmers. I began to drift back to the team car to give them to our diesse Parsani.
Johan saw me and said "give me all your stuff... today you have to stay in front so you can win."
Can you believe it? Museeuw was my gregario! That gave me so much confidence that day that I knew I couldn't fail because he believed in me. And you know the rest of that story! Well that's the first story that came to mind about Johan but there are so many about a special guy like him. I'm very proud to have raced alongside him. Dear Lion, we'll miss you.
Ciao,
Paolo