California Dreamin' - The Paolo Bettini Diary 2004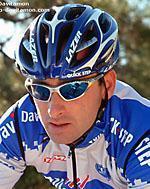 In action
Photo: © Quick-Step Davitamon
He's from California, down near the beach, but this guy's no surfer dude. Paolo Bettini is from La California, near Cecina on the Tuscan coast in Italy. The Quick.Step-Davitamon rider had a fantastic 2003 season, winning his second consecutive World Cup, this time with three wins in one season - a feat unequalled by any other rider - plus an Italian championship and the world number one ranking. Bettini is back on Cyclingnews in 2004 with his exclusive English-language diary.
The Fields of Flanders are calling me
Italy, April 1, 2004
Ciao amici di Cyclingnews,
Hey did you know that today is a special day for me? I was born thirty years ago today in Livorno, Italy. A good Aprils Fools, eh? Yes it's really my birthday - thirty years old!
Personally, today won't change anything about my life. Age isn't important, but how you feel inside. I still have the same enthusiasm and desire to race that I had when I was kid. Nonetheless, they say turning thirty means a new, more physically and psychologically mature phase in life of an athlete...they say. I hope that's the case, at least in the next few weeks, which contain the most important races in the first part of my season.
For the past few years, April has been the most important month in my career, except last season when I had to miss most of the races when I crashed out of Gent-Wevelgem. So I want to continue to have this level of performance in my career during April.
Sunday it all starts with the Giro delle Fiandre, a race that for one reason or the other has always escaped me. This year, I want to be among the front runners, and hopefully find myself up there in the final with my teammate Johan Museeuw, who's looking for his fourth Fiandre win of his career. It would be a dream for Johan.
But we have other arrows in our quiver at Quick.Step-Davitamon for Fiandre. I'm talking about Tom Boonen, who's growing up and getting better and better before our eyes. Plus there's my main man Luca Paolini, who kicked butt in the Freccia del Brabante. So we have a really powerful team where a lot of guys can win. So let's see what happens Sunday. The only thing I'm asking for is good weather. The long-term forecast says it might rain on Sunday. Hopefully they are wrong.
Well now I'm going for a ride and then I'll be back home to enjoy a few hours with my wife Monica and daughter Veronica before flying to Brussels tomorrow.
My thirtieth birthday is important, but without my family and little Veronica it just wouldn't be the same thing. I've already passed the most important finish line of my life.
Ciao a tutti
Paolo