Recently on Cyclingnews.com
California Dreamin' - The Paolo Bettini Diary 2004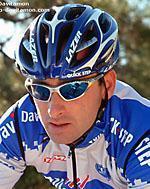 In action
Photo: © Quick-Step Davitamon
He's from California, down near the beach, but this guy's no surfer dude. Paolo Bettini is from La California, near Cecina on the Tuscan coast in Italy. The Quick.Step-Davitamon rider had a fantastic 2003 season, winning his second consecutive World Cup, this time with three wins in one season - a feat unequalled by any other rider - plus an Italian championship and the world number one ranking. Bettini is back on Cyclingnews in 2004 with his exclusive English-language diary.
Forza Freire!
Hello Cyclingnews readers,
Well I'm sorry, but I couldn't give my fans back-to-back wins in Milano-Sanremo. You know that every race has it's own story. That's the way it went this year; I couldn't "turn the tables" as they say this year. But plenty of kudos nonetheless to the winner, Oscar Freire, who's my friend before he's a rival. I'm really happy for him since he really deserved his win. The day before Milano-Sanremo, I told the media that Freire would be the man to beat. Already at Tirreno-Adriatico, he had the best legs of all my rivals.
Oscar was perhaps the only rider who has two tactical choices in Milano-Sanremo. He could have attacked on the Poggio or waited for the sprint. He chose the second solution and managed to beat a great Zabel and O'Grady, and a Petacchi who might have betrayed somewhat the big expectations people had in him. But to start a race as the favorite isn't easy for anyone, even if you are the best sprinter in the world.
As far as I was concerned at Milano-Sanremo, my only chance was to attack. I tried on the Cipressa, but this went nowhere because I couldn't get anyone to work with me. At the summit of the Cipressa, I realized that it wasn't going to be a great day for me. And it seemed that no one wanted to attack. Then, when Rebellin and Bartoli crashed on the descent of the Cipressa, this denied me of two potential allies for the final attack on the Poggio.
"I'm no wheel-sucker": Paolo attacks on the Poggio
Photo ©: Olympia Photo

So I tried to go again on the Poggio, attacking at the same place as last year, after the little church on the false flat section. To tell you the truth, I attacked even harder than last year! But the headwind and the lack of team-mates in this crucial moment, or other riders who would work, finally made me give it up. It's really too bad, because if I had found someone to work with me, this move might have had more luck.
But as usual, there are a lot of riders who make a lot of noise before the big race, but then just suck wheels all day... well, that's another chance thrown out the window. In the sprint, I was eighth, so at least I got a few World Cup points that way. If I had Stefano Zanini up there with me for a leadout, I might have gotten on the podium but Zaza had a bad day in his favorite race. Too bad, since in all of my wins so far, Zanini has been crucial.
OK, well now it's time for the northern classics, starting this weekend with Haarelbeke, Freccia del Brabante and then the Giro delle Fiandre [Tour of Flanders]. The classics season is here and last year, my bad crash in Gent-Wevelgem took away half of my chances.
This year I'm looking to make up for it!
Ciao, Paolo